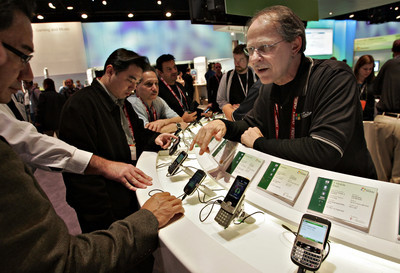 Paul Moore is a dedicated techie.
Moore, a mobile product marketing director for Fujitsu in Sunnyvale, Calif., built his own desktop computer to network his home satellite dish and entertainment center.
Then he left it to collect dust.
The wires tethered the bulky contraption to the wall in his home office, which kept him from being able to be with his wife in the couple's den.
It was a problem for the self-described "information hound" who is on the road up to two weeks each month.
"To be honest, I haven't touched it since (hooking it up)," said Moore, who was in Las Vegas for the International Consumer Electronics Show.
Like most of the 140,000 or so people at CES, Moore doesn't have much use for a desktop computer.
He isn't alone.
Widespread wireless Internet, smaller, more efficient processors and a desire to escape the bounds of home and office without sacrificing access to information are pushing the sale of laptops and smaller devices past those of the ubiquitous desktop computer.
Portable personal computer sales are growing 33 percent faster than growth in desktop sales, according to the tech research firm IDC.
Portables are no longer plagued by significant performance disadvantages compared to desktops.
Highly efficient processors are making portables smaller, as evidenced by the 1.5 pound Fujitsu Lifebook U810 mini-notebook computer Moore demonstrated Wednesday at CES.
The computer has most of the functions of a typical notebook but is about a third of the size. It retails for $999, and editors of the tech news Web site CNET.com gave it a 6.9 score on a scale of 1 to 10.
Moore said breaking the $1,000 price barrier was important to developers of the Lifebook.
"When you break that $1,000 price point and not hurt functionality, more people look at you," Moore said.
The Fujitsu model is a far cry from early laptop computers that weighed around 12 pounds and cost as much as $3,500 — yet performed much worse than desktop counterparts.
At CES this year, laptops are making headlines for their small size and low cost. The Asus Eee PC weighs 2 pounds, uses a solid-state Flash drive as opposed to more mechanized hard drive and sells for about $300.
The machine also saves space by using the open-source Linux operating system instead of Microsoft Windows software.
The XO laptop, featured hardware in a nonprofit effort called One Laptop Per Child, is also driving laptop development forward.
The program started with a plan to deliver $100 laptops to children in Third World countries.
The program hasn't been adopted by as many nations as organizers hoped nor have developers met the $100 price promise.
But the small, durable machine they showed off at CES drew lots of attention. The whimsical devices communicate with each other to enable communal communication and the machines can use as little as one-fifth of a watt of power.
While the One Laptop program has been plagued by bickering between its leaders and chip-maker Intel Corp., the device itself is a glimpse into the future.
But even as notebook and mininotebooks take over the market, even smaller devices are on the horizon.
Smart phones such as the iPhone, BlackBerry and Voyager are increasingly capable of delivering Web access, e-mail and entertainment in a palm-size device.
It's a style of computing that is making huge leaps as companies such as Google rush to deliver mobile content.
It appeals to Dave Clingman of Coarsegold, Calif.
Clingman, a computer service tech, took notes during a CES seminar with a fold-up Palm Portable Keyboard plugged into a Tungsten T3 personal digital assistant about the size of a cigarette pack.
"I do everything on this," said Clingman, who also owns a laptop computer. "It works great."
And the laptop?
"It sits in the trunk of the car," Clingman said.
Contact reporter Benjamin Spillman at bspillman@reviewjournal.com or (702) 477-3861.