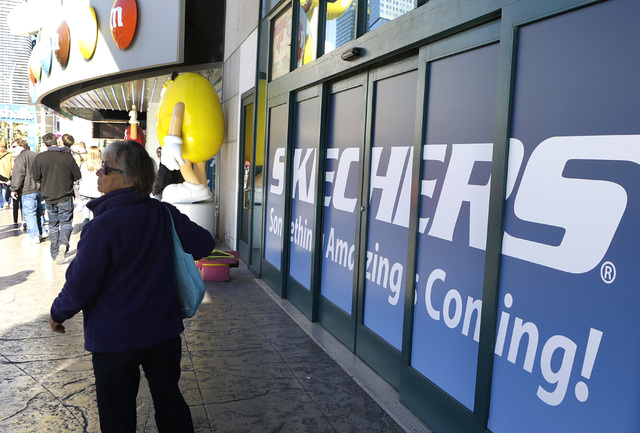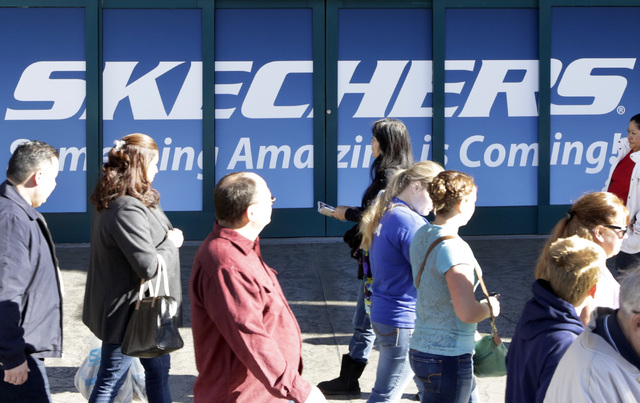 Shoe company Skechers has signed a 10-year lease for space next to the M&M store on the Strip.
An opening date for the Showcase Mall store has not yet been set, said Jeff Mitchell of Virtus Commercial, who represented Skechers in the deal.
It marks one of the first major investments into Strip retail by the partnership that closed on a nearly $370 million purchase of Showcase Mall in December 2015.
The partnership includes the Nakash and Gindi families of New York. The Nakashes are known for starting clothing company Jordache Enterprises. The Gindis started the Century 21 chain of department stores in the Northeast.
The Skechers will replace a La Salsa Cantina Mexican restaurant that formerly held the Showcase space, Mitchell said. La Salsa still has a location at Planet Hollywood.
Skechers' presence in the valley has grown to include stores at The Venetian and one at the intersection of Charleston and Decatur boulevards.
The company is interested in two other suburban locations in the valley but have not committed to space yet, Mitchell said.
This Strip store is part of Skechers' trial of more apparel products at larger stores, he said. The location has shown good foot traffic for neighbor brands Ross and Marshalls and is in a prime location across from T-Mobile Arena.
"We see the potential for sales," he said. "That area of the strip is becoming the equivalent of Times Square."
The store will open in spring, said Leslie Mayer of Cushman & Wakefield, who represents Skechers nationally.
The company will keep its other locations on the Strip, including ones at Fashion Show and the Forum Shops at Caesars. But the Showcase one offers better visibility to passers-by, she said.
Jonathan Bennett, managing director of the holding company for the Nakash family's multibillion-dollar investment real estate portfolio, declined to comment on specific future projects on the Strip.
"We're working very diligently to upgrade," he said.
Contact Wade Tyler Millward at 702-383-4602 or wmillward@reviewjournal.com. Follow @wademillward on Twitter.