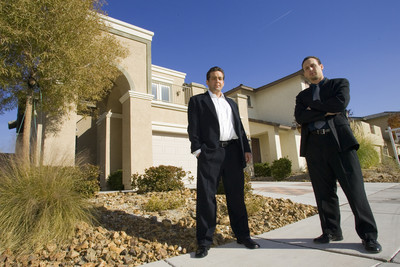 Some people are losing their homes, life savings and good credit as a result of mortgage scams that have become increasingly prevalent in Southern Nevada's weak real estate market.
Mortgage fraud is being conducted through a system that is broadly referred to as "equity skimming," Secretary of State Ross Miller said.
His office is investigating mortgage fraud complaints totaling hundreds of millions of dollars, stretching investigators' loads to near capacity.
"And it's only the tip of the iceberg," Miller said.
People need to be wary of anyone offering to purchase their home using transactions and methods that are out of the ordinary. Buyers may present unusual or nontraditional ways to close escrow, such as selling the home to a corporation or an exchange of stock that turns out to be worthless. In the end, sellers find themselves without a home and without payment for the property they have lost.
In some cases it may be a matter of criminal fraud, Miller said. Other cases may be a matter of the buyers taking advantage of sellers who don't completely read the sale documents.
"In the current market there are a lot of people who, for various reasons, may want or need to sell their homes," Miller said. "When that need to sell becomes desperation, homeowners become lucrative targets for scammers."
It's not just sellers who get caught up in mortgage fraud, Steve Hawks of ReMax Platinum said.
Thousands of unsuspecting home buyers in Las Vegas become victims through cash-back deals involving the seller, mortgage lender, appraiser and other essential parties in real estate transactions. Almost every one of them is pitched as an investment, he said.
"Let us use your credit and you'll get $5,000 back," Hawks said. "Little do they know that there's anywhere from $25,000 to $180,000 getting kicked back to a third-party LLC (limited liability corporation) that the buyer doesn't know about."
The houses were never worth what they were sold for in the first place, Hawks said.
The Greater Las Vegas Association of Realtors' Multiple Listing Service showed a Feb. 1, 2005, sale price of $490,000 for a house at 2073 Fountain City St. in Henderson. However, the Clark County Assessor's Office has a recorded value of $800,000 for the sale. The home apparently went into foreclosure and was purchased from U.S. Bank trustee's deed in September for $375,000.
"Buyers don't find out it's happening until they get a notice of default. The third party rents the house and pays no mortgage. Now when the buyer tries to sell the house, they're overpriced," Hawks said. "It's happening to thousands of people."
Jim Garvey of Las Vegas said he got suckered into real estate investing through a client in his automobile detailing business. He had established a good business relationship and personal friendship with the client, who helped Garvey increase his revenue from $2,000 a month to $20,000 a month by bringing him more business.
Garvey would receive $5,000 cash for any house he bought using his credit and $1,000 for any referrals. When he went to sign the papers for one house in the northwest, the price had gone from $459,000 to $600,000, he said.
"It was a little out of my league, but he said it's an investment property and he'd rent the yard out for $4,500 a month, so my payment would just be $500," Garvey said.
Garvey ended up buying five homes that were supposed to be recorded under a limited liability corporation. He got suspicious when his sister, who joined the real estate investment venture, called and said her name was on a foreclosure list. All of the homes have started foreclosure and are up for short sale, which means they are being offered for less than what's owed to the bank.
Hawks said he examined title work on several homes and found that someone had removed an addendum that instructs the title company to issue checks to a third-party limited liability corporation. The document is removed or hidden, either way with same result, he said.
For example, a $500,000 listing is bumped to $800,000 and $300,000 gets kicked back to the third party through the addendum. If the institutional investor knew about the $300,000 cash, they would never buy the loan. That's why the addendum has to be pulled or hidden, Hawks said.
"This is why Credit Suisse and other institutional investors are pulling out of Vegas. This is why Vegas is going to take a dive worse than anyone thought," he said.
Officials in Washington are crafting legislation that would regulate appraisers to ensure that they're not pressured by lenders into inflating home values.
Appraiser Debbie Huber of Las Vegas, who spoke in Washington in November on behalf of the Appraisal Institute, said lenders have been known to ask appraisers to set a minimum value or they will not offer the loan and will shop elsewhere for appraisers who agree to meet their demand.
Huber said she turns down about one-third of the appraisals that are referred to her because of this problem.
"It's very disheartening when you pass up assignment after assignment," she said. "I can't accept them because I can't hit the number. Maybe I could, maybe I couldn't. They want to know our opinion before they hire us to develop it."
The problem is "epidemic" on the refinance front, Huber said. People are desperate for an appraisal at the number they want, which is only going to prolong their problem, she said.
One of the most difficult tasks in the market is to price an REO, or bank-owned, home competitively enough to sell it in a reasonable time frame, said Jason VanZant, Hawks' partner at ReMax Platinum.
"The values of homes have declined dramatically from the overpriced fraudulent inflation that has run rampant in our marketplace the past few years," VanZant said in an article on DSNews.com. "Fraud has absolutely destroyed the market. Without this problem, it wouldn't be near what it is."
Shelli Lowe, appraiser and managing director of Integrity Realty Resources in Las Vegas, said she believes the true number of "distressed" real estate properties may not be as great as the media are portraying it once all the mortgage loans are reanalyzed.
"I am, however, concerned that we are seeing increases in fraudulent sales and mortgages, which are contaminating market data," she said.
A team of Century 21 real estate agents, loan officers and loan processors targeting a mostly Hispanic clientele in San Diego pleaded guilty in federal court to conspiracy and wire fraud charges after collecting $1 million in illegal commissions, National Realty News reported in early December.
The agents and loan officers obtained funding for financially unqualified clients from several subprime lenders who offered "stated" loans, or those that required no income verification, at higher interest rates than conventional loans.
To secure the loans, they submitted false information on loan applications and false support documents to lenders. They brokered fraudulent loans, including first and second mortgages, averaging about $400,000 for more than 200 unqualified clients, the report said.
"We continue to investigate allegations of mortgage fraud, not only because of the wrongdoing that is associated with this particular criminal behavior, but because we are committed to protecting many Americans from paying higher mortgage rates as a result of unscrupulous behavior on the part of a few," FBI agent Keith Schlotter said in National Realty News.
In another case, two former Prudential real estate agents in California, and two state-licensed real estate appraisers, were indicted by a federal grand jury for allegedly participating in a massive mortgage fraud scam that caused more than $40 million in losses to federally insured banks.
After buying homes at lower, true market values, conspirators "flipped" many of the homes, meaning that after they bought the homes they staged second sales at inflated prices that were reported to the victim banks to justify the inflated loans. According to the indictment, Lehman Bros. Bank alone was deceived into funding more than 80 such inflated loans from 2000 into 2003, resulting in tens of millions of dollars in losses.
Hawks said Las Vegas will soon see many cases of this type. Higher mortgage rates are just one repercussion of the puffed-up price, cash-back fraud, he said.
"The FBI agent says 'unscrupulous behavior on the part of a few,' which is exactly the same with Realtors. Just a few are conspiring with these modern-day bank robbers. These few are causing huge financial losses for the many," Hawks said.
He referred to a lawsuit filed July 3 in Nevada District Court alleging that "highly inflated false appraisals were used to trick (lender) FMFC into making significantly larger loans decimating FMFC's loan-to-value requirement."
FMFC claims to have incurred significant losses in remedying loans that were issued fraudulently and at inflated purchases prices.
"Institutional lenders are lending on 80-20 loan-to-value," Hawks said. "They think they're loaning $160,000 on a $200,000 home when people only paid $120,000. They don't see the kickback. This kind of mortgage fraud is devastating to the market and people that buy legitimately on market comps, they don't see these (kickbacks)."
The pyramid flipping scheme generally requires participation by a number of "conspiracy" members, the lawsuit said.
They include speculators who purchase the property through fraudulent means such as fabricating information about the property, buyer or seller to make the transaction appear financially sound, only to resell the property; appraisers who overstate the value of the property; and title companies that provide a facade of legitimacy to the scheme by fraudulently preparing documents for closing escrow and disbursing checks to the participants.
"The only way these deals get done is if the Realtor knows, the title company knows, the appraiser knows," Hawks said.
Freddie Mac investigator Martin Abad said opportunity for mortgage fraud is greatest in areas with a runup in property values.
He's seen cases in Las Vegas involving cash-back purchases where individuals target properties that have been listed for a while. They approach the seller and make an offer that's much higher than the list price with the understanding that the seller will give the cash back.
"That information is not disclosed anywhere," Abad said. "You don't know about it. That's happening quite often, especially now. I'll offer you $100,000 more and just pay me the difference at the close of escrow. The seller doesn't care about the money they have to refund as long as they get their money out of it."
Hawks said he's seen million-dollar homes purchased with $500,000 kickbacks in which the buyer never makes a payment and lets it go back to the bank. Sometimes it's a "straw buyer" who knows what's going on, but most of the time the buyer has no idea, he said.
"This is like stocks in 2000, so nobody knows what the true value of a home in Las Vegas is right now. That's why nobody's buying," Hawks said.
Contact reporter Hubble Smith at hsmith@reviewjournal.com or (702) 383-0491.
HOW EQUITY SKIMMING WORKS
The price is bumped up more than the home is worth and the seller kicks back the extra cash to the buyer or third-party entity at closing.
The buyer or third party pockets the cash and the seller gets his or her price. Maybe one payment is made, then the institutional investor forecloses on the property.
The lender who is fooled into lending more than the home is worth forecloses on a property that is only worth a fraction of the loan, hence the credit crunch.
The results
Higher interest rates due to the fraud risk, less money available to loan.
Artificially high property taxes.
Legitimate buyers who pay too much for a home are hurt.
A CLOSER LOOK AT EQUITY SKIMMING
Nevada homeowners need to beware of fraudulent foreclosure rescue schemes in light of the state's high rate of foreclosure filings, a state official said.
Reports of rising foreclosures have led to an increase in the number of foreclosure scams reported to law enforcement authorities, Nevada Attorney General Catherine Cortez Masto said.
Some companies appear to offer foreclosure relief, requiring consumers to sign contracts that involve turning ownership of a home over to the company and leasing the home to the consumer with a buy-back option.
Many of these schemes are designed to fail so that consumers will lose their homes to the foreclosure rescue company, Cortez Masto said.
"Unfortunately, home foreclosures are on the rise in Nevada, and that has given scam artists fertile ground for cheating those desperate to keep their homes," she said.
Here's an example of how it works:
The perpetrator solicits victims directly through the mail with promises to help a homeowner from foreclosure by saving their credit and negotiating directly with their lender. They offer to buy the house for the total amount owed, plus a small amount of cash. The victim signs a deed, transfer tax form and contract of sale. The deed provides that the seller is selling the house to a corporation.
The perpetrator pays cash to the victim and assures him he will take care of paying off any mortgages on the home. After the victim moves out of the house, the perpetrator rents the house, does not pay the mortgages and the house goes into foreclosure.
The perpetrator can continue to collect rent until the foreclosure process is completed. The victim collects none of the rent and, once foreclosure is completed, the renters are evicted.
Consumers may contact the attorney general's Bureau of Consumer Protection about home foreclosure scams at 486-3194. A complaint form, as well as other information on consumer protection, is also available at www.ag.state.nv.us.
Some warning signs of potentially questionable or fraudulent mortgage deals are:
You are asked to sign a deed or other papers and the seller promises to pay off your mortgage, but no escrow is opened.
You are told that a real estate agent or title company "doesn't need to be involved."
You are told that the buyer will "take over the payments."
The buyer tells you he will buy your house for the sum of the mortgages owed and an additional amount of money that he will pay in cash.