SlotZilla could be open by early February
December 18, 2013 - 12:59 am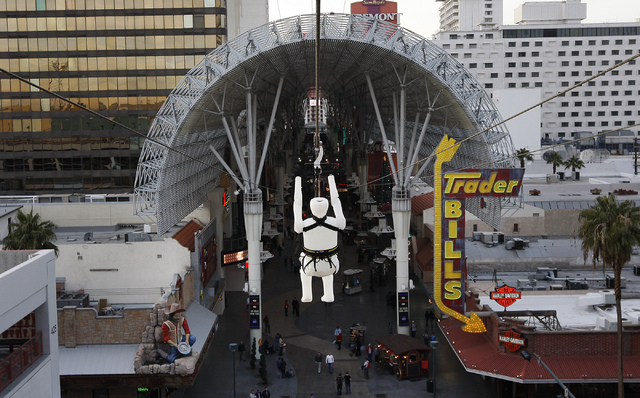 Look up.
Jobs and two zip lines are coming soon to the Fremont Street Experience.
DT Zip, which is owned by the Fremont Street Experience, began dummy testing its dual SlotZilla attractions Monday.
The 12-story, slot-machine-themed tower suspends riders 70 feet and 110 feet above Fremont Street.
The lower 850-foot traditional zip line could open as early as February, at a cost of about $20 per ride. The higher 1,750-foot propelled zoom line, which riders will experience headfirst, could open in February or March, at about $30 per ride. The taller ride is mechanically launched because Fremont Street slopes upward west of Casino Center Boulevard.
"This upper level will take this ride in Vegas to another level," Mike Teske, director of technical services for Hawaii-based Skyline, a zip line operator who served as a consultant, told the Review-Journal for a story in 2012. "You will be lying in the Superman position looking down on the canopy, and the cables miss by one foot. It will be a thrill."
Repeat rides will be discounted, and a time-specific appointments, with minimal waits, will be offered.
California-based consultant Contour Entertainment created the concept and name for the giant slot machine. Contour President Christopher Brown told the Review-Journal for the 2012 story that Area 51 and Elvis themes were considered, but the classic gaming theme won. Cost at the time was estimated at $11 million.
"We wanted to ensure the fundamental focus of what's going on downtown is maintained in this, and the idea of the world's largest slot machine that spits out people instead of money seemed like a great idea," Brown said at the time. "This extraordinary monster of a slot machine is an over-the-top Vegas idea. We kept coming up with another names, but nothing came across as strong and powerful and menacing and imposing as SlotZilla."
Len Turner, director of entertainment operations, said the company should gain necessary permits this week and could begin testing human riders in late January.
"What makes this different is from the launch deck to the landing platform we have the equivalent of a roller coaster in terms of safety," Turner said.
To staff Slotzilla, the company is interviewing for about 90 positions, including 50 full-time and 10 on-call ride operators, 10 ride-maintenance technicians and 20 to 25 ticket sellers. When the higher zoom line opens, the company will hire 40 more people for a total of 110 permanent positions and 20 on call.
Applications are being accepted at the Fremont Street Experience executive offices and on monster.com.
The zip line should accommodate riders weighing 60 to 300 pounds. Speeds increase based on weight, but officials estimate a top speed of 35 to 40 mph.
Contact reporter Kristy Totten at ktotten@reviewjournal.com or 702-477-3809. Follow @kristy_tea on Twitter.