Small site on Las Vegas Strip back on the market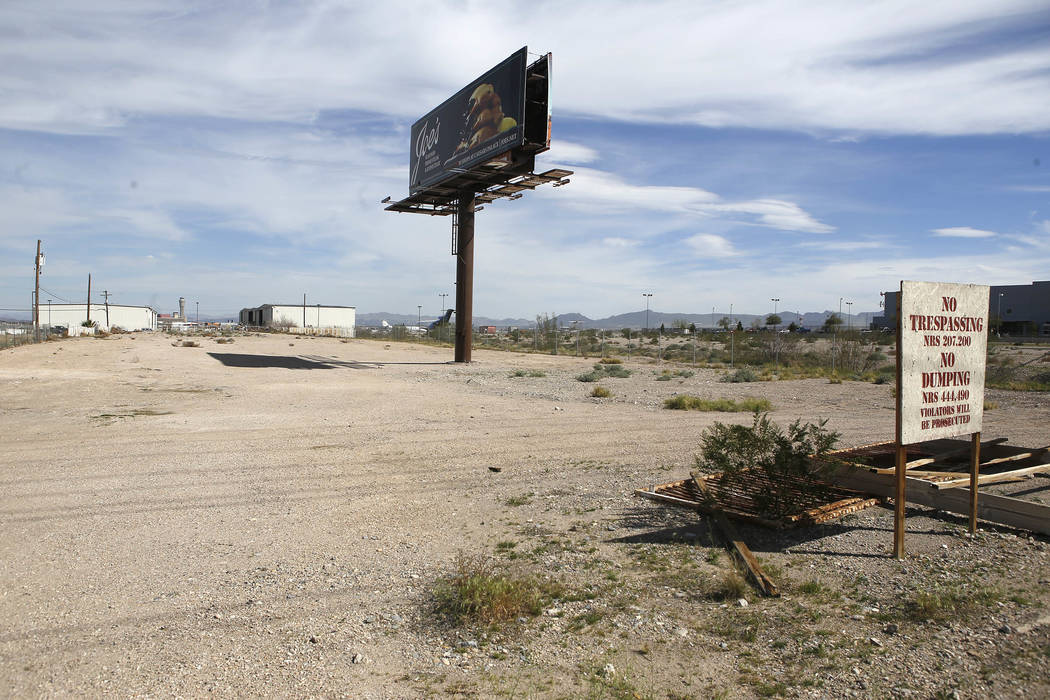 When Las Vegas was flooded with easy money, what better place to build a high-rise — or better yet, sell for a jaw-dropping sum – than a small, roadside motel site off the south Strip?
Last decade, the Pollyanna Motel's landlord set out to develop a condo tower there and quickly reached a deal to flip the site. The inn was razed, but nothing was built and the land was lost to foreclosure.
The property is now for sale. And if it trades, don't expect someone to pay the big prices of the bubble years.
New Jersey investment firm Normandy Real Estate Partners recently listed the 1.76-acre parcel, on the east side of Las Vegas Boulevard just south of Russell Road, with brokerage CBRE Group in Las Vegas.
Listing broker Michael Parks, a member of CBRE's global gaming group, said there is no asking price, and he added that there is "not a lot of market activity" to find comparable values. But he expects it would sell for around $7 million.
There's no guarantee the land will sell anytime soon, despite being on the famed Las Vegas Boulevard. Land sales have gained speed in Southern Nevada in recent years, but not in the resort corridor, the lifeblood of the valley's economy, where buyers have been largely ignoring its high-priced parcels.
But if an investor steps up, a sale could pump new life into a stretch of the boulevard with megaresorts on one side but dirt lots, boarded-up buildings, decades-old motels and an abandoned, partially built observation-wheel project on the other.
'NO BAD YEARS'
Todd Roth of Florida, through his company Metropolitan Land Development, bought the Pollyanna property in September 2004 for about $18.3 million, property records show.
A few days after the sale closed, New Jersey lender Kennedy Funding announced it had financed the deal on a few days' notice with an $18.5 million loan.
"There are no 'bad' years in Las Vegas, as evidenced by sure, steady growth and a healthy, ongoing construction market," the announcement said.
Clark County issued a permit in early 2005 to demolish the motel, and Roth filed plans a few months later to develop a 26-story resort condo tower. That summer, court records show, he reached a deal to sell the parcel for $65 million, more than three times what he paid.
His plans came during the high-rise craze known as the "Manhattanization" of Las Vegas, when investors pitched dozens of towers during the bubble years. Most never got built, including Roth's, and real estate pros have said it was not uncommon back then, amid soaring property values, for landowners to secure approvals for a high-rise project and then flip the site.
Meanwhile, countless projects from the boom years ended up in court, including Roth's.
SLEEPY STRIP
Rushton Development Group filed court papers in early 2006 saying it had agreed to buy the property for $65 million, but the deal fell through and it wanted a $975,000 payment back.
In spring 2008, as the market was tumbling, Metropolitan filed a lawsuit the day before the property's scheduled foreclosure sale claiming it had learned about the auction only days earlier. The land was seized through foreclosure the next month, property records show.
Roth did not respond to requests for comment. Rushton could not be reached for comment, and Normandy, which acquired the site apparently as part of a bulk loan acquisition, did not respond to requests for comment.
The south Strip has resorts on the west side of the street, but the east side is much sleepier.
It has some retail and a few motels, as well as vacant lots, the abandoned White Sands Motel, the shuttered Laughing Jackalope tavern and the mothballed SkyVue observation-wheel project.
The Pollyanna site is empty, save for a billboard sticking out of the ground, and is guarded in part by a white, rusted fence, an apparent holdover from its motel days.
Contact Eli Segall at esegall@reviewjournal.com or 702-383-0342. Follow @eli_segall on Twitter.