Smoothie King retailer embarks on major Las Vegas expansion
August 17, 2016 - 12:54 pm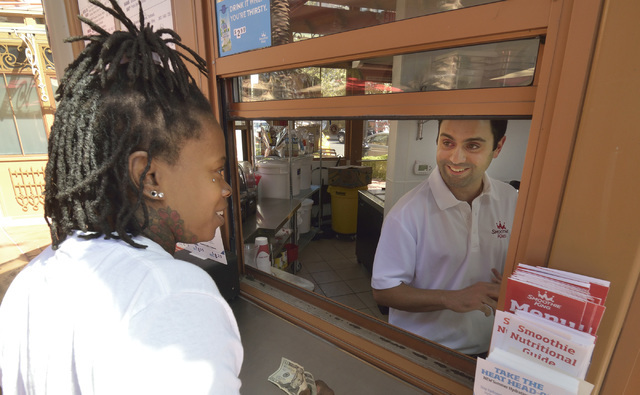 When Smoothie King opened its latest location at Town Square at the end of July, it marked the start of a Las Vegas expansion for the smoothie food retailer.
Shahdad Kelishadi, franchise owner of the Smoothie King location at Town Square, a 100-acre shopping, dining and entertainment complex on Las Vegas Boulevard near Interstate I-15 and the 215 Beltway, has signed a seven store deal with the Metairie, Louisiana-based brand.
"As Vegas' population grows and as people become health conscious nationally, the brand will serve the community of Vegas with products that taste great and are healthy meal replacements," he said. "Vegas is like a second home for my family and I wanted to be part of the Vegas community and offer a great product."
The Town Square Smoothie King location is the third one for the brand in Las Vegas. A separate franchise owner opened the first location at 6530 N. Buffalo Drive in April 2009 followed by another at 1067 on W. Sahara Ave. in February 2012.
Kelishadi and Smoothie King's corporate team conducted studies to determine how many stores the Las Vegas market could accommodate.
"We believe that seven stores should be sufficient," he said. "If we see we're able to increase our store count and develop more stores without hurting our store sales, it's something we'll consider."
Smoothie King is not the only smoothie business here in Las Vegas.
Jamba Juice operates nearly 15 locations across the valley while Tropical Smoothie boasts 25 stores.
Zack Hussain, Las Vegas-based senior associate of commercial real estate agency, CBRE, said multiple brands in similar use categories are vying for a piece of the Las Vegas market share.
"The retail market in Vegas is steadily improving and we are starting to see measured new developments around the valley," he said. "Retail demand is steadily growing as rents are inching upward."
Hussain added that millennials, those ages 18 to 34, are also changing the retail landscape by their spending habits, which are geared more towards health choices and price awareness.
"Compared to Southern California, we are still behind the trend and Smoothie King's entry only cements the changing landscape in consumer habits," he said. "Only time will dictate how they fare in the Vegas market but I believe the demand exists."
Stephen Foley, franchise development associate for Smoothie King Franchises, said the company operates nearly 800 locations across the world and is looking to establish itself in the Western U.S.
"We're not the biggest name out West when it comes to smoothies but we're confident that we can establish ourselves and be head and shoulders above all others in the market," he said. "We're primarily a southeastern brand but we're growing methodically."
Kelishadi said once all seven Smoothie Kings are open in Las Vegas, he anticipates that the brand will have a lasting effect on Southern Nevada.
"We want to serve our community in Las Vegas well by providing products that will help them live a better lifestyle by having healthier choices," he said. "We want to have a positive impact in Vegas and we look forward to being a part of the Vegas community."
Contact reporter Ann Friedman at afriedman@reviewjournal.com or 702-380-4588. Follow @AnnFriedmanRJ on Twitter.