Sold out: Vegas BikeFest attracts thick throngs of people
October 6, 2013 - 7:16 am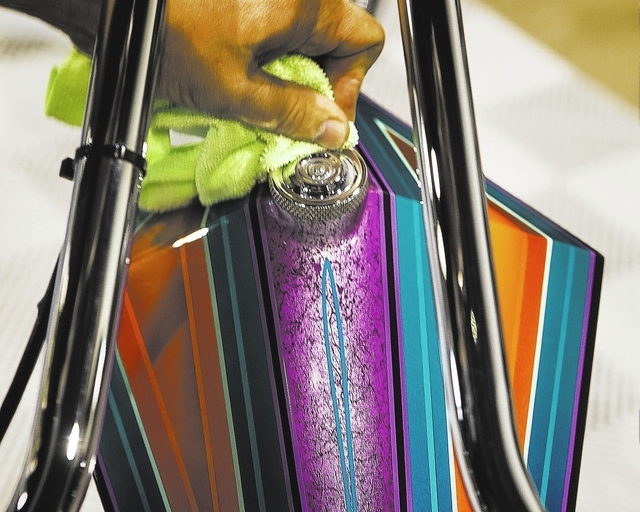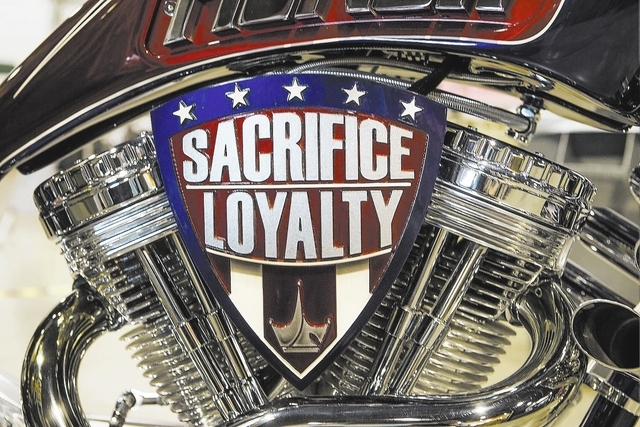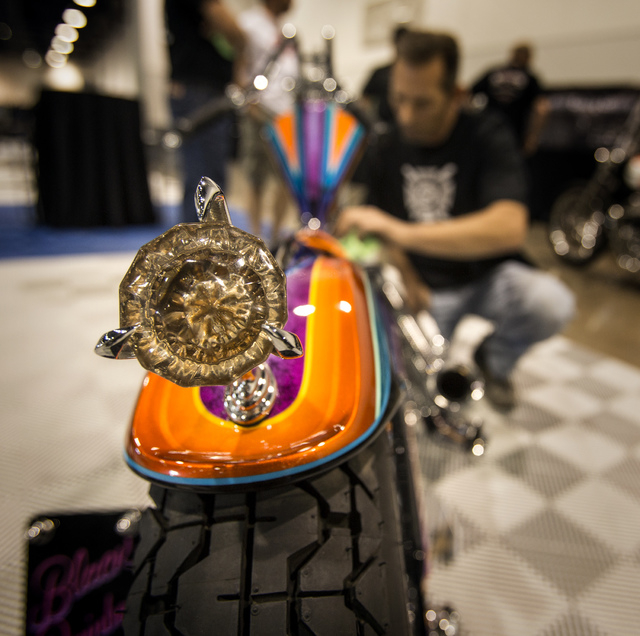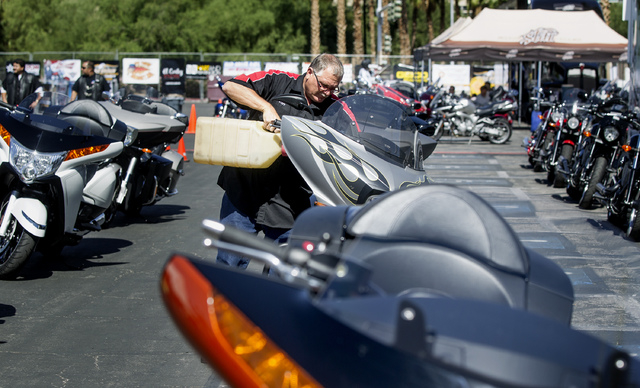 Bust out the bandanas, jeans and motorcycle boots. It's the last day of Las Vegas BikeFest.
You'll know you're there when you can hear the sweet engines rumbling, see the rows and rows of machines parked everywhere and the signs posted outside properties prohibiting the wearing of club colors. It's a motorcycle party, people.
The 13th annual Las Vegas BikeFest runs through Sunday at Cashman Center, 850 Las Vegas Blvd. North. ConvExx, the event's producer, is expecting 35,000 people, up from last year's 30,000. Eighty percent of attendees hail from outside Nevada and 20 percent of those are international.
The show is free to everyone today.
The 200 vendors began moving in on Wednesday, and early last week, event producer Mindi Cherry said the final number could be higher as vendors would register up until the expo opened on Thursday.
"People don't need a lot of time to plan if they come from event to event," Cherry said.
Inside, Cashman Center is a temporary home to about 60,000 net square feet of exhibits. Combined with outside tents, attendees will have a chance to look at 150,000 gross square feet of motorcycle goodness.
Included in the excitement is the Artistry in Iron Master Builders' Championship where 20 masters competed for a $10,000 prize. Attendees can see the handiwork up close and get autographs from their favorite craftsmen.
For the first time, headline concerts were held onsite at Cashman, on stages placed on the west side of the property's parking lot. Previously they were at Fremont Street Experience. As a result, Cashman's BikeFest activities ran until 10 p.m. each night instead of the standard 8 p.m. for the past 12 years.
"They still have some entertainment, but (Fremont Street Experience) indicated to us (it) didn't have the budget to bring in headline entertainment," Cherry said.
So Cashman rocked out this year, featuring The Garage Boys, Joe Nichols, Foghat and Blue Oyster Cult.
Cherry said she didn't think the concerts would take any business away from Fremont Street properties as shuttles took tourists back and forth between the hotels and Cashman all weekend long. In fact, the Thursday and Friday concerts were sponsored by the Golden Nugget and Saturday's was sponsored by The D Las Vegas.
"We work closely with the hotels," she said.
Fremont Street Experience still featured other entertainment this weekend, including local bands Loveshack and Zowie Bowie.
As for the hotel sponsors, BikeFest registration was held at the Nugget, as was the annual poker run. The D Las Vegas sponsored the Friday poker walk for those without motorcycles. Cherry said she expected 400 to participate in that event.
As for room occupancy, the motorcycle-centric fete has room blocks at the Plaza, Golden Gate, The D Las Vegas and Golden Nugget. Close to 1,200 rooms were expected to be occupied on Saturday, Cherry added.
"From everything we hear, during our event, Fremont Street is at its busiest all year other than New Year's Eve," Cherry said.
Derek Stevens, owner of The D Las Vegas and Golden Gate, said he welcomes all events downtown, and something different takes place almost every weekend on Fremont Street. He added that his hotels sell out almost every Friday and Saturday.
"We would expect all of downtown's completely sold out this weekend," he said.
October generally is a busy month for Las Vegas tourism as a whole, Stevens added.
October 2012 brought in the second highest number of tourists on a per-month basis at 3.52 million visitors, just behind March, which had 3.53 million, according to the Las Vegas Convention and Visitors Authority. October, though, had the highest citywide weekend occupancy rates all year at 95.2 percent. Downtown, October 2012's occupancy was 85.5 percent, the second highest all year behind April.
At the Golden Nugget, occupancy will run at 100 percent this weekend, but then it will all month, said Amy Chasey, vice president of marketing and advertising for the property.
The biker crowd, though, draws a higher average daily rate for the hotels.
"BikeFest is a great weekend for us. It brings in really good customers," she said. "If you ride a Harley or you're a biker, it's an expensive hobby. We see a lot of (professionals) with expendable income."
Traditionally, the biker isn't a gambler. Chasey said the casinos host the motorcycle giveaways to promote spending on gaming, because customers need to make bets to earn contest tickets. On Saturday, the Golden Nugget gave away a one-of-a-kind custom bike designed by Count's Kustoms, and The D Las Vegas gave away a Harley.
"That does help with the gaming revenue that we run that promotion during BikeFest," she said. "It's more of a retail weekend. All of our restaurants and bars are really busy."
Stevens agreed, and said in general, BikeFest attendees are above average in terms of spending.
"They all drink above average, gamble average, and bring a lot of fun-loving people out," he said.
The customers who come downtown for BikeFest mirror those who come for National Finals Rodeo, March Madness and PBR: They're nonpretentious customers who are willing to spend money, Cherry said.
"That's our core clientele here," she added.
Inside Cashman Center, attendees have a chance to test drive motorcycles from Yamaha Victory and Indian. The latter just relaunched, and this is the first time on the West Coast people will have the opportunity to demo ride their bikes.
Contact reporter Laura Carroll at lcarroll@reviewjournal.com or 702-380-4588. Follow @lscvegas on Twitter.