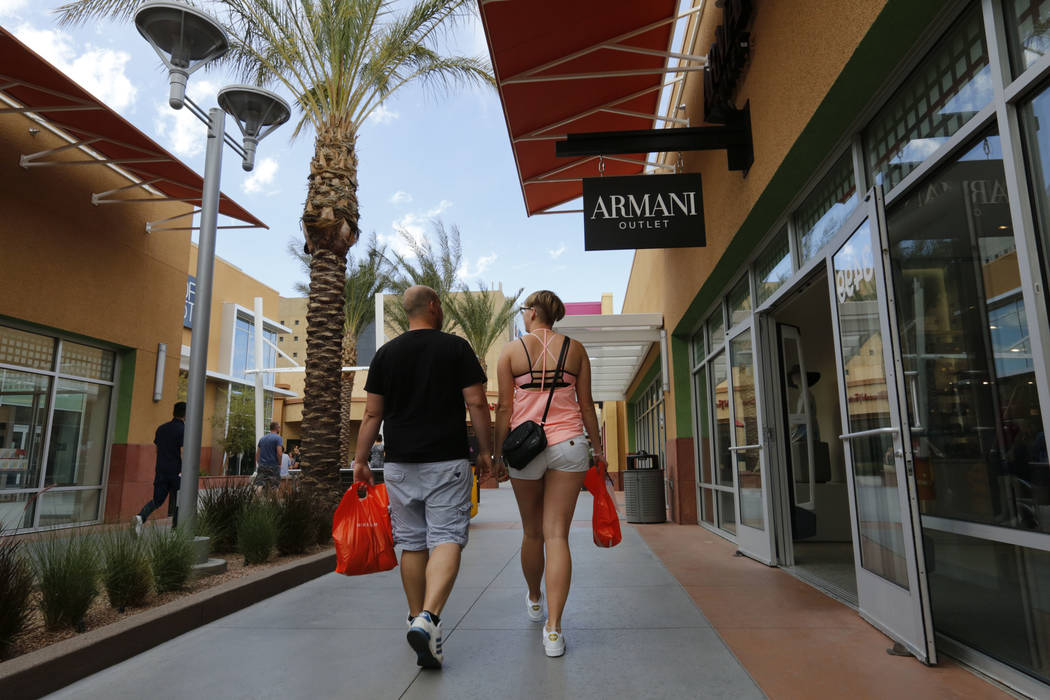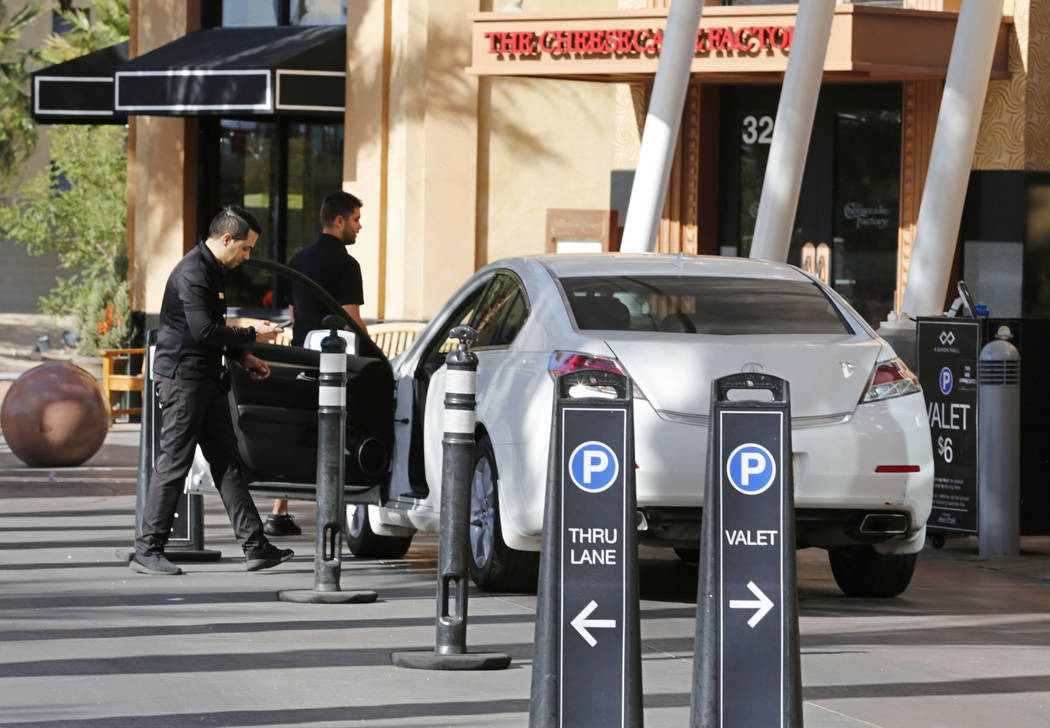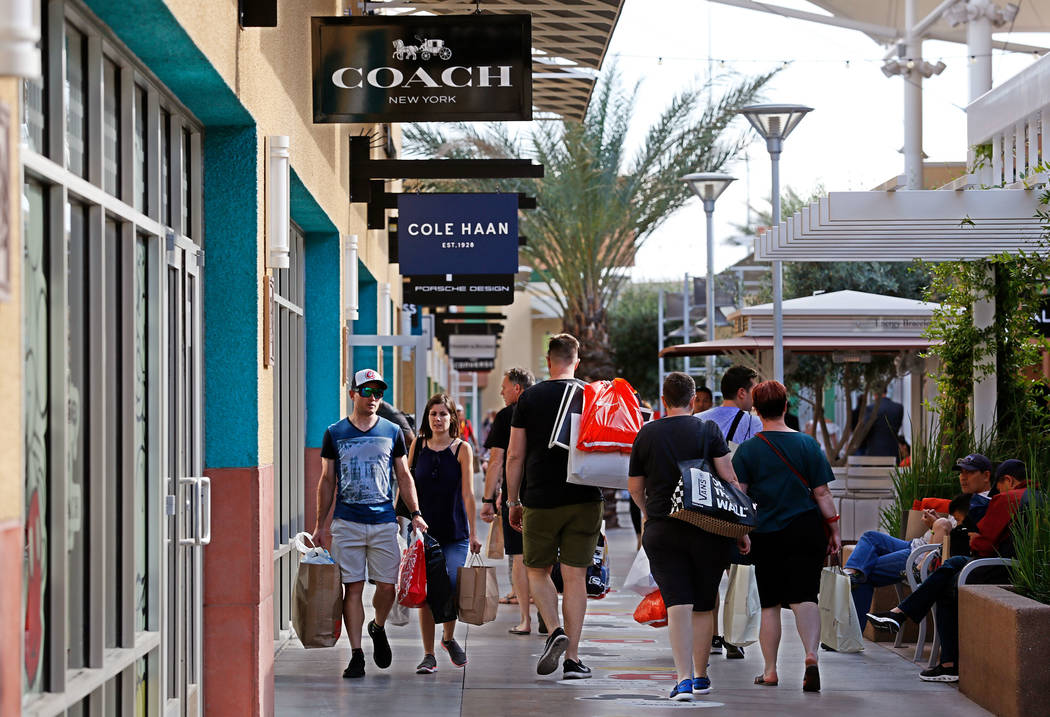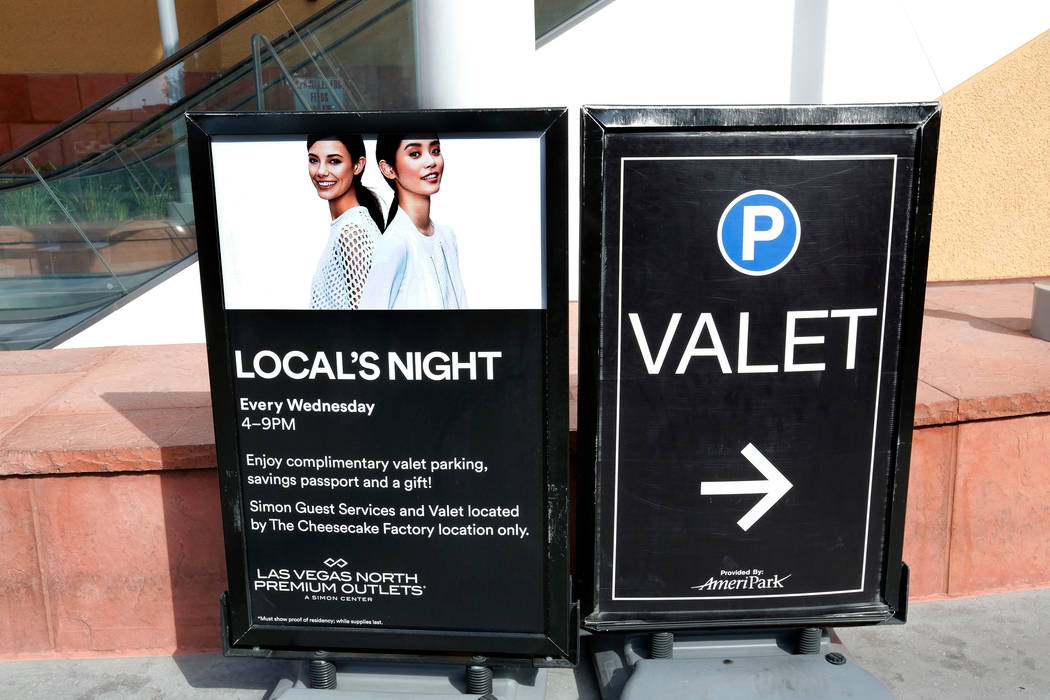 When Rolly Uclaray's friends and family come to the valley to visit him, odds are the Las Vegas Valley local will take them on a shopping spree downtown.
One of his go-to's: the Las Vegas North Premium Outlets, a Simon Property Group-owned shopping center where four-fifths of the shoppers are tourists.
Uclaray enjoys North Premium so much, the mix of high- and low-cost brands as well as older and newer ones, he is one of the 20 percent of those who frequent the property who are locals.
"I shop there a lot," said Uclaray, 34. "More than I should."
North Premium, along with other tourist-heavy shopping centers in the valley, has experimented with ways to bring in more locals.
The shopping center started a locals' night Wednesday evenings about a year ago, said Vicki Rousseau, marketing and business development director for the North Premium and another local Simon property, Las Vegas South Premium Outlets. Most of the shoppers at South Premium are locals.
At North Premium, locals show proof of residency and get free valet parking plus a gift from one of the tenant retailers.
As one of Simon's four properties in the valley — the other two are Forum Shops at Caesars Palace and Shops at Crystals on the Strip — North Premium also has coupon booklets available on locals night.
The incentives are meant to get locals on the property so they see the retailers and restaurants. Locals still aren't aware of new stores added after expansions to the property in 2008 and 2015, Rousseau said.
"The center is well-known as tourist center," Rousseau said. "But we're more than that."
By the numbers
Retail as an industry has contributed to about half of total taxable sales in Clark County for the past five fiscal years, according to state data. The industry produced $18.88 billion in taxable sales in Clark County for the latest available fiscal year of 2015-2016.
About a quarter of those sales, $4.44 billion, came from motor vehicle and parts dealers, the most for any industry within retail.
The second highest taxable sales producer within retail for the county was clothing and clothing accessories stores, with about 18 percent of those sales at $3.41 billion.
Exclusives, gift cards
On the Strip, nine out of 10 shoppers at Miracle Mile Shops are tourists.
That's means about 7,000 locals a day at Miracle Mile, which is co-owned by Miller Capital Advisory Inc. and the California Public Employees' Retirement System.
Locals inevitably venture onto the Strip for shows they want to see and to visit the only valley location for select brands, Miracle Mile senior marketing director Wendy Albert said.
Her shopping center, for example, now has the only valley location for Nyx cosmetics and eventually will open a bar where robots serve guests.
For the past three years, the shopping center has had a summer incentive program to keep locals and tourists coming back. Every $200 spent in Miracle Mile gift cards earns customers an additional $20 gift card.
The idea has also been tried in the past with gift cards for specific restaurants, Albert said. The property has found success getting in front of locals though social media campaigns, appearing on TV and partnering with local nonprofits.
It donates change thrown in its fountain, and Albert serves on the board for the Boys & Girls Club of Southern Nevada. Finding new ways to appeal to locals is a year-round conversation, Albert said.
"We look at locals as not just a customer, but an influencer," she said. "They talk to their friends and show them around when they're in town."
"We love the local audience," she continued. "I mean, I'm a local."
Skip the lines, visit homes
At Gold & Silver Pawn Shop, the location for History Channel's "Pawn Stars," and the neighboring Pawn Plaza shopping center, customers with Nevada IDs can skip long lines, chief operating officer Andy Zimmerman said.
Making locals feel welcome has been important to owner and show star Rick Harrison since the TV show started in 2009, he said.
"He knows where he came from," Zimmerman said.
The shop and plaza's shopper mix reaches 80 percent tourists in the summer and is 60 percent tourists during the other seasons. International tourists comprise 40 percent of shoppers year round. The number has grown as the TV show is seen in more countries.
This year, the pawn shop started sending some employees to inspect heavy items at people's homes before a transaction at the shop.
Even if the shop won't take the item, the five or so employees who make these house calls will still advise property owners on where to go with an item. Zimmerman and Harrison came up with the idea last year.
"We have people look to us for expertise," he said.
Uclaray, the North Premium shopper who has lived in the valley for about 15 years, said he wishes North Premium had more grab-and-go food options and that parking was less confusing. But stores like True Religion and the Coach men's store will keep him coming to the property.
"It's cleaned up a lot since its remodeling," he said.
Contact Wade Tyler Millward at wmillward@reviewjournal.com or 702-383-4602. Follow @wademillward on Twitter.