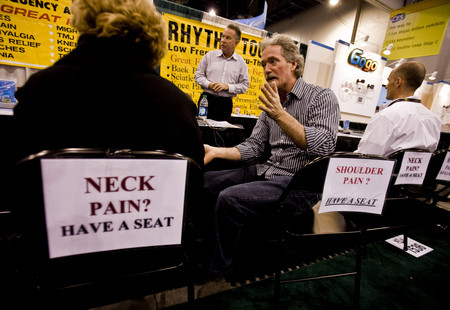 Porn — now there's an iPhone app for that.
YourAppShop.com, a Las Vegas developer and seller of porn and other apps, is among a small group of local companies trying to carve a niche in the electronics marketplace with displays at this week's International Consumer Electronics Show, which runs through Sunday.
Six Las Vegas-area exhibitors hope to grab some of the attention that technology companies, retailers and media outlets are giving to nearly 2,500 exhibitors at the show, some who have traveled from as far away as Germany, Japan and China.
YourAppShop.com co-owner Maria Gara said the interest generated by her company on the first day of the show exceeded her expectations. YourAppShop.com, which is attending its first CES, touts itself as the first legal alternative to Apple Inc.'s own iTunes store for programs for iPhones and iPod Touches.
"This is the best place to debut this type of technology," Gara said. "The response has been awesome. The people now have an alternative option."
Gara and her partners have developed nine apps for the iTunes store since 2007 including iBeer, iMilk and iSoda. They launched YourAppShop.com last summer after Apple rejected her company's new apps.
Adult entertainment apps, which are not available through iTunes, account for the majority YourAppShop.com's content. The company also offers 12 magic-trick apps and seven general apps.
Gara said her small corner booth has generated a lot of interest from government agencies, big electronics makers and mobile retailers.
Her company has a separate booth at the Adult Entertainment Expo, which also runs through Sunday at the Sands Expo and Convention Center, and she said that one is generating a lot of interest from the adult industry.
Another local exhibitor, Las Vegas-based Double Summit, has been coming to CES for five years. The company, which distributes low-frequency electrical-stimulation devices used as home physical therapy kits, is renting four booths this year throughout the three exhibit halls at the Las Vegas Convention Center.
The devices are designed in Japan, made in Korea and sell online for $700.
Company salesman Don Chappell said CES lets the company reach many people in various technology industries.
"People have no idea this technology is available," Chappell said. "We're showing people how to be their own therapist. They have no idea they can do this, and that is the advantage of us being here."
Steve Mevius founded motorized-shade company Polar Shades in Henderson in 1994. This year is his first at CES as an exhibitor.
"It has exceed our expectations the first day," Mevius said. "We have not stopped the entire time. We have people constantly through here."
The shades can be integrated into automated system so residential and commercial customers can operate them remotely.
"You can be halfway across the world and go to your Palm Pilot, or whatever, and control your shades," Mevius said.
Another exhibitor, EasyhealthMD.com, is registered in Nevada as a limited-liability company based in Las Vegas.
The company, which registered in Nevada in March 2008 and is attending its first CES, operates a kiosk in Hawaii that lets patients in remote areas get health care from doctors. The kiosk sends basic medical information directly to the doctor, who can then provide medical treatment advice remotely. The company also offers teleconferencing between doctors and patients.
Company Chief Financial Officer Aaron Crowley said consumer health electronics is a growing field and CES is one of the best places to showcase the company's technology.
"You just have to be here," Crowley said.
Companies offering technology are not the only local exhibitors. The Las Vegas-based Professional Wireless Retailers Association, which is in its 11th year exhibiting at CES, uses the show to raise awareness about the group.
Founder Howard Scheff said the association, which has 2,500 small retail members in the United States, helps train employees about products, helps businesses with marketing programs and advertising and promotes networking.
Exhibiting at CES is not cheap; floor space goes for $36 to $41 per square foot. However, Gara believes the investment has paid off so far.
"You have to spend money to make money," Gara said. "We'll see where it goes."
YourAppShop.com now employs four people, but Gara said it may need to hire additional people because of new business generated from CES.
Contact reporter Arnold M. Knightly at aknightly@reviewjournal.com or 702-477-3893.