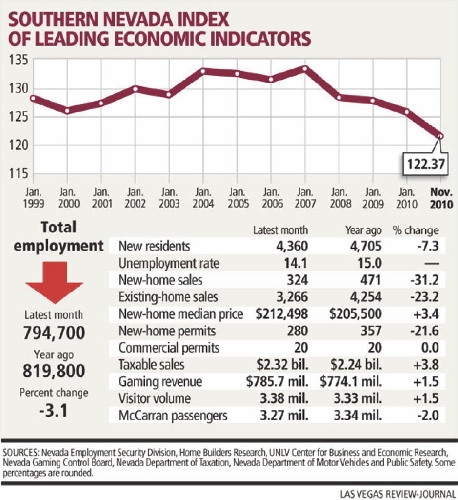 The Southern Nevada Index of Leading Economic Indicators dropped to 122.37 in November from 126.08 the previous month as all but one category weighed negatively on the index, the UNLV Center for Business and Economic Research reported.
The biggest drag came from gross gaming revenue, which dipped to $785.7 million in September, down 2.5 percent from the previous month. Strong baccarat play on the Strip pulled gaming numbers up in August.
Residential and commercial building permits decreased 38.3 percent and 4.4 percent, respectively, and convention attendance was down 15.6 percent in September.
The index declined after two months of positive movement, suggesting that the Southern Nevada economy has yet to turn the corner to sustainable growth, said Bob Potts, assistant director for the Center for Business and Economic Research at the University of Nevada, Las Vegas.
Annual job losses have curbed general business activity in Las Vegas, he said. Total employment fell to 794,700 in October from 819,800 a year ago and the unemployment rate remains elevated at 14.1 percent, though it's down from 15 percent the previous month.
"Everybody talks about diversifying our economy, but in some ways we are diversified," Potts said Wednesday. "There's always one part of the economy, some place out there in the country and the world where people are doing quite well with discretionary income and would come to Las Vegas for vacation."
The economic index, compiled by the UNLV research center, is a six-month forecast from the month of data, based on a net-weighted average of each series after adjustment for seasonal variation. November's index is based on September data.
The accompanying chart includes several of the index's categories, along with data such as new residents, employment and housing numbers, updated for the most recent month for which figures are available.
A separate Clark County Business Activity Index fell to 156.80 in September from 157.19 in August. The index measures three primary economic data — gross gaming revenue, taxable sales and unemployment. Overall, the index continues on a flat trajectory as the local economy works its way through the recession.
Stephen Brown, director of the Center for Business and Economic Research, will discuss the data and trends in more detail Dec. 15 at the Southern Nevada Economic Outlook at M Resort. Registration information is available at www.cber.unlv.edu.
The U.S. economy has registered five consecutive quarters of growth, but the pace of that growth has been meager, averaging 2.9 percent after inflation and just 2.1 percent during the past two quarters, Nevada State Bank economic consultant Jeff Thredgold said. The real annual growth pace has averaged 3.6 percent over the past 30 years.
"Never since the Great Depression has a recession wiped out all net job gains of the prior economic expansion," he said. "Never since the Great Depression has a painful and lengthy recession been followed by such a limited growth pace."
While Las Vegas has seen a significant increase in commercial mortgage defaults on vacant land, professional office buildings and retail centers, the market may be stabilizing. A third-quarter report from the Mortgage Bankers Association showed mixed numbers for commercial real estate.
The delinquency rate for loans held in commercial mortgage-backed securities, is the highest since the series began in 1997, the Washington, D.C.-based association reported. However, delinquency rates for other groups remain below levels seen in the early 1990s, some by large margins.
"Greater strength in the economy is bringing some stability to commercial mortgage delinquency rates," Mortgage Bankers Association Vice President Jamie Woodwell said in a statement. "Although weak, the economic recovery is just beginning to be seen in commercial real estate fundamentals and the mortgages they support."
Contact reporter Hubble Smith at hsmith@reviewjournal.com or 702-383-0491.