Southern Nevada economy seen as outflexing US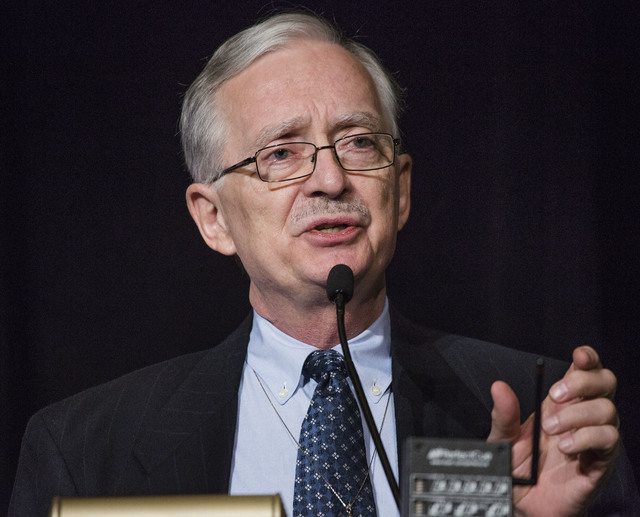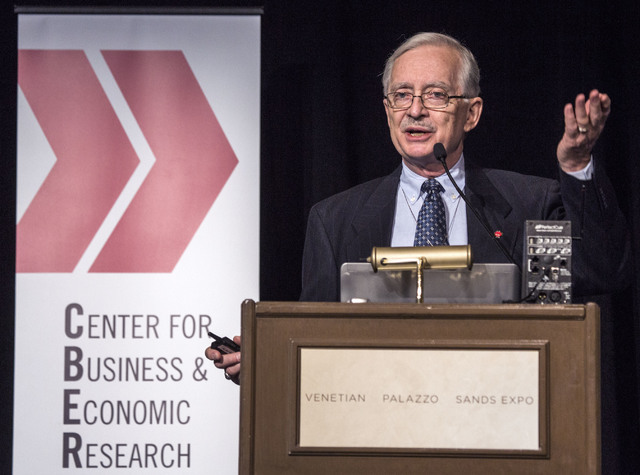 The Southern Nevada economy will strengthen the rest of the year and into 2017 and even surpass the national economy whose growth will be more subdued, according to a report released Thursday by a UNLV economics professor.
Dr. Stephen Miller, director of the Center for Business and Economic Research highlighted to business leaders at the Midyear Economic Outlook Conference at The Venetian of the steady progress towards recovery from the Great Recession.
CBER's Clark County Tourism Index that measures gross gaming revenues, hotel occupancy rate and total passengers at McCarran International Airport has recovered 97.1 percent of its loss from the recession. CBER's main economic index that measures taxable sales, gross gaming revenue and employment has recovered 99.2 percent of its decline during the recession, the report said.
"Las Vegas still must improve a bit more before it reaches its prerecession level of economic activity, but that gap is closing," Miller said in his report. "We can expect Las Vegas to reach its prerecession levels of other important economic variables generally in 2016."
CBER is projecting a growth in Southern Nevada visitor volume of 3.1 percent in 2016 and 2.1 percent in 2017. Gross gaming revenue will increase 1.3 percent this year and 1.3 percent in 2017 and personal income will rise 4.2 percent in 2016 and 3.9 percent in 2017.
The report said the Southern Nevada continues to "get help from real estate and construction with housing permits expected to increase 18.4 percent in 2016. A wide range of industries are also growing, and the conference highlighted in a panel discussion such projects as the Faraday Future auto plant planned in North Las Vegas at the Apex Industrial Park.
"We anticipate that the economic growth in the Southern Nevada economy will generally outperform the national economy since we started our local recovery later and from a much deeper hole faced at the national level," Miller said in the report.
Nevertheless, the health of the Southern Nevada economy depends on the national and international economic activity, and that remains a concern, Miller said in his report. He added that the "downside risk for national growth exceeds the upside risk in the near term." He pointed out that economic forecasters have lowered their predictions of GDP growth with each new release, and there are similar downward revisions on growth rates at the international level.
Miller is more pessimistic about the U.S. economy because of weaker growth in China and Europe and that a pullout of Britain from the European Union voted on Thursday posed a risk to the international economy. While there's no sign of a recession, he said CBER projects the U.S. economy will grow at more than 2 percent in the second quarter and grow at less than 2 percent for the next two years.
"That is a pessimistic forecast," Miller told business leaders. "Most of the analysts are saying we will grow more than 2 percent in the next two years."
In light of terrorist attacks around the world, the report said a terrorist event in Southern Nevada, especially on the Strip could "significantly lower future economic growth. Visitor volume and net migration to Southern Nevada would fall, the report said.
"God forbid we have a terrorist attack in one of the properties or on the Strip," Miller told the audience. We just experienced a terrorist event in Orlando, but it wasn't at Disney World."
As for Nevada as a whole, the report said recessions often causes new patterns of economic growth, but it didn't happen this time. Nevada, other parts of the West and Southeast have a similar growth pattern to that prior to the recession.
"The Great Recession brought about a substantial departure from the Nevada's normal high growth rate, but the Silver State has reemerged as one of the fastest-growth states in the nation," the report said. "Moreover, Nevada's economic growth is now more widespread across its different industries and regions."