Southern Nevada has seen continued growth since Great Recession
Updated June 15, 2018 - 9:44 pm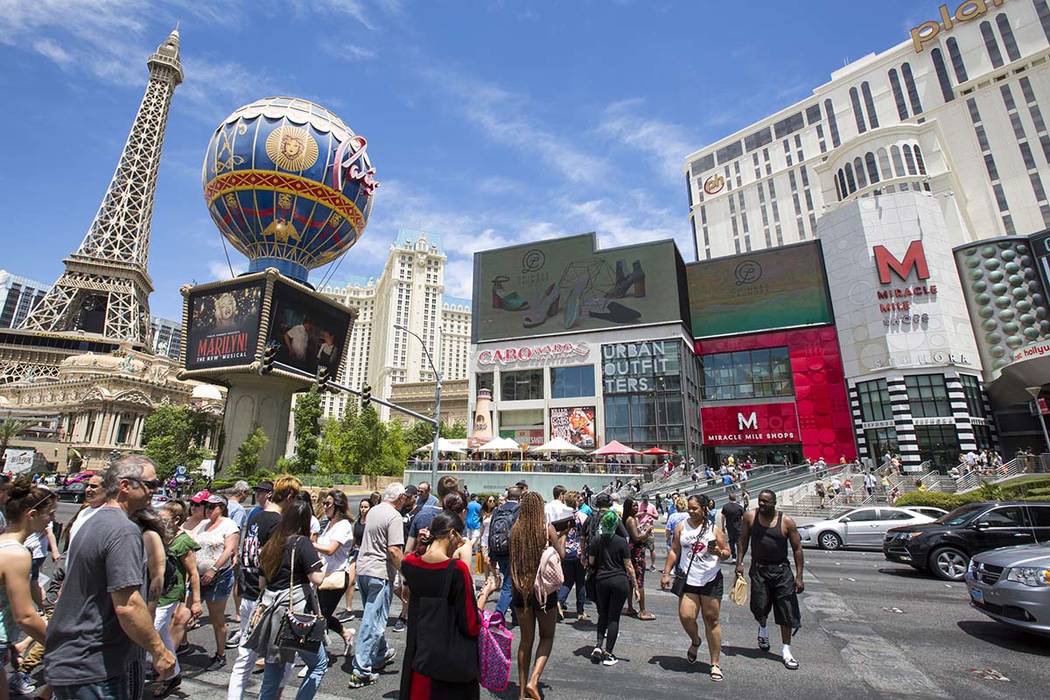 Southern Nevada's growth is outpacing the national rate, and a report predicts this growth will continue unless it is dampened by national and international issues, like fiscal policy and a potential trade war.
Stephen Miller, director of UNLV's Center for Business and Economic Research, gave a midyear economic update Friday morning at the M Resort.
"We're still recovering from the Great Recession, but we're doing it quite rapidly," Miller said. "Our economy is doing better than Nevada's economy, and Nevada's economy is doing better than the national economy," but only because "we were deeper into the recession."
Catching up
Miller said the Great Recession lasted about a year longer in Las Vegas than it did in the rest of the country.
Southern Nevada has recovered in many areas since the recession. The Las Vegas seasonally adjusted unemployment rate rose above 5 percent in recent months but still sits far below its peak of 14 percent in late 2010, according to a report released Friday accompanying the presentation.
Employment rates in Las Vegas grew much more quickly than the rest of the state and led the pack when compared to other western metropolitan areas like Los Angeles or Phoenix.
"We were hit harder, so we had more ground to catch up," Miller said.
Diversifying the economy
The report predicted Nevada's growth in housing permits, employment, personal income, population and gaming revenue will continue through 2019. Gaming revenue has not returned to its pre-recession peak, but Miller said casinos have reduced their reliance on gaming, broadening their revenue stream to include more shopping, food and entertainment.
"They've diversified their revenue stream, but it all relies on tourists," Miller said. "If tourists don't come," it doesn't matter "how much you've diversified your revenue stream."
John Restrepo, principal of Las Vegas-based RCG Economics, also delivered an update and said the local economy is not as diverse as it should be, but it's making strides.
"We're catching up," he said. "What we need to understand is that it takes a long time to change an economy. (It takes) a lot of time, a lot of talent, a lot of treasure — a lot of investment — and the political will to do so."
Clouds in the distance
While local business and consumer confidence is high, the report warned of potential risks to the local economy. Interest rate increases, policy uncertainty from Washington and trade wars could all hurt the local economy in the near future.
"We should be concerned" about tariffs, Miller said. "The president said it's no big deal, we're going to win this. … What happens if we don't? Then we might have a trade war, and that could tip us into recession."
Restrepo said he expects the job market and population to continue to grow in Las Vegas, barring any trade wars, tax policies or other upsets on the national and global stage. While a number of economists are warning of a recession by 2022, Restrepo said he believes Southern Nevada will keep growing into at least 2019.
"Prepare, look for the clouds, but stay strong," he said. "I think we're going to stay pretty healthy in Southern Nevada."
Contact Bailey Schulz at bschulz@reviewjournal.com or 702-383-0233. Follow @bailey_schulz on Twitter.