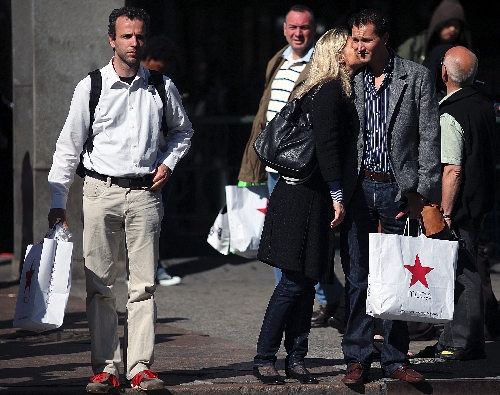 If you wanted a pay raise in May, Southern Nevada was the place to be.
Even as wages stalled nationwide in the month, Southern Nevada saw income gains. What's more, as flat pay nationwide cut into U.S. consumer spending in May, and though Southern Nevada's May sales numbers won't be out until this month , experts say it's likely consumer spending here will improve noticeably.
Start with those income numbers. First, weekly hours worked in Las Vegas ticked up 0.3 percent in May, to 34 hours, for the first year-over-year gain since the recession began, said Brian Gordon, a principal in local economic research firm Applied Analysis. Weekly earnings jumped 1.5 percent in May, to $681.36. That was the fifth straight month of local income increases.
Southern Nevada's pay gains outpaced the nation's in spring partly because the region lags U.S. recovery, Gordon said. While the rest of the country saw hour and wage gains in 2010 and 2011, Southern Nevada's labor market is just now perking up.
"Southern Nevada saw tremendous highs at the height of economic expansion, and Las Vegas witnessed some of the most dramatic declines during the period of contraction," Gordon said. "Our recovery cycle has been elongated due to extreme volatility in the market, and we're only now starting to see glimpses of improved earnings data."
Plus, many local businesses cut back staffs to a bare minimum to ride out the downturn. Now, with nearly two straight years of growth in statewide taxable sales, there's enough demand to force added hours.
April taxable sales grew 5.1 percent statewide and 4.9 percent in Clark County, the state Department of Taxation reported Thursday. It was the latest month in a nearly two-year string of sales jumps averaging between 5 percent and 10 percent a month.
And unlike the rest of the nation, Southern Nevada will probably extend its sales growth streak in May, Gordon said.
"I think over the course of the next few months, we'll continue to experience modest gains as a result of recovery in various sectors of the economy," he said.
Nationwide, the Commerce Department said Friday that consumer spending was unchanged in May. Income growth edged up 0.2 percent, but that was mostly because of gains from investments. Wages, the largest component of income, were essentially flat.
Americans cut back spending on cars and other long-lasting manufactured goods, even though they paid less for gasoline. Consumers did increase how much they spent on services for the second straight month, one of the few positive signs.
In Las Vegas, car sales rose 10.4 percent in April. Spending inside restaurants, furniture stores and clothing boutiques increased as well.
Nationally, spending adjusted for inflation was weaker in April and March than first thought, the government said.
Consumer spending drives roughly 70 percent of economic activity. The mostly disappointing report suggests growth in the April-June quarter could be weaker than the previous quarter's modest 1.9 percent annual pace.
Paul Dales, senior U.S. economist for Capital Economics, said annual growth in the second quarter could be closer to 1.5 percent.
Job growth has tumbled in the past two months. Consumer confidence has fallen. And growth in manufacturing has slowed, in part because Europe's financial crisis has dampened demand for U.S. exports.
Some economists are hopeful that lower gasoline prices could lead consumers to spend more this summer.
"Looking ahead, the recent fall in gasoline prices will soon boost real consumption," Dales said. "But a sustained and significant acceleration in consumption growth cannot take place without faster jobs growth, too."
Consumer spending on autos and other durable goods fell 0.4 percent in May. Spending on nondurable goods dropped 0.8 percent, mostly because of the lower gasoline prices.
The declines were offset by an increase in spending on services, which include every­thing from doctor's visits to rent payments. Service spending rose 0.3 percent in May, the second straight increase.
Joel Naroff, chief economist for Naroff Economic Advisors, said the gains in spending on services are notable because services account for two-thirds of spending and nearly 45 percent of economic activity. Still, unless pay increases, consumers are likely to remain cautious about spending, he said.
Even though wages didn't rise, Americans had more money to spend in May. After deducting taxes and adjusting for in­flation, income rose 0.3 percent – the biggest monthly increase for that category in two years. It largely reflected the sharp drop in gasoline prices that has lowered inflation.
Prices tied to consumer spending fell 0.2 percent in May, the biggest drop since June 2010.
The saving rate increased to 3.9 percent of after-tax income in May. That's up from 3.7 percent in April and the highest level since January.
The Associated Press contributed to this story.