Southern Nevada shoe seller still in battle with Crocs
August 11, 2017 - 2:44 pm
Updated August 11, 2017 - 4:43 pm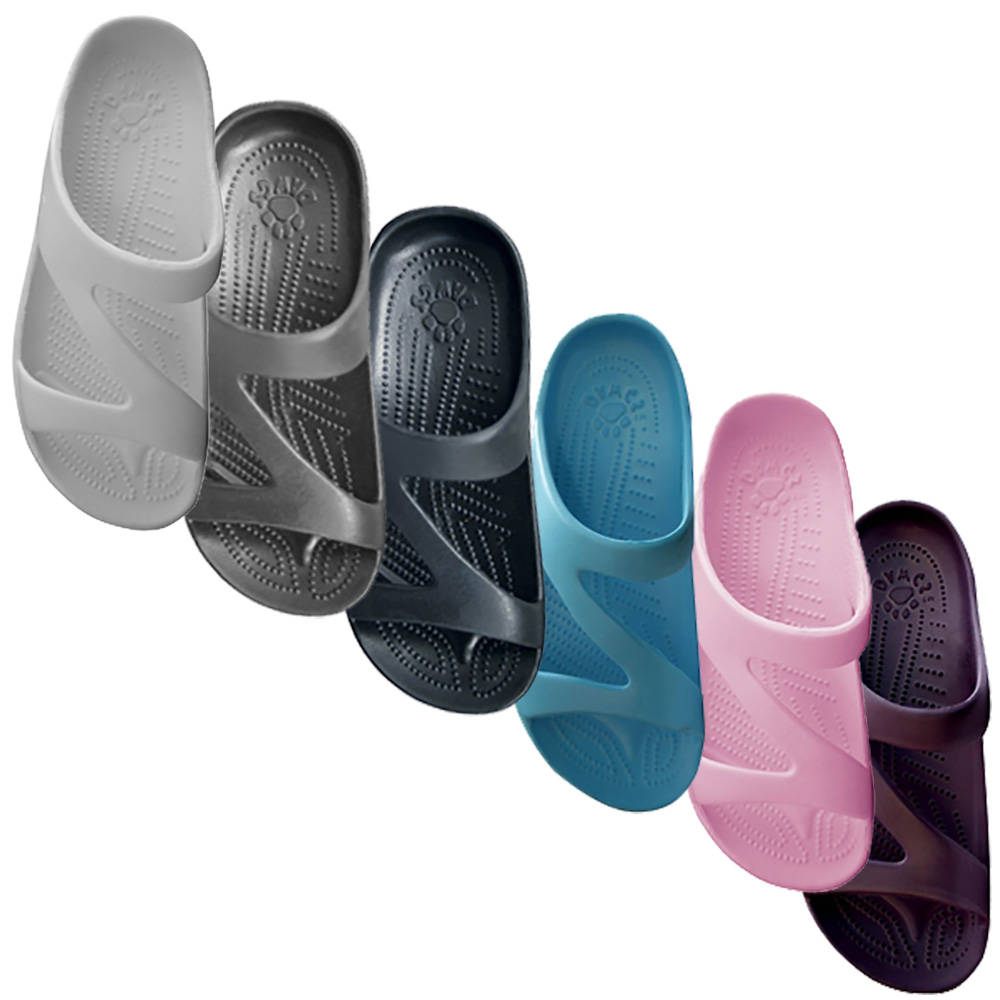 The shoe is on the other foot.
Ten years on, almost as long as USA Dawgs has existed, and the Las Vegas Valley shoe seller still hashes out its war with clog giant Crocs in courts.
On July 27, USA Dawgs accused Crocs, perhaps best-known for its clogs with holes, of stealing a Z-shaped sandal design from Dawgs.
The irony of the lawsuit is that the legal dispute between the two companies started in 2006 with Crocs accusing Dawgs and other companies of selling knockoffs.
Filed in the U.S. District Court of Nevada, Dawgs' lawsuit also accuses Crocs of using Dawgs' password for the e-commerce website Zulily to learn about an upcoming Dawgs sale. Crocs denies the accusations.
'Point of no return'
The years of litigation have cost Dawgs millions of dollars, CEO Steven Mann said. He remains undeterred.
"We're past the point of no return," Mann said. "We have to protect our business."
A statement from Crocs, based in Niwot, Colorado, calls the lawsuit harassment.
Crocs said it's confident it will prevail against Dawgs. Crocs also criticized Dawgs for naming individual Croc employees as defendants in the lawsuit.
"Crocs plans on vigorously defending the frivolous allegations that have been asserted and has every intention of pursuing all avenues available to clear the names of these individuals," the company said.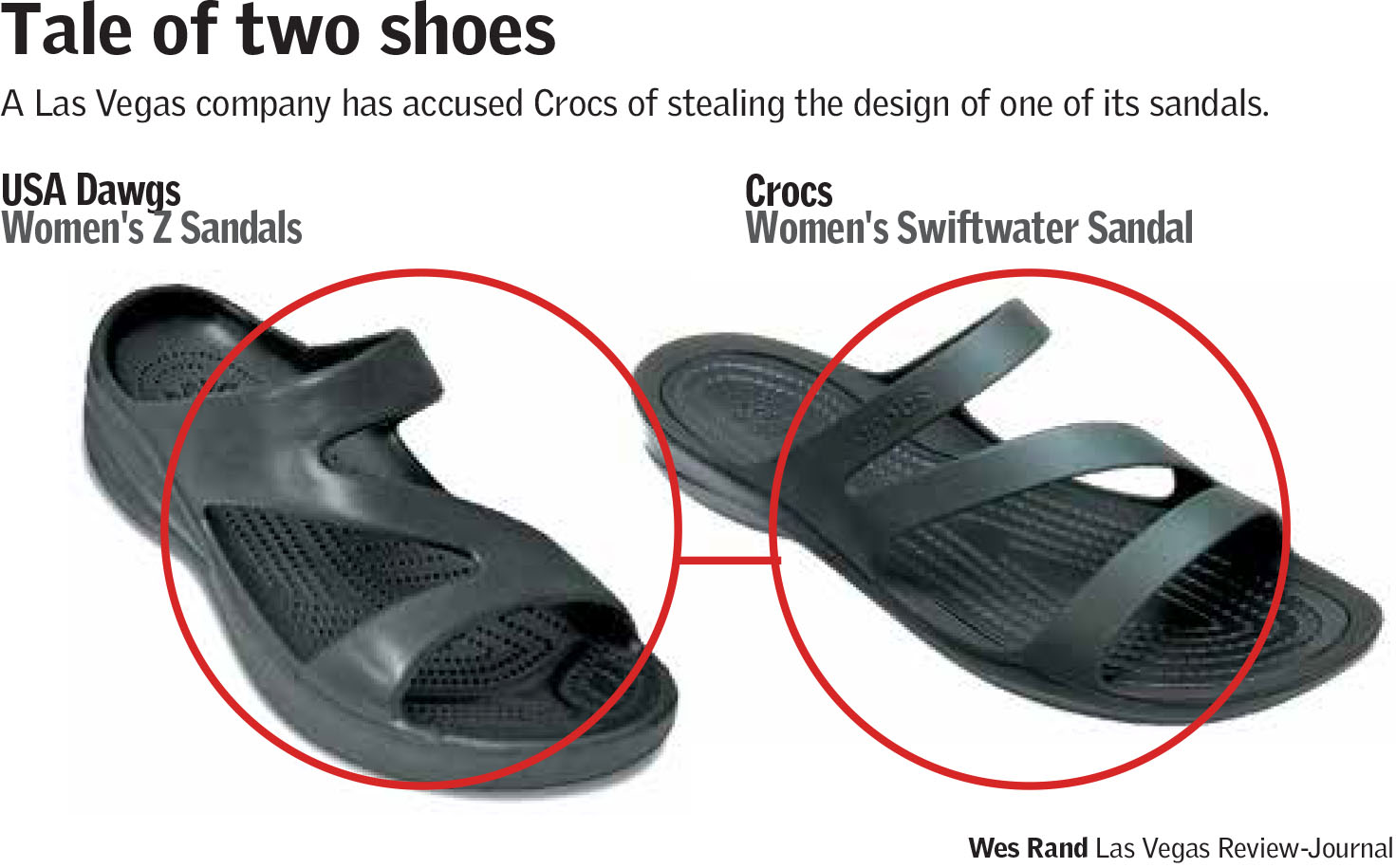 A sandal, a password
Dawgs has an office and distribution center near the intersection of Arville Street and Windmill Lane in the southern valley. The company usually has about 50 employees and as many as 100 during the busy season, Mann said.
In the latest lawsuit, Dawgs seeks an unspecified amount in damages plus a court order to stop Crocs from selling a pair of sandals with a Z-shaped pattern similar to a Dawgs shoe. The shoe has sold more than 1 million pairs in stores and online, according to Dawgs' court filings.
The lawsuit is part of a long series of legal battles between Crocs and Dawgs that started less than a year after Dawgs formed in 2006. Dawgs became one of 11 companies Crocs accused of copying shoe designs.
Dawgs is the sole company left among the 11 fighting Crocs. The others have settled or gone out of business.
In 2013, Crocs and Dawgs executives met to discuss a settlement and possible acquisition, according to Dawgs' filings. During the meeting, Dawgs executives showed the Z Sandals and divulged sales numbers.
Earlier this year, Crocs started to sell a similar shoe with a wider Z-shaped pattern called the Women's Swiftwater Sandals, according to Dawgs' court filings. Dawgs has asked the court to stop Crocs from selling the shoe.
Separate from the issues over the Z Sandal, Dawgs said it lost at least $75,000 in revenue and investigation costs from an incident involving e-commerce website Zulily. Dawgs accuses Crocs account manager Kim Lawrie of using Dawgs' Zulily password to look up information on a November sale, according to Dawgs' filings. Lawrie is a former employee of Zulily.
Dawgs accuses Lawrie of using information from that sales event to tell the e-commerce website to drop Dawgs shoes Crocs considered knockoffs. Dawgs' relationship with the e-commerce website has soured since, according to the court filings.
Losing Zulily has cost the company tens of thousands of dollars in revenue, according to the court filings.
Lessons for businessowners
Owners of valuable trademarks and brands take action to make sure customers don't get confused over products that look or function similarly.
Earlier this year, a local man announced plans for a brothel themed around the Oakland Raiders NFL team that will move to Las Vegas.
When asked if the brothel could be open to a lawsuit, Gibson Lowry law firm partner J.D. Lowry had said major-league sports teams are protective of their promotional material.
They will even demand T-shirt and gear hawkers on the side of the road stop selling unauthorized goods, Lowry said.
If patent and trademark owners don't take legal action, a competitor could say the company doesn't care about its property, she said.
The Dawgs and Crocs fight reflects a trend in patent litigation, said Steven Rinehart, a Salt Lake City patent attorney with Vested Law.
In the past, large companies debated patents in front of courts and government agencies familiar with patent laws, Rinehart said. Nowadays, patent holders sue all over the country in district courts less familiar with patent law.
The move has been used to kill small competitors who can't afford the legal bills, he said.
The fight has also moved to online marketplaces like Amazon and eBay. Patent holders will threaten the websites with legal action if they don't remove products the patent holder considers a knockoff, Rinehart said. The behavior endangers tens of thousands of small businesses that rely on Amazon for sales.
"In my opinion, many of these cases I'm seeing are without merit," he said. "But Amazon takes the items down anyway to avoid liability and in so doing ruins smaller businesses and businessmen on a daily basis."
He said he wishes lawmakers would limit patent infringement liability for online marketplaces and that small companies pursued patent protection earlier.
"This is not a foolproof approach, but it helps legitimize the small company in the eyes of Amazon and courts," he said.
Contact Wade Tyler Millward at wmillward@reviewjournal.com or 702-383-4602. Follow @wademillward on Twitter.
Timeline
2002
Crocs starts selling molded foam clogs in the United States
2006
Dawgs and Double Diamond Distribution, founded in Saskatchewan, Canada, sell molded foam shoes like sandals and clogs in the U.S. That same year, Crocs accuses a batch of companies including Dawgs of selling knockoffs.
2007
Dawgs starts selling the Z Sandal in the U.S.
2010
Crocs wins an appeal that labels products by Dawgs and other shoe sellers as knockoffs. Dawgs continues to fight this decision.
2013
Crocs meets with Dawgs to discuss settling and possible an acquisition, according to Dawgs' lawsuit.
2017
Crocs starts selling shoe with similar Z design to Dawgs shoe, according to Dawgs lawsuit. Dawgs sues over the design among other accusations.