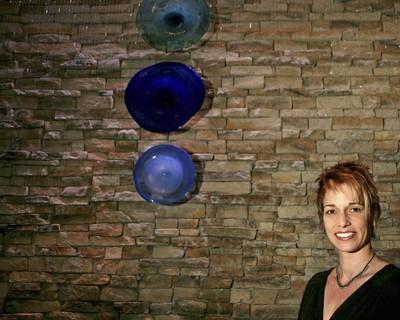 Jennifer Lynn arrived for an interview in a black one-piece business dress and big, white, toeless slippers. Her feet, it seems, had just had a spa treatment.
Lynn had just tried out an applicant who wanted a job at Caesars Palace's 50,000-square-foot Qua Bath & Spa.
"I was in an audition for a new artisan," she said. "Quality control, ya know."
Harrah's Entertainment hired Lynn, a 14-year spa industry veteran, in 2005 to help design, develop and operate the spa on the Augustus Tower's second floor.
The spa, opened in November, encompasses 51 treatment rooms including a fitness center, retail boutique, Roman baths, tea lounge, arctic ice room, cedar room sauna, and an herbal steam room, among other amenities.
The 34-year-old Lynn now oversees the day-to-day operations of the spa, which involve 110 employees: managers, support staff, concierge, bath attendants and 60 artisans who deliver the treatments.
Lynn, who was born and raised in Las Vegas, started as a physical trainer at The Mirage while finishing her history degree at the University of Nevada, Las Vegas. While working at Steve Wynn's then-flagship property, Lynn met the casino developer and became his personal trainer.
Lynn said Wynn was an innovator in the resort spa industry. He was one of the first Strip executives to recognize the health and economic benefits of having a spa for guests, she said.
Caesars introduced the spa to the Strip in the 1980s, but the opening of The Mirage in 1989 started the spa boom in gaming, Lynn said.
Every large mixed-use project under construction along Las Vegas Boulevard will have a spa where visitors can relax, unwind and escape. The inclusion fits trends; in the past 14 years. Lynn said, spa services have been the second most popular discretionary spending item, right behind restaurants.
"It's really tapping back into our ancient history," Lynn said. "We're just starting to rediscover how important it is to take that time away from the computer, the BlackBerry. We have a cellular-free zone in the spa."
After stints as spa director at Treasure Island and Bellagio, Lynn left Las Vegas for the first time when Wynn's Mirage Resorts was bought out for $6.4 billion in 2000 by MGM Grand Inc.
She went to Santa Barbara, Calif., to run the Bacara Resort & Spa before becoming a industry consultant. She was brought back to the Strip after five years away when Caesars Palace General Manager John Unwin recruited her for what would become Qua.
Question: How did you get into spas?
Answer: I was Steve Wynn's personal trainer, that is where I developed an interest for the spa industry. He had a passion for the spa business. He was an amazing mentor over the years in development and design and being creative.
Question: How was it working with Wynn and how did it shape your career?
Answer: He's a tremendous athlete; I don't know if many people know that about him. He was very much into health which was very exciting from an operator's standpoint to have somebody at that level that understood spas and the importance of it.
Question: Why did you leave Bellagio and Las Vegas all at once?
Answer: I left after (Mirage Resorts was) sold and I was ready to get out of Las Vegas. I spent a year in Santa Barbara, Calif., and then went on the consulting side of the business for four years.
Question: How did you get back into spa directing?
Answer: I met the general manager here at Caesars and he shared the plans for Qua. The Augustus Tower had just opened and they had always planned for this 50,000-square feet of space to the spa. They were figuring out what the identity (of the spa) would be when I came on board.
Question: Why are spas so popular?
Answer: In general, people are becoming more aware of health, wellness, and beauty. I think we're starting to understand as a society that the sense of touch can be very healing.
Question: How has the spa experience changed since you've been in the industry?
Answer: It has gone from a very solitary experience to now what I call social spaing. People are looking to share the experience of a spa with either sister, a mother, a brother, a bachelorette party. That solitary experience is now turning into "Let's go together. Let's take that special time where we are uninterrupted by cell phones and television. We can truly relax and enjoy each other's company and conversation."
Question: What is Qua's most popular treatment?
Answer: The classic body massage. A 50-minute massage service using Swedish technique costs $140. Locals can also enjoy the amenities for $35 per person per day. That includes the fitness center, Roman baths, steam, sauna, arctic ice room, relaxing in the tea lounge. About half the guests we see every day come in just to use the facilities.
Question: What is the most expensive treatment?
Answer: The most expensive is our well-box program that is a personalized endermologie machine that works best in series.
Essentially, this $1,995 treatment we offer begins with an anti-cellulite detox wrap, we show them their personal endermologie machine, and we give them a 30-day take-home cleansing program to help them rid themselves of toxins and ship the unit home with them. It helps to break up the connective tissue where a lot of toxins are trapped. The toxins are typically what cause that dimply or less than smooth appearance of the skin.
Question: How do you serve high rollers or celebrities who want to use the spa but maintain their privacy?
Answer: We don't have any back-door entrances. For the most part we've found celebrities don't mind coming in through the main door.
We do have private areas throughout the spa that they are able to us. The treatment areas are private. We have three couple studios with full showers and bathrooms in them so people can enjoy privacy.
VITAL STATISTICS
Name: Jennifer Lynn
Age: 34.
Quotable: "That solitary experience is now turning into "Let's go together. Let's take that special time where we are uninterrupted by cell phones and TV."
Position: Director of Qua Bath & Spa, Caesars Palace.
Family: Husband, Brett; son, Race.
Education: Valley High School; bachelor's in history, University of Nevada, Las Vegas.
Work history: The Mirage (fitness trainer) 1991-1993; Treasure Island (spa assistant director, spa director) 1993-1998; Bellagio (spa director) 1998-2000; Bacara Resort & Spa in Santa Barbara, Calif. (executive director) 2000-2001; private consulting business 2001-2005; Caesars Palace (spa director) 2005-present.
Hobbies: Yoga, outdoor activities, scuba diving.
Favorite book: Harry Potter series.
Hometown: Las Vegas.
In Las Vegas since: 1973.
Qua Baths & Spa is at Caesars Palace and can be reached at (866) QUA-0655.