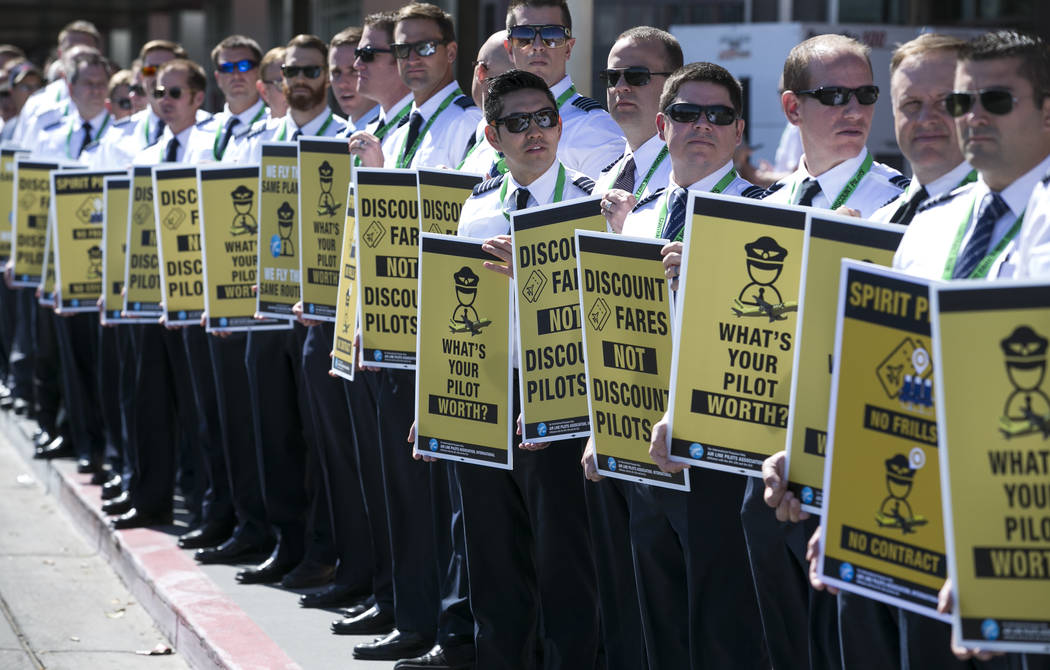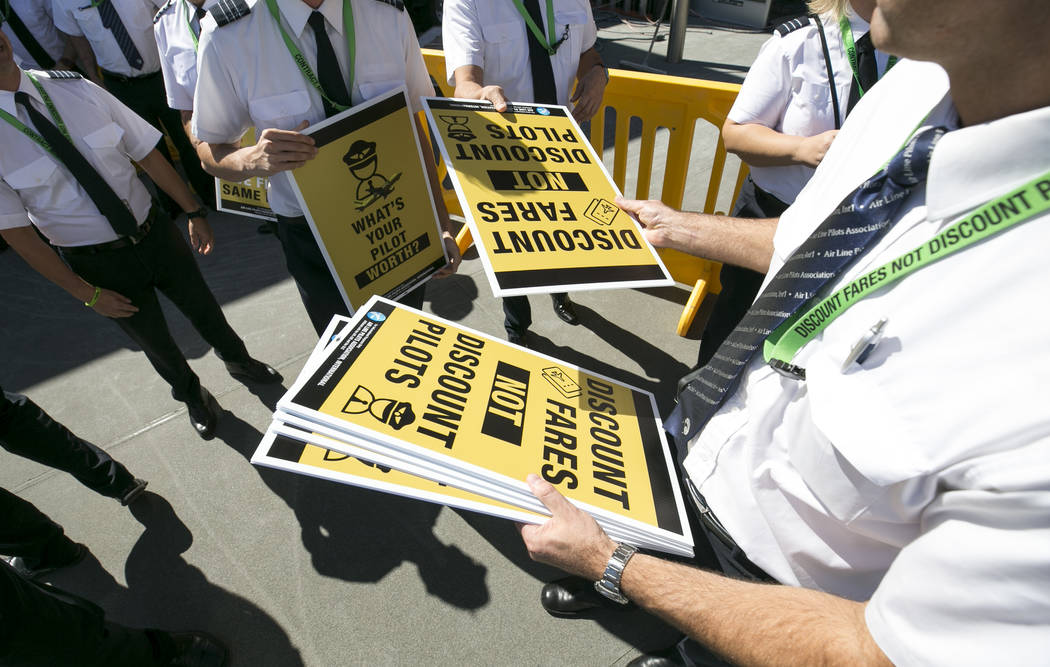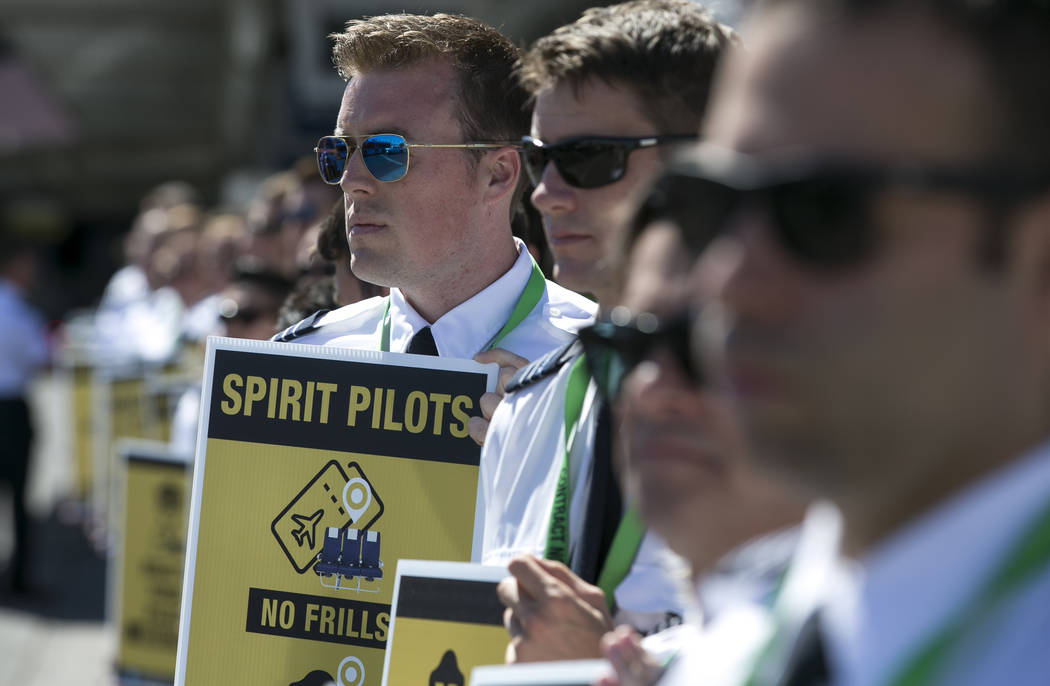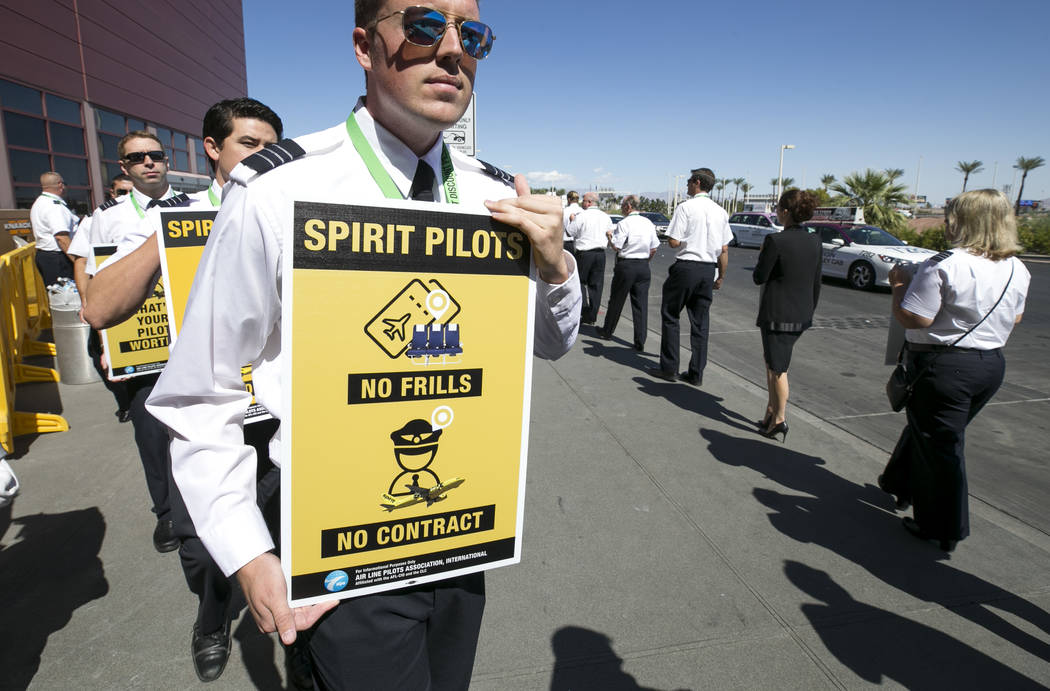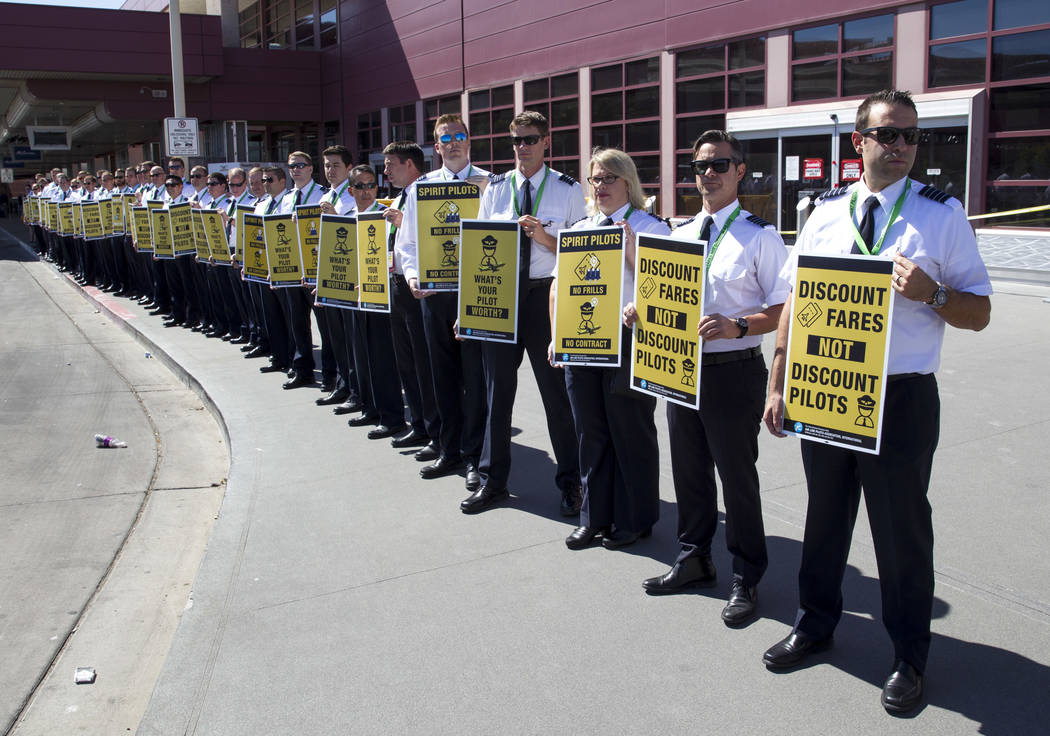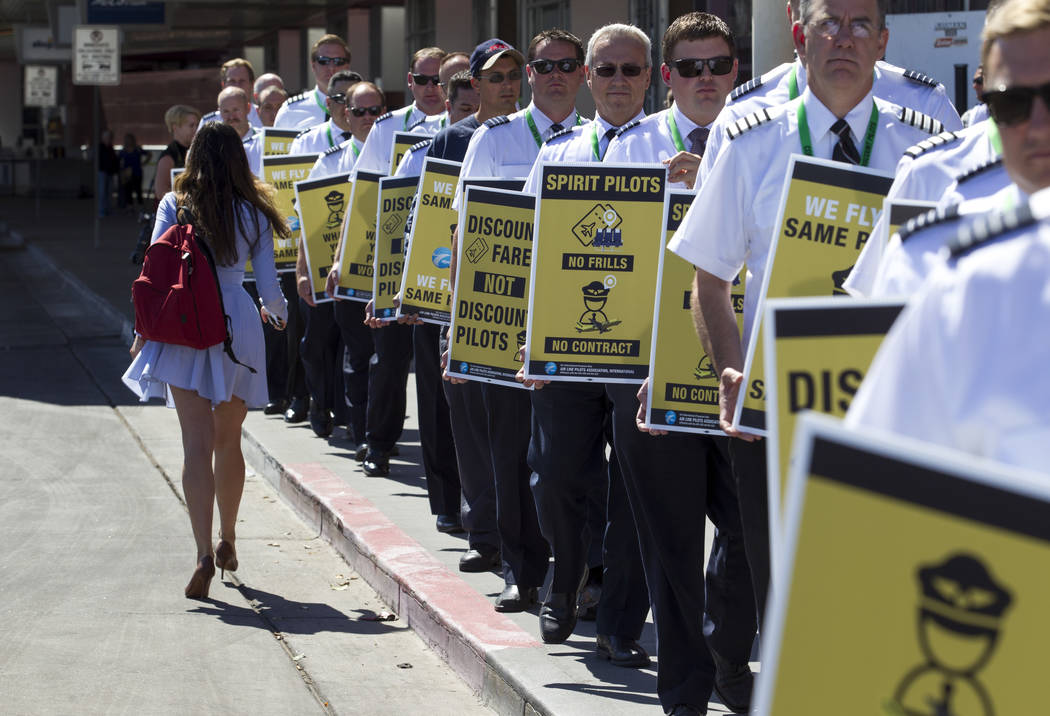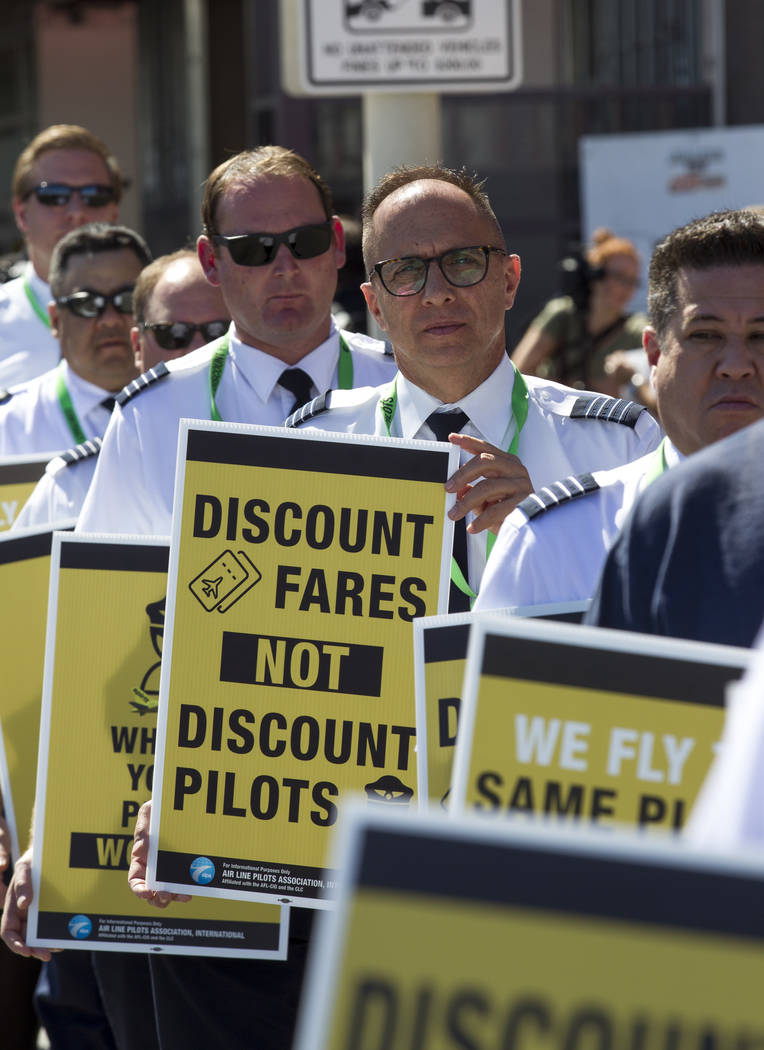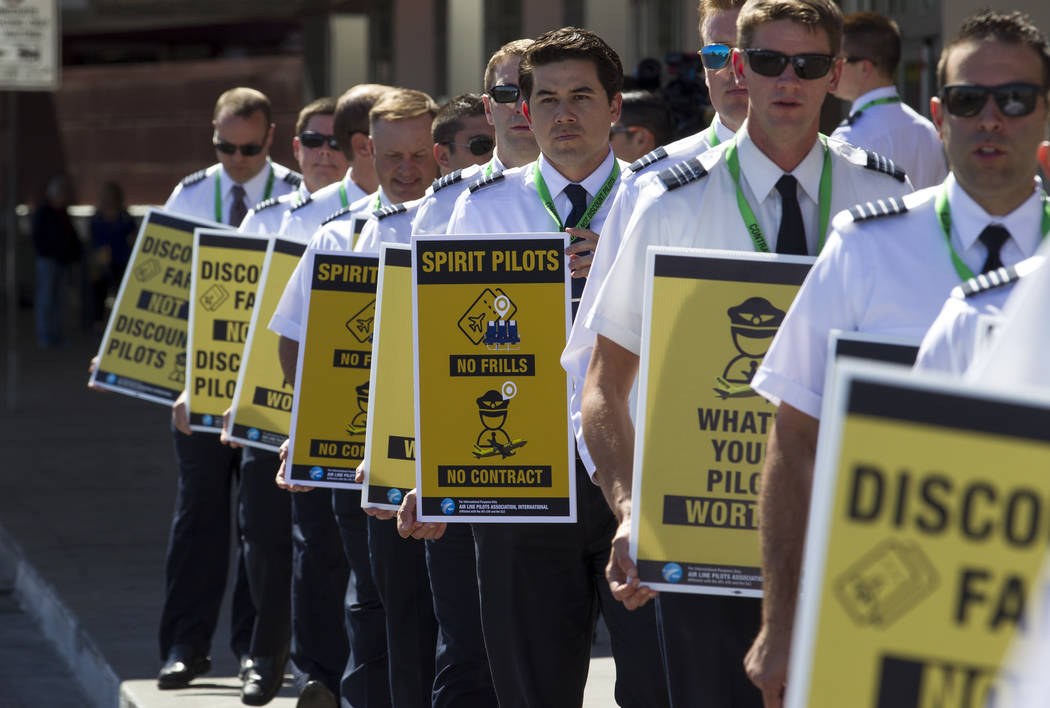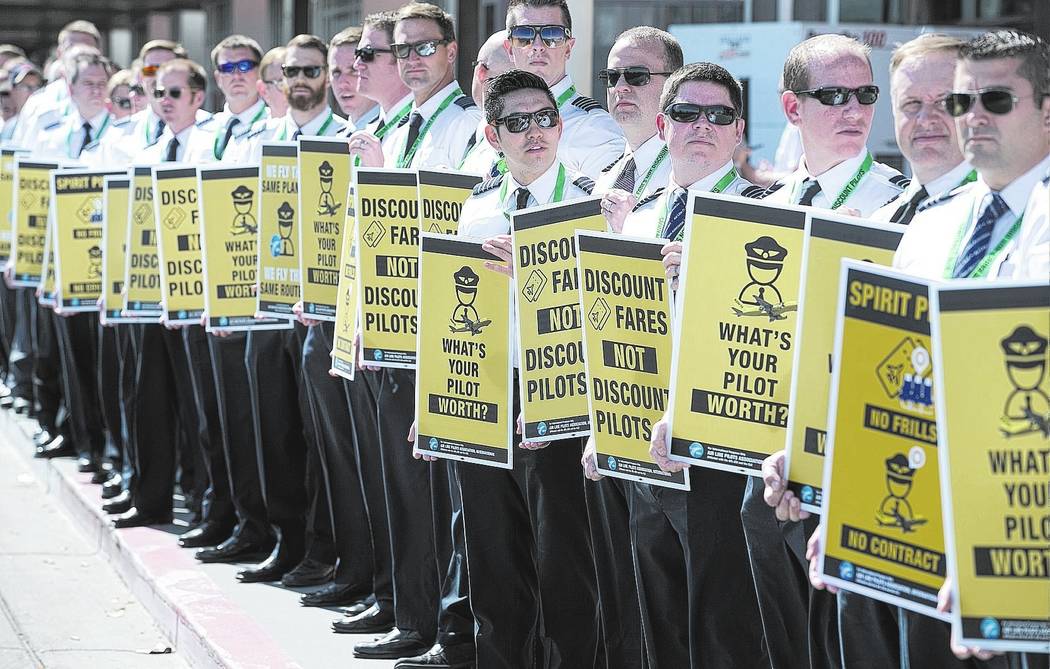 Roughly 50 off-duty pilots with Spirit Airlines picketed outside McCarran International Airport on Friday to demand an updated labor contract after more than two years of negotiations with the company.
The pilots, represented by the Air Line Pilots Association, are calling for long-term disability benefits, limits on outsourced work and specific wording about job protections in case of an airline acquisition or merger, said Capt. Paul Slotten, a Spirit pilot for since 2003.
"We're not looking for anything uncommon in the industry," said Slotten, who is a member of the negotiating committee.
"If we don't have a market-competitive contract, then we're not going to be able to grow, but management tell us that we need to grow in order to survive," Slotten said. "We need to get back to the table together with management to get a deal done."
Representatives from Spirit's media relations team did not respond to several emails and phone calls seeking comment.
Spirit and the pilots union have negotiated since February 2015. Pilots are still working under a previous five-year pact that expired July 30, 2015.
Shortly after negotiations broke down earlier this month, Spirit's 1,700 unionized pilots voted to authorize a strike if mediation efforts fail. Slotten said that Spirit is poised to lose about 30 percent of its pilots this year through attrition.
"Pilots have choices on whether to stay or go," Slotten said. "If attrition continues to accelerate, then Spirit will have a difficult time meeting its hiring goals and perhaps its scheduling obligations."
Unlike most demonstrations, the airline pilots on Friday largely remained silent and solemn as they walked in a circle outside Terminal 1, as supporters drove by honking their horns. A handful of pilots from Southwest and Frontier joined in as a show of support.
"We're concerned with Spirit's ability to not only recruit, but retain qualified pilots to support the airline operations," said Capt. Ryan Pachkofsky, who has worked with Spirit for six years. "But they can't do that without securing an agreement with our union."
Contact Art Marroquin at amarroquin@reviewjournal.com or 702-383-0336. Find @AMarroquin_LV on Twitter.
Spirit has a strong presence in Las Vegas
Spirit Airlines is one of the five most-scheduled carriers at McCarran International Airport. About 21.6 million airline passengers flew with the Florida-based ultra low-cost carrier in 2016, with more than 3.17 million of them arriving or departing Las Vegas.