Spokesman confirms Faraday Future has suspended Apex construction
November 18, 2016 - 6:50 pm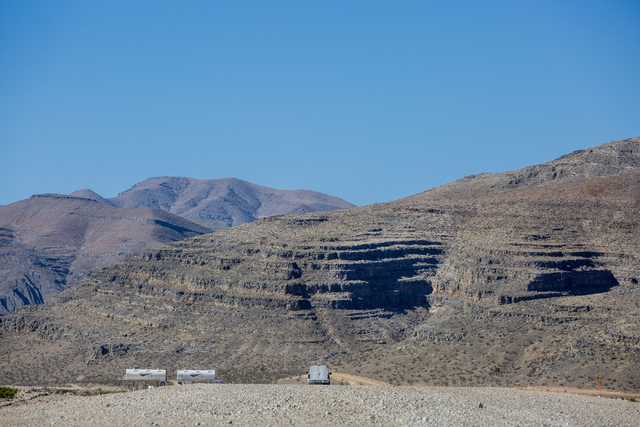 A spokesman for Faraday Future confirmed that construction of the electric carmaker's production facility at North Las Vegas' Apex Industrial Park is on hold until a yet-to-be-determined date in early 2017.
"We are acknowledging that there has been a temporary work stop at the site," said Rich Otto, Faraday communications specialist. "We are re-evaluating where we're at, while we refocus our resources toward bringing this car to life."
Otto was referring to the electric car that will be a model for the production vehicles made at the site and will become the company's signature product, which it intends to unveil in January at the Consumer Electronics Show.
Otto said the company — headquartered in Gardena, California, with offices in Silicon Valley and China — is refocusing financial resources away from completing its Nevada production facility temporarily and toward completion of a prototype.
"We plan to ramp construction back up starting in the new year after CES," Otto said. "That's something we're driving toward."
Faraday broke ground in April on construction on 900 acres in Apex to be home to its 3 million-square-foot factory. Otto said grading of land and other important steps for preparing to lay a foundation were complete.
Construction stopped last week when AECOM, the general contractor overseeing more than $500 million in construction on the $1 billion project, stopped work after Faraday missed multiple deadlines for depositing money into an escrow account to pay builders.
Gov. Brian Sandoval, who helped rally support for $320 million in incentives during a special legislative session in December, suggested that $70 million earmarked for infrastructure improvements scheduled to begin in June may have to wait to see how Faraday is advancing with its plans to resume construction early next year.
Unlike Tesla, the electric carmaker that got even bigger tax abatements and incentives to bring its production facility to Nevada, Faraday Future is not a public company. It's a private enterprise funded primarily by controversial Chinese billionaire Jia Yueting.
Public concern over the Nevada project arose when the lack of escrow deposits coincided with a letter from Jia apologizing to investors in LeEco ventures, the Chinese company of which he is chairman and CEO, that he had overextended company finances.
Otto stressed that Faraday is not part of the Chinese company, but acknowledged the letter had something to do with Faraday's current refocusing.
"Part of the re-evaluation and refocusing of our efforts on producing the car were a result of the restructuring and re-evaluation of finances from Jia, yes," he said. "Faraday Future and LeEco operate as strategic partners, but the finances of the two companies are completely separate."
Otto responded to criticism from Nevada Treasurer Dan Schwartz, who likened the project to a Ponzi scheme that didn't receive proper vetting before the governor's office pushed through incentives.
"It's unfortunate that the treasurer sees FF the way he does," Otto said. "But we are taking this feedback very seriously, and refocusing our company on producing the car as a tangible asset. We hope our actions to launch the vehicle will reflect the seriousness and validity of FF."
Otto said the company is communicating daily with AECOM to restructure its commitments, and is in regular correspondence with the governor's office.
"We obviously have milestones that we need to maintain with … Nevada to continue the project to keep them informed of where we are financially," Otto said. "We are working very hard to maintain those relationships and assure them of the company's viability is front and center."
In addition to about 3,000 construction jobs, upon completion the Faraday factory stands to employ 4,500 full-time workers and support 9,000 related full-time jobs. The governor's office projected it would have an economic impact of $85 billion over 20 years.
"The Nevada plant is integral to our future," Otto said "That is where we plan to manufacture our vehicles and future products. That is very much part of our plan moving forward."
To reassure Nevadans about Faraday's commitment to the state, Otto said of the halt to construction, "We're seeing this as a refocusing opportunity that is obviously very critical to the future success of the company. But we're confident we'll be able to pursue a future in Nevada by getting this vehicle out there."