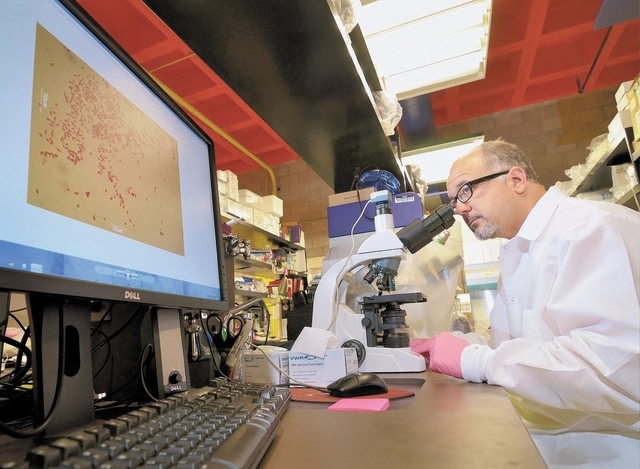 They all have different stories about how their fledgling businesses have unfolded over the past year, these aspiring business entrepreneurs and 2013 finalists in the highly competitive Dominic Anthony Marrocco Southern Nevada Business Plan Competition.
There's the current winner — Sports Entertainment Gear — which is planning to sell its noise-activated, illuminated sports jerseys at the upcoming World Cup. UNLV Lee Business School master's of business administration students Travis Williams and Meghan McGaugh along with Rebels alumnus Brian Harge invested about $15,000 during the past two years, and applied for a business accelerator program for startups in Brazil in light of the 32-nation soccer event.
Sports Entertainment Gear is also licensed with the University of Nevada, Las Vegas; University of Nevada, Reno; and Michigan State to sell its line of light-up shirts, and is negotiating with other universities and professional sports leagues to manufacture and sell the team logo gear.
"We have not moved as fast as we would have liked, but we want to survive long enough to perfect the product for the next opportunity," said Williams, scheduled to graduate with an MBA degree in December.
Williams said the company has sold about 600 shirts in 2013, with each unit retailing for $35. Williams said Sports Entertainment Gear will likely develop tank tops for women for the World Cup, too.
Meanwhile, former finalist Eric Morse of EcoBOSS16, the company that makes liquid organic fertilizer for commercial farms, has expanded his enterprise from selling the product to farmers in California to those in Panama and Ghana.
Morse said his company has sold $500,000 worth of products this year. Two years ago, there was an initial investment of $500,000 and in March 2012 there was another infusion of $250,000, Morse said.
Ex-finalist Allison Copening, the former state senator, invested $100,000 of her own money to launch Seasons Funeral Planning Services, which opened in July and helps customers craft personalized funeral services to celebrate and memorialize loved ones.
Copening said she, her two employees and a consultant guide people with the customization. Depending on how much time and effort is involved, the costs range from $495 for a "helping hands"- level product to a $2,000 celebration of life, which is more involved and includes items such as a memorial video.
"It's exhausting putting on a service. You have to write an obit, choose pall bearers," Copening said. "We take the worry off people's hands.
"We want to help people honor their loved ones and help them heal," she said. "For me, it's a calling."
UNLV alumnus Ryan Rollo, who helped lead finalist HopeLBC, a Web-based video network focused on medical and cancer research for cancer patients, said he is passing the reins to a familiar name.
Rollo said he could not carry with HopeLBC because he was working on a prior online project, so he passed the information to Jeff Moskow, who advised Rollo on the Hope project and founded the enterprise. Moskow, a former UNLV assistant professor, donated $500,000 to the Rebel Venture Fund over five years.
The Hope project helps patients get information about lesser-known cancers. The network would include resource and data information focusing on clinical trials, drug development and treatments, Rollo said. He noted it would include experts on videos and leading doctors who head research trials.
The fifth former finalist is UNLV chemistry professor Dr. Ernesto Abel-Santos, who discovered a chemical compound that he's trying to put in pill form to prevent infections in hospital patients who are taking antibiotics. The effort, previously called CamSA Pharmaceuticals, has been renamed Abel Therapeutics.
Abel-Santos said hospital infections cost $3 billion annually and kill 50,000 hospital patients. To create this pill, Abel-Santos said he is working with a Boston company because that city has more resources, such as more laboratory space to test the compounds.
Abel-Santos hopes to cash in down the road. He said he tested the synthetic compound in mice and hamsters in UNLV labs and it's preventing infections in the rodents.
He hit a speed bump when trying to commercialize the product because he and UNLV couldn't agree over the intellectual property. So, Abel-Santos said he's working with a Boston company while working with UNLV to complete an agreement.
"It's the correct strategy. The Boston company has the infrastructure necessary. They have better animal facilities to test the drugs 24/7," Abel-Santos said. "They can synthesize compounds and test them in great numbers."
Abel-Santos said clinical trials could start in three years and it would take another 10 years to get the drug to hospitals.
Contact Alan Snel ar asnel@reviewjournal.com or 702-387-5273. Follow Snel at @BicycleManSnel on Twitter.
HOW TO APPLY
If you are primed to move your product or service to the marketplace, you're a candidate to enter the 2014 business plan competition, which is presented by the Las Vegas Business Press and the UNLV Center for Entrepreneurship.
Last year, the finalists received more than $60,000 in cash and business services, and a similar prize package is planned for the 2014 finalists.
But you have to apply soon. Entries will be accepted until Jan. 6, 2014. The fee is $100. Log on to: