Sprouts Farmers Markets plans Las Vegas expansion
October 25, 2013 - 2:43 pm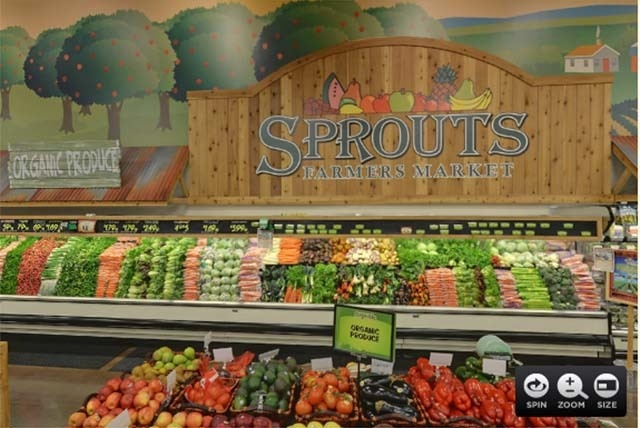 Sprouts Farmers Markets are growing in the Las Vegas area.
In 2014, the company plans to open three locations at Green Valley and Horizon Ridge parkways, Warm Springs Road and Stephanie Street, and Sahara Avenue and Hualapai Way.
About 110 people will be hired at each new location, and the online job fair for the first location will go up after Jan. 1 at www.sprouts.com.
The first 25,086-square-foot store is scheduled to open in the Stephanie Power Center in spring 2014. The second 24,975-square-foot Sprouts is scheduled for late spring or early summer in Green Valley; and the final 26,904-square-foot store is slated to open summer 2014.
The company plans to open eight other locations next year in locales such as Prescott Valley, Ariz.; Holladay, Utah; and San Ramon, Calif.
Sprouts Farmers Markets entered the Las Vegas area in 2012 after it merged with Sunflower Farmers Market in May of that year. The company operates those former Sunflower stores at 3365 E. Tropicana Ave. and 4020 S. Rainbow Blvd. under the Sprouts moniker.
For the 26-week period ended June 30, Sprouts' net sales increased 48 percent to $1.20 billion. The company cited growth driven by the Sunflower transaction, an increase in comparable store sales and new store openings. Net income was $30.6 million for the same period, up $15.7 million from 2012.
In 2011, Sprouts also merged with Henry's Farmers Market, further solidifying its hold on the affordable natural grocery niche. Sprouts is headquartered in Phoenix. The company operates 167 stores in eight states and employs 14,000 people.
Separately, recent reports of Wal-Mart planning to close underperforming stores across the U.S. won't affect the Las Vegas area.
"Wal-Mart is not planning any closures in Las Vegas and, in fact, we expect to begin construction on the new Supercenter on Blue Diamond in the next few months," said Director of Communications Delia Garcia.
The new store is expected to hire 300 employees.
Wal-Mart operates 20 Supercenters, Neighborhood Markets and traditional Wal-Marts in the Las Vegas area.
Contact reporter Laura Carroll at lcarroll@reviewjournal.com or 702-380-4588. Follow @lscvegas on Twitter.