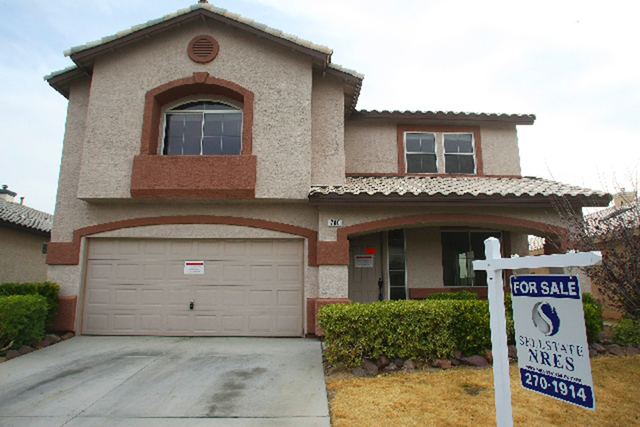 The roller coaster ride is coming to an end.
That's the word from the Greater Las Vegas Association of Realtors, which reported overall stabilization in the Las Vegas Valley's housing market in October.
Sure, prices climbed more than normal, and listings jumped even as closings dropped, according to the association's Tuesday report. But the market in general is flashing signs of steadier times ahead.
First, about those prices. The median price of a single-family resale rose to $185,000 in October, up 32.1 percent from $140,000 in October 2012. The median price gained 2.8 percent on September, when it came in at $180,000.
October's results were a revival of sorts. In September, prices slipped month-to-month for the first time in more than a year, easing down 1.1 percent from August, though they were up 29 percent year over year. Still, September's drop ended a 19-month string of month-to-month price increases. Prices have mostly bumped around in the $180,000 to $185,000 range since late summer, after peaking at $315,000 in 2006 and bottoming out at $118,000 in 2012.
The number of new listings jumped to 3,701 in October, up 12.7 percent when compared with October 2012. The number of available listings without pending offers surged 73.4 percent, to 7,072 units. In all, the market had two months of inventory, up from just over a month earlier in the summer.
Still, closings fell 11.9 percent year over year, to 2,627 homes. If you want to know just how much demand has cooled, consider what's happening with offers. Gone are the days of a dozen frenzied bids on one place. Today, sellers get maybe one or two offers — if the price is right, association President Dave Tina said.
Put it all together, and you have a market that is stabilizing, Tina said. Prices have flattened in recent months, the for-sale supply is healthier, and buyers aren't hocking arms and legs in a desperate bid to just get a place, any place.
"People need to know that inventory is normal now. They can buy a house for what it's worth," Tina said.
"Sellers have gained about 30 percent in the last year, but they're not going to get to 40 percent more. They're going to get what their neighborhood comps (comparable sales prices) were in October."
Time on the market also reflects slightly lower demand. In October, 75.4 percent of all local homes and 67.8 percent of condos and townhomes sold within 60 days. That was down from 77.2 percent of all local homes and 75.6 percent of condos and townhomes in September.
But month-to-month volatility is part of a normal market, Tina said. So expect prices and supplies to fluctuate between small gains and losses going forward. That will especially be the case in the last few months of the year because the holiday season is typically a slow sales period.
"Home prices and sales usually cool off with the weather," he said.
The association's stats also show that investors continue to lose market share.
In October, 44.9 percent of existing local homes were bought with cash, which usually indicates an investment buy. That number was down from 47.2 percent in September, and below a February peak of 59.5 percent.
The association's findings match a national group's observations on the local market.
The National Association of Realtors said Thursday that Las Vegas for the first time made its list of 10 "turnaround towns" that led the nation's housing recovery in the third quarter. The ranking looks at inventory, median list price, days on the market and online home-search activity.
"In Las Vegas, the pendulum has been swinging in a positive direction long enough to qualify it" for the list, association economists said.
Las Vegas wasn't the only Nevada city to place in the Top 10. Reno ranked No. 3, thanks to a "far healthier balance than it experienced this time last year."
Contact reporter Jennifer Robison at jrobison@reviewjournal.com. Follow @J_Robison1 on Twitter.