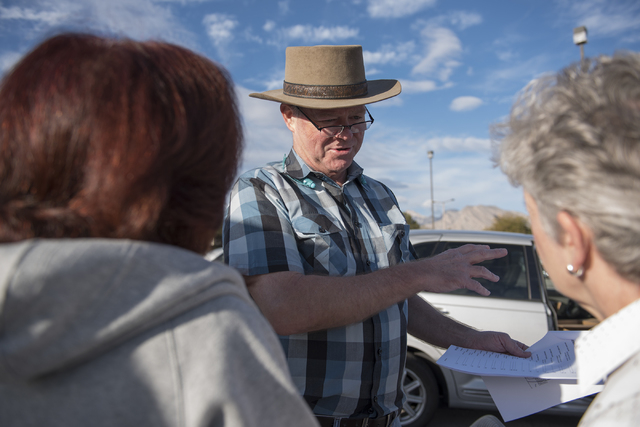 Las Vegas Councilman Bob Beers said Wednesday that he plans to sue the city over the number of signatures needed to put a publicly subsidized downtown soccer stadium on the June ballot.
Beers, a staunch opponent of using public funds to help pay for the $200 million, 24,000-seat project, has spent more than a week gathering signatures aimed at putting the issue up for a vote during this summer's municipal elections.
The Ward 2 councilman said he already has more than the roughly 2,300 signatures of registered voters that he was initially told would be needed to put the issue to voters.
That number was nearly quadrupled last week when City Attorney Brad Jerbic announced an apparent error at the city clerk's office that boosts the requirement by an extra 6,000 signatures.
Beers on Monday filed a letter protesting that decision and requesting an extension in order to gather extra support for the initiative, an effort Jerbic formally rebuffed the day after.
By Wednesday afternoon, Beers had decided he would sue over the issue — whether or not he gets the required signatures.
"It's entirely possible that a judge will say '(Jerbic), you've done this before, you need to follow the law,'" Beers said between City Council hearing sessions. "I haven't filed (a lawsuit) yet, but I think we would, because there's a precedent here that's important to everyone.
"The city needs to follow the law."
Jerbic declined to comment on the matter unless or until Beers actually files suit.
Beers has retained Mueller, Hinds and Associates to take up the potential litigation.
He has "no idea" how much it could cost to file the suit, which he said would be paid for by the Parks Protection Committee, an anti-stadium subsidy political advocacy group co-founded by Beers, Mayor Pro Tem Stavros Anthony and Councilwoman Lois Tarkanian.
Beers, Anthony and County Commissioner Chris Giunchigliani count as the group's three top donors.
Anthony on Tuesday announced he would run for mayor behind a mostly anti-stadium subsidy platform. Giunchigliani lost her bid for Mayor Carolyn Goodman's seat in a 2011 rout. Beers is challenging U.S. Sen. Minority Leader Harry Reid in 2016.
More than $20,000 pooled by the trio of elected leaders and a smattering of private donors went toward this week's hiring of Organized Karma LLC, a political consulting firm that has sent out dozens of door-knockers to collect signatures in support of the stadium ballot initiative.
Beers remains confident that he can get autographs from a City Hall-mandated number of stadium subsidy opponents ahead of Saturday's petition filing deadline.
He said he didn't feel put off by the idea of suing his own employer, explaining he might still file litigation against the city before this weekend.
"I've had probably a dozen licensed attorneys look at it and agree with my interpretation of the statute," Beers added. "(The city) is a big institution and they have to follow the law."
A deal narrowly approved by city leaders on Dec. 17 requires Las Vegas leaders to chip in $56.5 million toward construction of the much-ballyhooed soccer stadium project.
That figure does not include the value of a 13-acre stadium parcel that would be given to stadium developers, land the city says could be worth up to $48 million.
Stadium subsidy critics have questioned the need to put public dollars toward the project even as privately funded arenas crop up in other parts of the valley.
Two weeks ago, Mayor Goodman and Councilmen Steve Ross, Ricki Barlow and Bob Coffin — the same four city leaders who supported the stadium deal — rejected a chance to short-circuit litigation since threatened by stadium subsidy opponents, moving 4-3 against a Beers-sponsored motion that would have seen the city author its own stadium ballot question.
Contact James DeHaven at jdehaven@reviewjournal.com or 702-477-3839. Follow him on Twitter: @JamesDeHaven.
Related
Las Vegas looks at sales-tax district to build soccer parking garage