Beers: Stadium study has '$4 million hole'
September 9, 2014 - 7:51 pm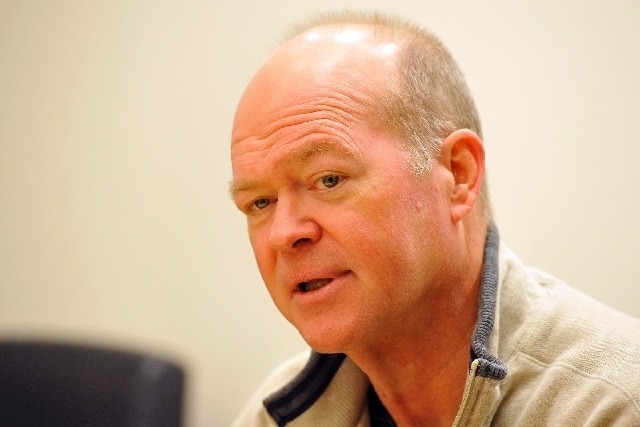 Las Vegas Councilman Bob Beers has asked city officials to look into what he is calling a "$4 million hole" in a soccer stadium feasibility study given to council members on Sunday.
"A new detailed pro-forma income statement just released by #MLS2LV appears to have a $4-million 'hole' that will turn the stadium's promised profit into a loss, and likely leave city taxpayers on the hook," Beers, a certified public accountant and former state assemblyman and senator from Summerlin, wrote on his blog.
MLS2LV is a group of local soccer fans lobbying the city to build a subsidized $200 million, 24,000-seat soccer stadium in downtown Symphony Park for a Major League Soccer team. The private partnership of The Cordish Cos and Findlay Sports & Entertainment is lobbying the MLS to award an expansion team to Las Vegas.
The Cordish-Findlay team has struck a proposed soccer stadium deal with city staff, and that nonbinding proposal goes before the City Council for a vote on Oct. 1.
The proposed stadium deal calls for the public to pay nearly 78 percent of the upfront costs for the stadium construction, but then the MLS team would pay back the city 59 percent of the stadium costs in the form of annual rent and payments from non-soccer revenue.
Beers, one of the deal's harshest critics, has asked city Chief Financial Officer Mark Vincent to look into his concerns. Chicago's AECOM Technical Services Inc. conducted the feasibility study.
The feasibility study shows that the 2017 projected stadium revenue is $8.3 million, including $4.5 million from rent. That $4.5 million includes the $3.5 million the MLS team is supposed to pay in rent, the study says.
But it's unclear why the stadium revenue would include the $3.5 million in rent when the proposed stadium deal calls for the $3.5 million in rent to be paid to the city to help pay off the bond debt.
As Beers noted on his blog, "This is the same $3.5-million that the City has earmarked for helping to pay back the 'general obligation' bonds (the city wants to borrow appx $120-million to help fund stadium construction, guaranteed by the city's general fund revenue)."
The Las Vegas Review-Journal has contacted representatives from the city, Cordish and Findlay for an explanation Tuesday.
City staff was scheduled to talk with the feasibility study's author, AECOM Technical Services, Tuesday afternoon. Cordish enlisted AECOM as its consultant.
AECOM explained the problem that Beers raised by sending a letter to City Manager Betsy Fretwell saying the company mistakenly forwarded portions of a previous draft of the feasibility study to city officials, according to Las Vegas spokesman David Riggleman. Fretwell then informed City Council members of the mistake, he said.
"They blended tables and data from earlier in the process. They will send us the corrected version," Riggleman said. The city expects the correct feasibility study from AECOM later this week, Riggleman said.
Mayor Carolyn Goodman, the stadium's chief advocate, noted the council received the report dated Aug. 20 from Cordish-Findlay on Sunday, "which hasn't afforded council and our city staff much time for review."
"The delay in getting the study to the city now means our staff and our consultant, David Abrams, have to review the information as received against previous data provided by the partners to determine any inconsistencies or funding gaps. This takes time, and we naturally hope to conclude that work as soon as possible," Goodman said.
Abrams, principal of Atlanta-based Strategic Advisory Group, is receiving $18,750 from the city to be its stadium financial consultant. If Abrams works more than 50 hours for the city, he would be paid $375 per hour, according to records. He declined to comment on Beers' concerns.
The AECOM report includes demographic and statistical data about the Las Vegas market and Major League Soccer. It suggests other stadium tenants could be a professional women's soccer team and a men's lacrosse franchise. The study says the stadium would host 80 to 90 events a year, with total annual attendance projected at 715,000 to 845,000.
The proposed stadium would include 34 suites and 1,000 club seats and have $6.6 million in annual operating expenses. The study says the stadium would have a net operating income of $1.7 million.
Besides Beers, fellow council members Bob Coffin and Stavros Anthony also oppose the tentative deal. Mayor Carolyn Goodman and Councilmen Steve Ross and Ricki Barlow support the subsidized stadium. Councilwoman Lois Tarkanian is undecided, which is why Wednesday's vote on the nonbinding deal was delayed to Oct. 1.
Beers' blog post on the alleged "$4 million hole" is here.
The city has scheduled six meetings on the proposed stadium deal: Sept. 16, Centennial Hills Community Center, 6601 N. Buffalo Drive; Sept. 17, Doolittle Community Center, 1950 N. J St.; Sept 18, Rogich Middle School, 235 Pavilion Center Drive; Sept. 23, Durango Hills Community Center, 3521 N. Durango Drive, classroom C; Sept. 24, City Hall council chambers, 495 S. Main St., live on KCLV Channel 2; Sept. 25, Development Services Center, 333 N. Rancho Drive, Great Basin Room fifth floor. All meetings start at 6:30 p.m.
If Tarkanian joins Goodman, Barlow and Ross to support the nonbinding stadium deal on Oct. 1, then the council would vote on a final agreement in December.
In order to approve a final agreement, the council would have to vote in a supermajority — or a 5-2 vote — because the deal involves the city issuing bonds. But that would be a challenge because three councilmen — Coffin, Anthony and Beers — have voiced strong opposition to the proposed stadium deal.
Major League Soccer is expanding from 19 franchises to 24 teams, but there is only one expansion slot left. Las Vegas is competing against Sacramento, Calif., San Diego, Minneapolis, San Antonio and Austin, Texas, for the final spot.
"Compared to other MLS metro areas, the Las Vegas metro area is relatively small, with a smaller corporate base and lower income levels. However, the city of Las Vegas has a higher median household income than all but three MLS markets," the report said.
Contact Alan Snel at asnel@reviewjournal.com or 702-387-5273. Find him on Twitter: @BicycleManSnel.