First look at details of new Raiders stadium in Las Vegas may answer questions
August 14, 2017 - 5:32 pm
Updated August 15, 2017 - 10:55 am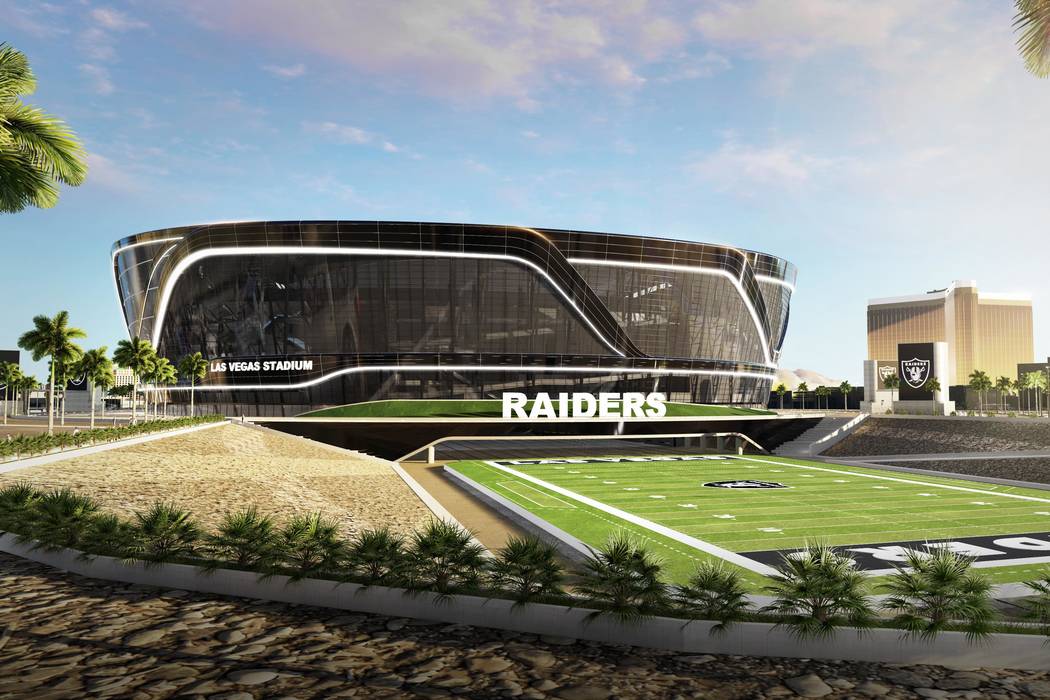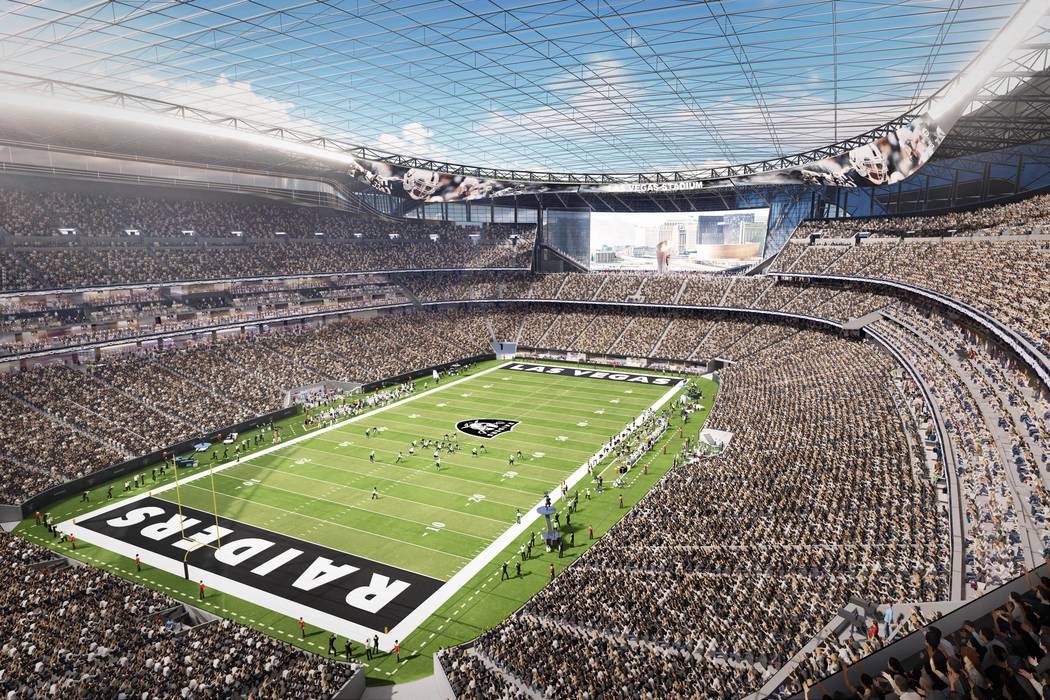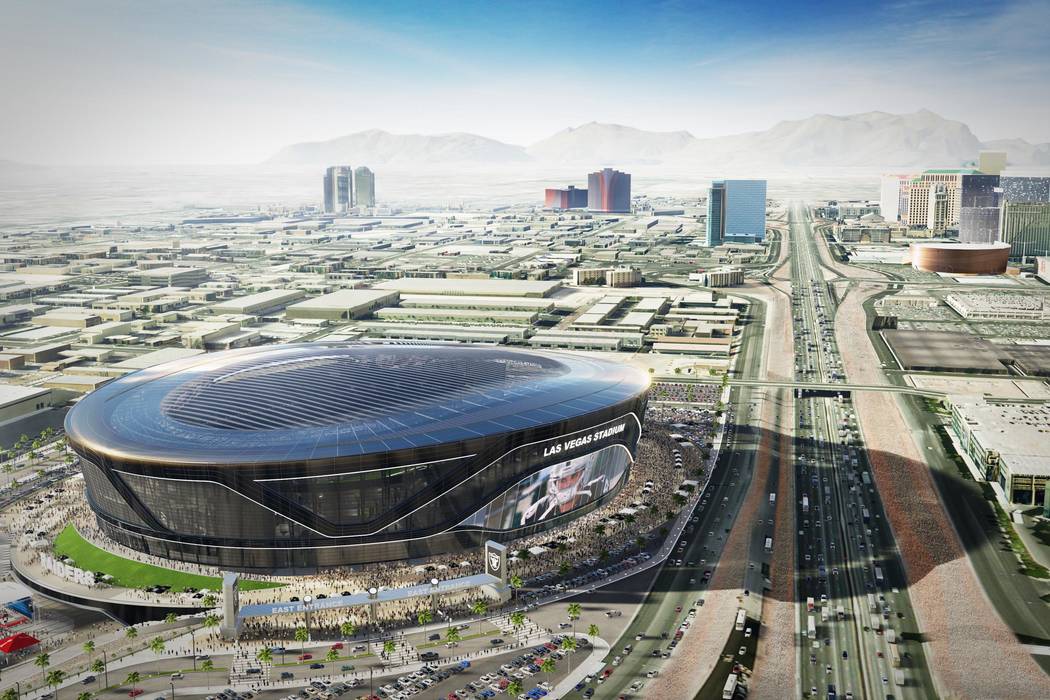 The Las Vegas Stadium Authority will get its first look at the details of the financing of the 65,000-seat domed football stadium when it meets Thursday.
Clark County officials will later conduct a high-impact project hearing on the development.
The Clark County Commission, meeting as planning and zoning overseers, was to delve into details of parking, traffic, water, sewer, drainage and emergency services on Wednesday. However, county spokesman Erik Pappa issued a statement Monday afternoon saying that commission would instead examine the issue at its Sept. 6 meeting.
Nevertheless, on Thursday, the nine-member authority is expected to receive specifics on the four-pronged construction financing package.
The stadium has been billed as a $1.9 billion project that includes $750 million in public funding to support bonds paid off with a 0.88 percentage-point increase in a hotel room tax that ranges between 12.5 percent and 13.4 percent.
In addition to the public funding, the Raiders have three potential funding sources: personal seat licenses sold to season ticket holders, a loan from Bank of America and a National Football League stadium construction loan program.
The Raiders haven't submitted materials to the authority in advance of Thursday's meeting, so it's unclear how much detail will be provided on dollar amounts.
The authority isn't scheduled to act on the leasehold mortgage agreement this month and will likely take it up in September. But authority members are scheduled to receive a report on Bank of America's ability to step in and assume the rights as the leasehold mortgagee should the Raiders fail to meet their loan commitments.
"It's a general presentation on how the deal itself is going to be structured and how the public knows there is sufficient financial security to ensure that the Raiders can fulfill their obligations under the agreements as required by Senate Bill 1," said Jeremy Aguero, a principal for Applied Analysis, the Las Vegas company serving as the authority's staff. "That presentation and those findings are specifically required by the legislation."
Included in the discussion will be direction from the authority board about what specific information it wants as part of a formal resolution when it votes on the financial package.
Thursday's agenda also will include progress reports on drafting the personal seat license agreement, a non-relocation agreement and an overall status report on the project.
The authority also is expected to consider whether it wants an owner representative or compliance officer designated as the point person for stadium construction. The Las Vegas Convention and Visitors Authority has an owner representative designated for its $1.4 billion Las Vegas Convention Center expansion and renovation project.
New details about the stadium have emerged in documents filed with the county. Plans indicate the building would be 225 feet tall with 10 levels, not including a catwalk servicing lighting and equipment and a transparent roof.
Correction: This story has been updated with the correct date of the meeting of the Clark County Commission.
Contact Richard N. Velotta at rvelotta@reviewjournal.com or 702-477-3893. Follow @RickVelotta on Twitter.
Las Vegas stadium's layers and levels
The planned Las Vegas stadium will have 10 levels:
— Event level, 20 feet below ground — Grass field (grown outdoors and rolled in and out of the stadium); security command/medical; truck dock; main kitchen/commissary; electric substation; hot water; trash holding; building maintenance; back-of-house facilities; visiting team facilities; staff entrances; press work rooms; interview rooms; Raiders locker rooms; UNLV home locker rooms; Raiderettes locker rooms.
— Lower mezzanine, ground level — Retail store; box office; VIP entry lobbies.
— Main concourse, 16 feet above ground — Concessions; sponsor area; public restrooms; club facilities; ticket-holder seats; storage.
— Lower suite, 32 feet above ground — Standard and executive suites; VIP lounges.
— Upper suite, 52 feet above ground — Public restrooms; suites; ticket-holder seats; concessions; VIP lounges.
— Mid-bowl mezzanine, 70 feet above ground — Air handling equipment rooms.
— Upper concourse, 88 feet above ground — Ticket-holder seats; concessions; hawker areas; incidental storage.
— Upper mezzanine, 100 feet above ground — Ticket-holder seats.
— Press level, 142 feet above ground — Press gondola, TV/radio broadcast booths; writing press; coaches' booths.
— Catwalk, 157 feet above ground — Access to lights and equipment.
— Roof, 195 feet above ground — Ethylene Tetra Flouro Ethylene cable roof system.