Gov. Sandoval calls for clarity on proposed stadium's road infrastructure costs
September 12, 2016 - 6:22 pm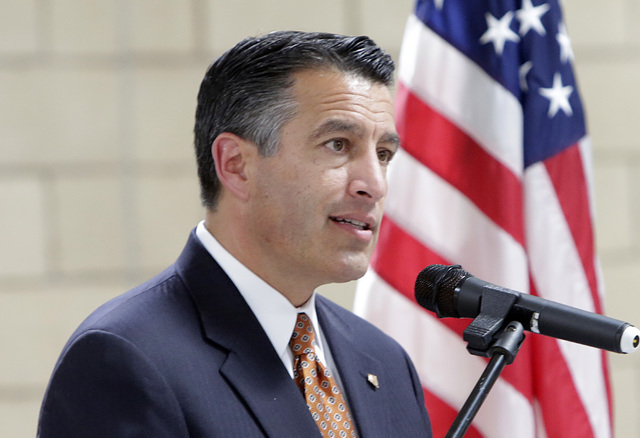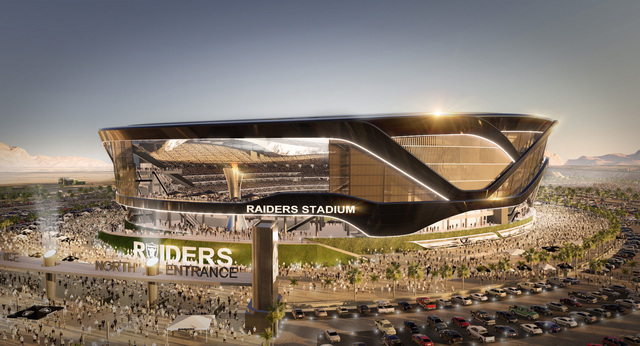 Gov. Brian Sandoval on Monday called for clarity in determining traffic congestion and the cost of road improvements for a proposed 65,000-seat domed football stadium.
The governor's request comes just before a Thursday meeting of the Southern Nevada Tourism Infrastructure Committee, which is expected to recommend a stadium site to Sandoval.
Sandoval also said he wants to know whether it makes sense to accelerate road improvements that are already in the planning pipeline.
"Obviously this isn't a done deal, and it's evolving," Sandoval said Monday during a meeting of the Nevada Department of Transportation's board of directors.
The two leading sites under consideration for the dome are a 62-acre area northwest of Russell Road and Interstate 15 and the 140-acre Bali Hai Golf Club between I-15 and Las Vegas Boulevard, just south of Russell.
"The committee is going to be making a recommendation to me, and I'm going to need the best possible information that I have in order to make a decision," Sandoval said.
GOVERNOR SEEKS SPECIFICS
The $1.9 billion project would be funded by a public-private partnership that includes $750 million in Clark County hotel room taxes. The family of Las Vegas Sands Corp. Chairman and CEO Sheldon Adelson, Majestic Realty and the NFL's Oakland Raiders would fund the balance of the project and any cost overruns with private dollars. If a room tax increase is approved by the Nevada Legislature, the Raiders have promised to pursue relocation to Las Vegas.
Sandoval, who serves as chairman of the state transportation board, acknowledged that the stadium developers' plan calls for setting aside $375 million to purchase the land and pay for infrastructure and site improvements.
"But I'm not sure how much you can nail it down in that short amount of time and define what we think those types of improvements would cost," Sandoval said. "I know it would be helpful to me to get that."
The NDOT board on Monday allocated an additional $250,000 to CH2M to examine the traffic the proposed stadium would bring to the two resort corridor sites, along with finding alternate roads in case of an emergency on Interstate 15.
The deal was tagged onto a previous $287,500 contract awarded two years ago that charges CH2M to update a master plan for I-15 and its connections between Southern California and Northern Utah.
AWAITING REPORT
The stadium traffic impact portion of the report could be completed "in a week or two," said Sondra Rosenberg, NDOT's assistant director for planning.
Rosenberg said the report will not conflict with a separate study that CH2M recently completed for the city of Las Vegas, which ranked downtown's Cashman Center as having "superior access" for traffic compared with six other proposed stadium locations, including the Bali Hai golf course and Russell Road sites.
"I need to have 100 percent certainty that the work that's performed is objective and really lays out what the potential costs could be to the state if that Russell Road or Bali Hai site is selected," Sandoval said. "Those two sites were found to be inferior, at least on the city's study, compared to the Cashman site."
A series of improvements are already under consideration for the areas surrounding both of the leading sites, but they remain unfunded, NDOT spokesman Tony Illia said.
Project Neon will convert the two existing I-15 express lanes into a general purpose and HOV lane between Sahara and Silverado Ranch by 2019. One long-range plan calls for building direct-access ramps from the carpool lane to several exits along Interstate 15, including Harmon and Hacienda avenues.
NDOT also has a $190 million project that calls for remodeling the Tropicana Avenue interchange along I-15 sometime after 2020, a plan aimed at relieving traffic that regularly backs up past Russell Road and the 215 Beltway.
"Part of the fan experience is based on how easy they are able to access and leave the site," Illia said. "If it's too cumbersome, then that might weigh into the decisions."
Traffic signals would need to be installed and additional bus routes developed for either of the stadium sites to help alleviate traffic, said Tina Quigley, general manager of the Regional Transportation Commission of Southern Nevada.
Clark County officials have not developed any future plans for surface streets surrounding either stadium site. County spokesman Erik Pappa said a traffic study would help officials address the impacts of a stadium.
"The county does believe that a $300 million infrastructure budget would allow for a wide range of significant transportation improvements to be built that would not only serve the stadium on event days, but would be of great benefit to the resort corridor on days when there are no stadium events," Pappa said. "However, it is not out of the realm of possibility that infrastructure costs could exceed the developer's $300 million proposed budget."
If the road infrastructure costs exceed the $375 million currently budgeted, the developers would be willing to allocate additional money to build the necessary improvements — as long as it wasn't cost-prohibitive, said Andy Abboud, vice president of government relations and community development for Las Vegas Sands. The company is representing Adelson in stadium negotiations and won't have a stake in the dome, which would be owned by a county stadium authority.
"We see it as a positive development as a way to move the project forward," Abboud said of the study ordered by NDOT. "We see the state is taking the project seriously by doing their due diligence, and we are doing the same due diligence."
The Review-Journal is owned by the family of Las Vegas Sands Corp. Chairman and CEO Sheldon Adelson.
Contact Art Marroquin at amarroquin@reviewjournal.com or 702-383-0336. Follow @AMarroquin_LV on Twitter.
RELATED
Sandoval wants to know who pays for roads leading to proposed stadium
Panel studying stadium plan edges closer to recommendation
Developers proposing stadium to meet week ahead of schedule
Adelson commits personal wealth to back stadium plan
Land for proposed stadium site in Las Vegas being sold by bank group
Developers identify preferred site and proposed budget of $1.9B stadium