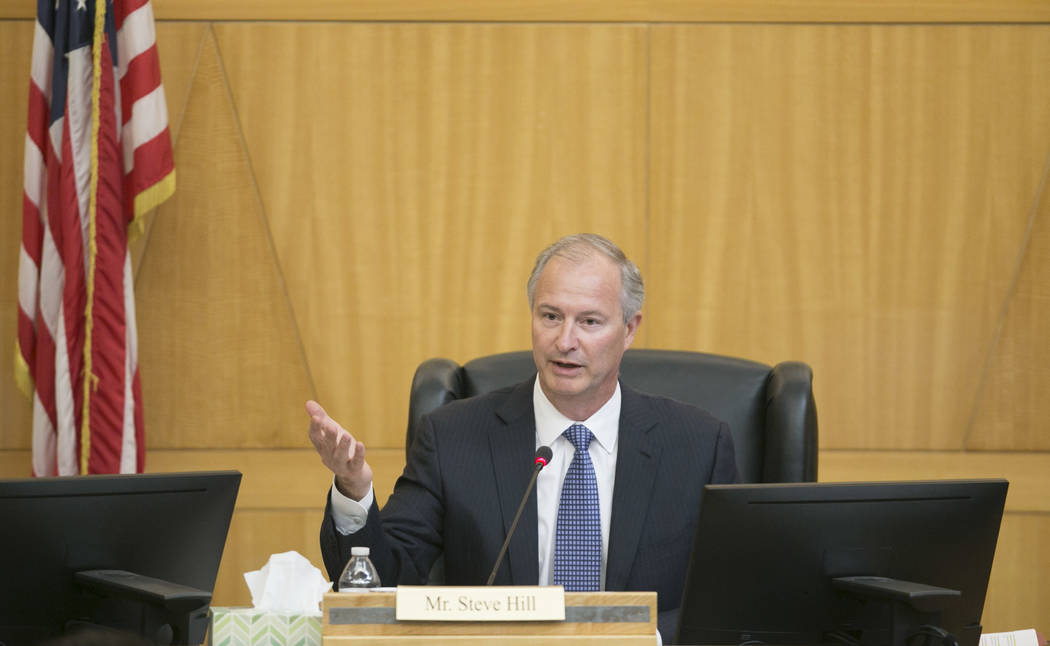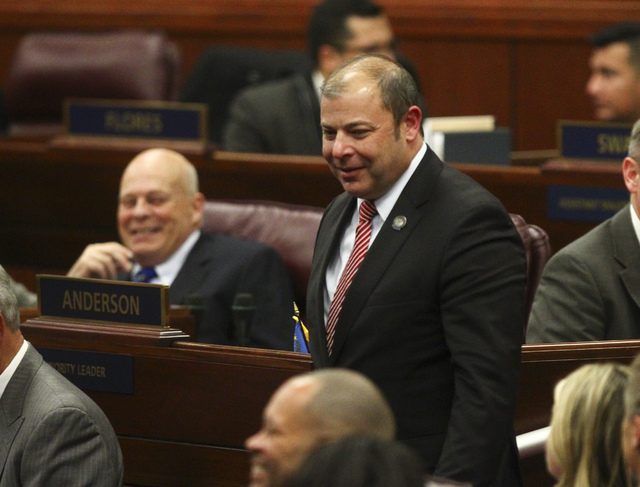 The Las Vegas Convention and Visitors Authority's executive restructuring proposal that could bring Steve Hill to the agency has been in play since January 2016 as part of a five-year vision plan unanimously adopted by the organization's board of directors.
Hill, executive director of the Governor's Office of Economic Development, is a candidate for an executive position at the LVCVA. He confirmed Thursday that he intends to leave the GOED and turn the reins over to Paul Anderson, who intends to resign as Nevada Assembly minority floor leader.
Hill's candidacy for an LVCVA post shocked some board members.
"Steve Hill's name popping up came as a surprise to everybody, including me," said LVCVA Chairman Lawrence Weekly, a Clark County commissioner.
"He comes across as a nice guy, and he seems very qualified, but there may be other candidates that are equally qualified," he said.
A spokesman for the LVCVA said Wednesday that the board is seeking a president. A recommendation approved in January 2016 called for the hiring of four "C-suite" executives to support President and CEO Rossi Ralenkotter, 70, including a chief operating officer.
It's unclear if and how Ralenkotter's titles would be split, but an LVCVA spokesman said Thursday that no additional positions are planned beyond those four.
The LVCVA has come under scrutiny in a series of stories published by the Review-Journal that uncovered questionable spending of taxpayer dollars by the tourism agency.
The expenditures included millions of dollars for lavish entertainment services and scores of rides for Ralenkotter and former Las Vegas Mayor Oscar Goodman by LVCVA security officers.
$1.1 million cost
In the 2016 meeting, the board was told the restructuring proposal would cost $1.1 million in salary and benefits and to add support staff for the new executives. An agency spokesman did not confirm the new executives' salaries Thursday.
Since the proposal was approved, the LVCVA promoted Rana Lacer, formerly senior vice president of finance, to chief financial officer and hired Barbara Bolender as chief human resource officer, replacing retired senior vice president of human resources Mark Olson.
Also hired was Jacqueline Peterson, chief communications and public affairs officer. The fourth position to be added is a chief operations officer who would handle the day-to-day administrative work currently handled by Ralenkotter.
The C-suite structure was recommended by resort executives serving on the LVCVA board, major convention center customers and a consultant. The restructuring is expected to keep the agency on track in its goals to expand visitation to Southern Nevada, to keep the convention center competitive and to develop an executive leadership succession plan.
Hill, who spoke to a group of real estate professionals Thursday on the planned Las Vegas stadium project, said he plans to continue to chair the Las Vegas Stadium Authority if he goes to work for the LVCVA.
In an interview Thursday, Hill said he anticipates continuing his unpaid volunteer role leading the nine-member board overseeing development of the planned 65,000-seat domed football stadium.
Hill has led the GOED since Gov. Brian Sandoval established the office. He was appointed to lead the Southern Nevada Tourism Infrastructure Committee in 2015, and when that board recommended the formation of a stadium authority in 2016, he was chosen by Sandoval to chair that board.
On Wednesday, it was announced that Anderson would resign his Assembly seat to succeed Hill at the GOED.
"Paul is an accomplished businessman, a proven leader and widely respected," Hill said in a statement issued Thursday morning. "He will play a vital role in continuing to move Nevada's economy forward and we are very fortunate to have him join GOED."
Seeking opportunity
Hill said he's hopeful for the LVCVA opportunity.
"The LVCVA is an exceptional organization and has played a central role in the success of Las Vegas," he said in his statement. "I am both honored and excited that Rossi would consider me for a position with the LVCVA. I look forward to meeting with members of the board to discuss their vision for the organization and how I might play a role."
After his appearance on a panel discussion about the stadium Thursday, Hill said it was clear to him that he needed to explain his status, because he kept getting congratulatory remarks from people, even though he hadn't been hired by the LVCVA.
Contact Richard N. Velotta at rvelotta@reviewjournal.com or 702-477-3893. Follow @RickVelotta on Twitter.
Steve Hill on changing roles
"People have been coming up to me on a daily basis and say, 'Hey, I heard you're going over to the LVCVA.' So I thought I'd better start letting some people know. The governor's office has known about this for six or seven weeks. It's been a month that I've had people walking up to me that know what's going on. The properties know and then their lobbyists know. It's uncomfortable."