Landing an NHL team means a fortune to Strip arena's name value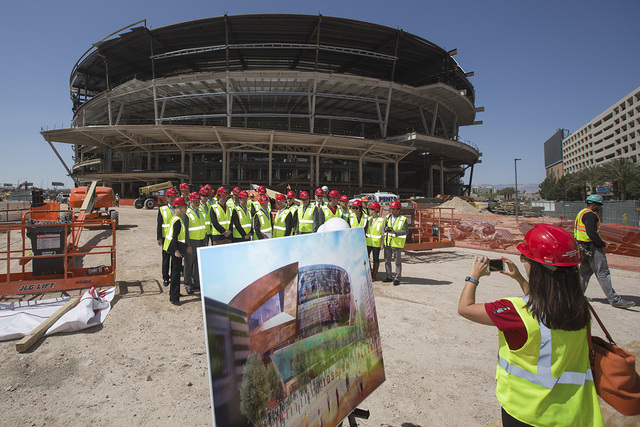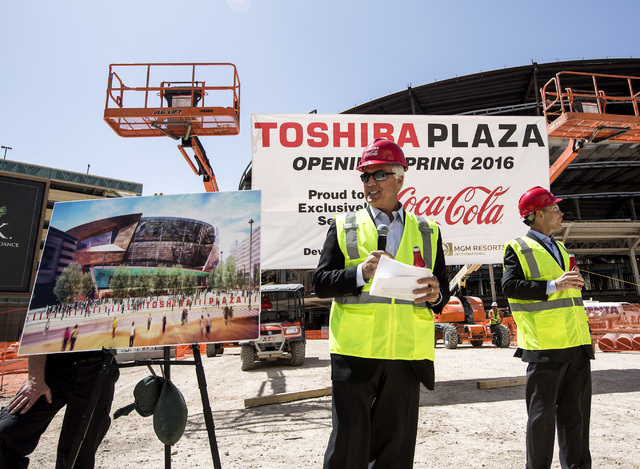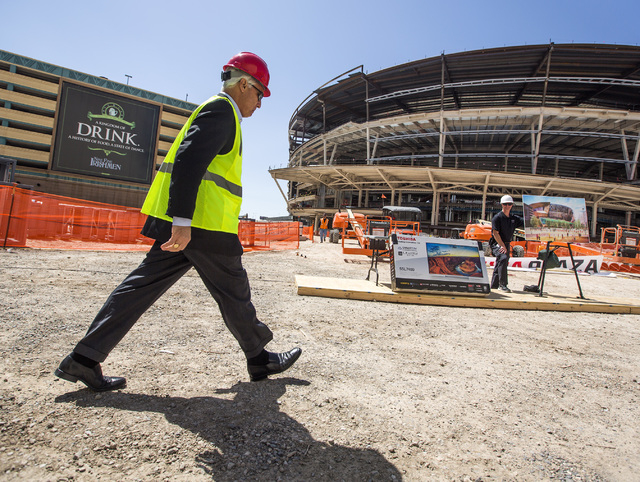 What's in a name? A small fortune if a National Hockey League team is playing in your arena.
Anschutz Entertainment Group (AEG), the Los Angeles-based sports and entertainment company partnering with MGM Resorts International on the $375 million arena on the Strip, is talking with several high-profile international brands for the naming rights to the arena being built behind New York-New York, AEG spokesman Michael Roth said this week.
What's interesting about AEG's naming rights discussions is that any potential agreement would stipulate a higher rate if a major-league franchise such as an NHL or NBA team becomes a tenant.
Naming rights values of arenas that play host to NBA or NHL teams typically range from $2 million to $10 million per year, with most deals lasting 10 to 30 years. An arena without a team might command $1 million per year less.
That naming rights issue surfaced because prospective team owner Bill Foley is working on creating an NHL team in Las Vegas that would play at the MGM-AEG arena — if the NHL awards a franchise to Foley.
Foley and his minority partners, the Maloof brothers of Las Vegas, have secured $150 deposits on season tickets from more than 10,000 Las Vegas area fans to show show NHL officials and team owners that Las Vegas wants big-league hockey. Foley is now taking deposits from corporations and casinos, and hopes to reach 13,000.
The Board of Governors is expected to discuss Foley's bid and ticket campaign when it meets June 24 in Las Vegas. NHL Deputy Commissioner Bill Daly said at a recent sports business conference that NHL team owners will discuss whether they want the league to expand, and how they would do it.
"The response in Las Vegas has been very impressive and certainly suggests that there is an ability to support a professional sports franchise and particularly an NHL franchise at this point in time," Daly reportedly told the group.
Foley has leased the AEG-MGM arena, which will hold 17,500 fans for an NHL game. The arena, with locker rooms and ice facilities built to NHL specifications, is expected to open in April 2016.
If he lands a franchise, Foley wants to start play at the MGM-AEG arena in autumn 2016. He would need at least conditional NHL approval in June to have a team on the ice for the 2016-17 season.
Foley said Tuesday his lease secures a share of the revenue from the naming rights deal as well as a share of the money generated from AEG signing founding sponsorship partners such as Coca-Cola and Toshiba.
The MGM-AEG arena is a driving factor in NHL Commissioner Gary Bettman's decision to green-light Foley's season ticket deposit campaign, which began Feb. 10. Daly has also visited the arena construction site and checked out a suite mock-up.
Expect the MGM-AEG arena to deliver at least several million dollars a year, if not more.
Barclays PLC is paying an average of $10 million annually for 20 years at the Barclays Center, home of the NBA Brooklyn Nets, under a $200 million deal, while AEG receives an average of $5.8 million per year from Staples under a lifetime deal at the Los Angeles Staples Center.
University of Nevada, Las Vegas officials are also hunting for a naming rights partner for its three-facility complex of Thomas & Mack Center, Cox Pavilion and Mendenhall Center because Thomas & Mack is receiving a $70 million remodel job.
A company with an international profile would be a good fit for the MGM-AEG arena because of the millions of foreign visitors to Las Vegas each year. In fact, only 46 percent of the arena-goers will be locals, while about 54 percent of the attendees will be visitors, according to the arena's traffic study.
Many of the visitors are expected to be Canadians enchanted by the idea of NHL ice in the desert.
Contact reporter Alan Snel at asnel@reviewjournal.com or 702-387-5273. Follow him on Twitter: @BicycleManSnel
RELATED:
Here are 5 possible names for a Las Vegas NHL team
Fans keep 'Nevada' out of NHL team name
Vegas NHL advocates backing away from 'Nevada' team name

The AEG-MGM arena project
More coverage
Complete coverage of the various stadium and arena proposals.