Las Vegas Council approves soccer stadium subsidy
December 17, 2014 - 5:11 pm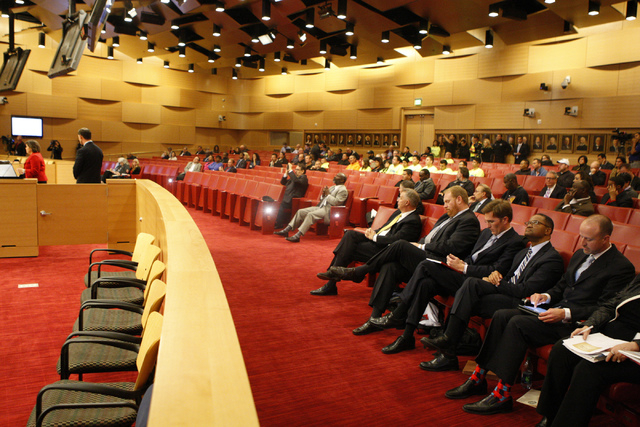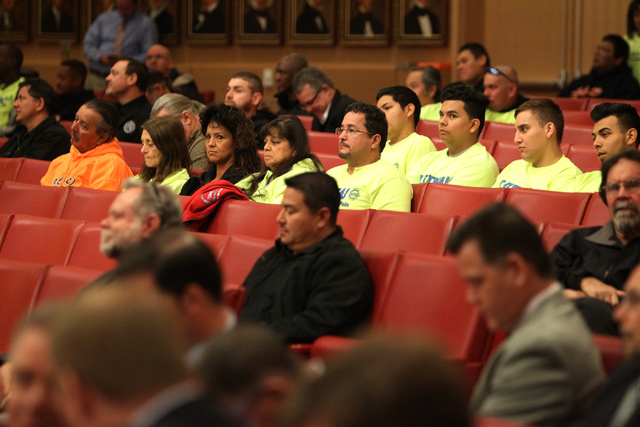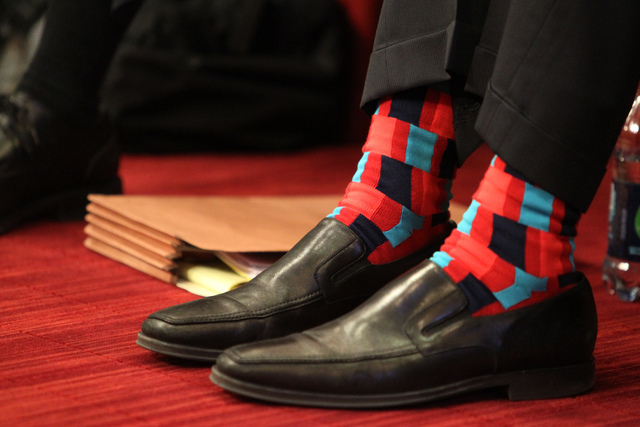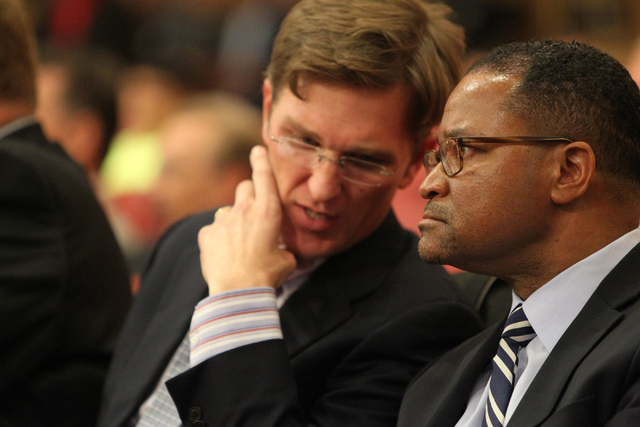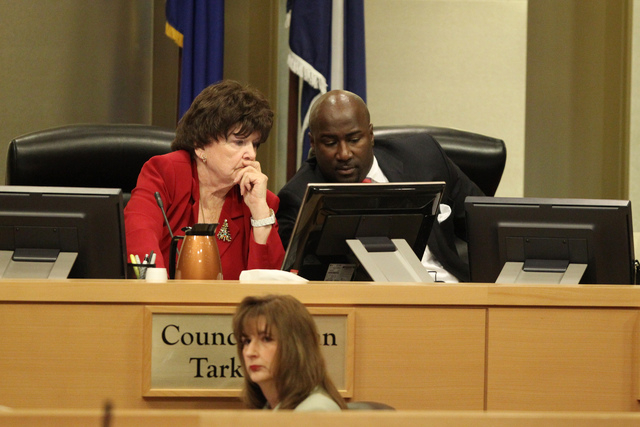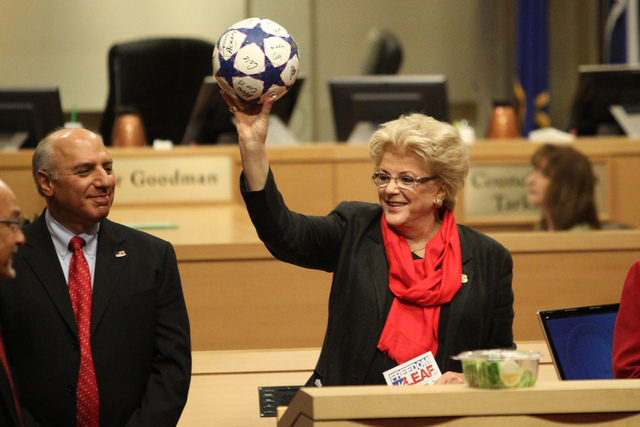 The Las Vegas City Council voted 4-3 to approve a stadium subsidy deal with a development partner seeking to bring a Major League Soccer team to play at the $200 million stadium.
The decision on Wednesday ends months of negotiating with the partnership of Findlay Sports & Entertainment and The Cordish Cos., the Baltimore-based development company granted exclusive rights to build a sports venue in downtown.
Mayor Carolyn Goodman and fellow Council Members Ricki Barlow, Steve Ross and Bob Coffin voted for the deal. Members Stavros Anthony, Bob Beers and Lois Tarkanian opposed it.
"I know it's been a difficult dialogue for the community," Goodman said during the 3½-hour discussion. The stadium will not be built if Major League Soccer does not pick Las Vegas for an expansion team.
Under the deal, the city would contribute $25 million as part of a $50 million stadium-parks bond toward construction of the 24,000-seat venue on 13 acres in Symphony Park. To pay off a $50 million bond, the city would have to borrow $90 million to pay the interest on the loan. The city would spend $3 million annually for 30 years from hotel room fee money currently being used for park projects.
The park projects in the bond deal are not known.
The deal also calls for the city to spend $31.5 million on infrastructure improvements for the stadium site, bringing the city's upfront costs for the subsidy deal to $56.5 million. Infrastructure improvements would be for utility lines, drainage and streets.
Coffin was the swing vote. He joked that he had previously opposed the initial stadium subsidy deal and was agreeing too much with Beers, the deal's most outspoken critic.
"I was worrying about the man crush that might be developing," Coffin said of Beers. "It's gone."
Coffin said he believes in the sport of soccer and that parks need to be improved and built for residents who live on the city's east side. Coffin said Las Vegas' new development on the west side has received its fair share of parks.
"My greatest disappointment has been opposition from members of the soccer community," Coffin said.
Anthony said the city's upfront contribution of $56.5 million is only $3.5 million less than the city's proposed investment of $60 million on Oct. 1, when the council instructed staff to work toward eliminating public money in the deal.
Tarkanian said no public dollars were supposed to be included in the subsidy deal, but Goodman said the goal was for staff to "work toward" eliminating public money to help build a stadium.
The city's $56.5 million contribution does not include free land for the stadium site that would be given to Findlay-Cordish. The 13 acres were appraised at $38 million to $48 million, said Bill Arent, the city's economic development chief.
Findlay-Cordish would also receive use of a city-built parking garage that still needs to be built and gets to keep parking revenues at the 1,200-space garage from 90 annual stadium events. Findlay-Cordish must also create a parking plan.
Justin Findlay, Findlay Sports & Entertainment managing partner, held a soccer ball outside council chambers and celebrated with his stadium advisor, Dean Howes, and Cordish officials Zed Smith and Port Telles.
Smith said Major League Soccer "views Las Vegas as a major league city."
Findlay said a stadium — if MLS picks Las Vegas — would take 18-24 months to build. Findlay-Cordish also committed to spending $100 million to start a new soccer team.
MLS issued this statement after the council vote: "We applaud Mayor Goodman and the Las Vegas City Council for approving the measure to support a public-private partnership to build a new soccer stadium in downtown Las Vegas. We look forward to continuing our discussions with the Cordish Company and Findlay Sports & Entertainment regarding a possible expansion team for Las Vegas."
Arent said the stadium would be owned privately by Cordish-Findlay and he compared it to a "a private redevelopment project."
The months of heated debate, passionate meetings and updated deal proposals would be all for nothing if MLS does not pick Las Vegas, which is competing against Sacramento, Calif., and Minneapolis for the last team. MLS, which wants to expand from 19 to 24 teams, is expected to pick the final market in the first half of 2015.
When Arent presented the proposed deal to council, Barlow and Beers debated the term sheet's pros and cons.
Barlow said the point behind redevelopment public dollars is to re-invest in urban cores.
"Of course, we're using public money," Councilman Ricki Barlow said.
Beers opposed the deal and called for a public vote on the matter.
Cordish also pledged to spend $250 million on commercial and residential development next to the stadium on the 13-acre site.
Anthony wondered why Cordish could not take $50 million from this proposed development and apply it to the stadium so that public dollars would not have to be spent on building the soccer stadium.
"You can't take $50 million out of the $250 million and put it into the stadium and make everybody happy?" Anthony asked Smith.
Smith said the Cordish business model could not handle that.
City officials and Findlay-Cordish executives pitched MLS brass on Las Vegas at MLS headquarters in New York on Nov. 20. Then on Dec. 6, the MLS Board of Governors met in Los Angeles to discuss expansion, and explained it would pick a city after Jan. 1.
The council will vote on a final development agreement with Findlay-Cordish by Feb. 18.
Contact reporter Alan Snel at asnel@reviewjournal.com or 702-387-5273. Find him on Twitter: BicycleManSnel.

An arena plan for Symphony Park
More coverage
Complete coverage of the various stadium and arena proposals.