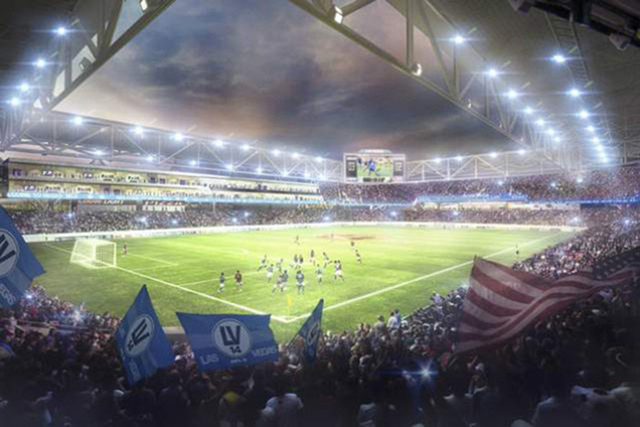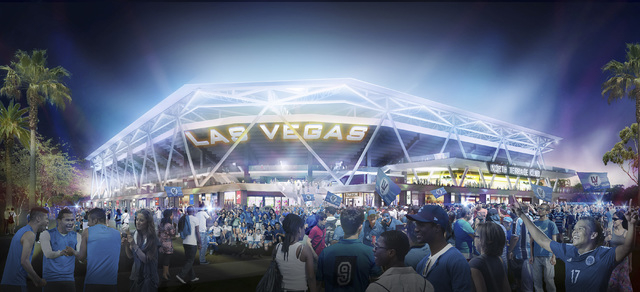 The Las Vegas City Council on Monday extended the deadline to vote on a soccer stadium subsidy deal to Dec. 17.
Council members voted 4-3 to amend the deadline language, with council members Stavros Anthony, Bob Beers and Lois Tarkanian voting against extending the deadline.
The city is working with the private partnership of Findlay Sports &Entertainment and The Cordish Cos. on a $200 million, 24,000-seat soccer stadium proposal for downtown Symphony Park. The Dec. 1 deadline needed to be extended, or the proposed stadium deal between the city and Findlay/Cordish would have died.
Findlay/Cordish is also lobbying for a Major League Soccer team and is competing against groups in Sacramento, Calif., and Minneapolis for the final MLS expansion team as the league expands from 19 to 24 teams. The MLS Board of Governors is scheduled to discuss the expansion issue on Saturday in Los Angeles.
But the MLS board will not pick the expansion city until after Jan. 1, said Mayor Carolyn Goodman, who met MLS officials at a meeting in New York City last month. If the City Council approves a final stadium deal on Dec. 17 and the MLS next year does not pick Las Vegas as the expansion city, then no stadium would be built.
The latest proposed stadium funding calls for the city to contribute $20 million to $25 million for the stadium project as part of an overall $50 million bond deal, which includes several proposed parks projects in underserved areas. To repay the $50 million, the city will have to borrow $90 million because of the interest payments. It will repay $3 million a year during a 30-year time period. The city currently uses its hotel room revenues for park projects and would tap that money to pay off the bond.
Anthony said he hasn't seen the public contribution removed from the proposed deal, so he said he will continue to vote against the stadium deal.
Beers said a feasibility study for a tourism district at Symphony Park projects development and revenues that are "fatally flawed in extreme optimism."
Council member Ricki Barlow, who joined Goodman and council members Steve Ross and Bob Coffin in extending to a Dec. 17 vote, said Monday's action was not a final decision. He said it was a formality to "get us to that point."
With Anthony, Beers and Tarkanian voting no Monday, it now appears as if Coffin will serve as the swing vote on Dec. 17.
After the council meeting, the Review-Journal asked Coffin whether the city should consider a bond proposal on only parks if they are important and leave the stadium subsidy out because helping pay for the soccer venue has proved controversial.
"Give and take are part of politics," Coffin said. "Nothing is perfect."
He said the proposed deal has evolved since Oct. 1, when the council voted to move ahead on the proposed MLS stadium project with staff instructed to work toward eliminating public dollars.
If nothing else, Coffin pointed out, the issue of improved and new parks on the city's east side has been highlighted.
"A sleeping giant has been awakened," he said.
The proposed stadium deal also included a $250 million commitment from Cordish Cos. to build commercial and residential development near the sports venue. Two residents who spoke during the meeting's public comment period said they opposed the city spending public dollars to build a soccer stadium.
Lisa Mayo-DeRiso, a Nevada Youth Soccer Association representative, said her organization opposes the proposed public subsidy deal and wants all the hotel room money to be used for park projects.
Justin Findlay, managing partner of Findlay Sports &Entertainment, said he plans to be in Los Angeles this weekend for the MLS championship game and Board of Governors meeting. He hopes to continue lobbying team owners to support an expansion team in Las Vegas.

An arena plan for Symphony Park
More coverage
Complete coverage of the various stadium and arena proposals.