Las Vegas Raiders stadium club PSLs to cost fans up to $75K each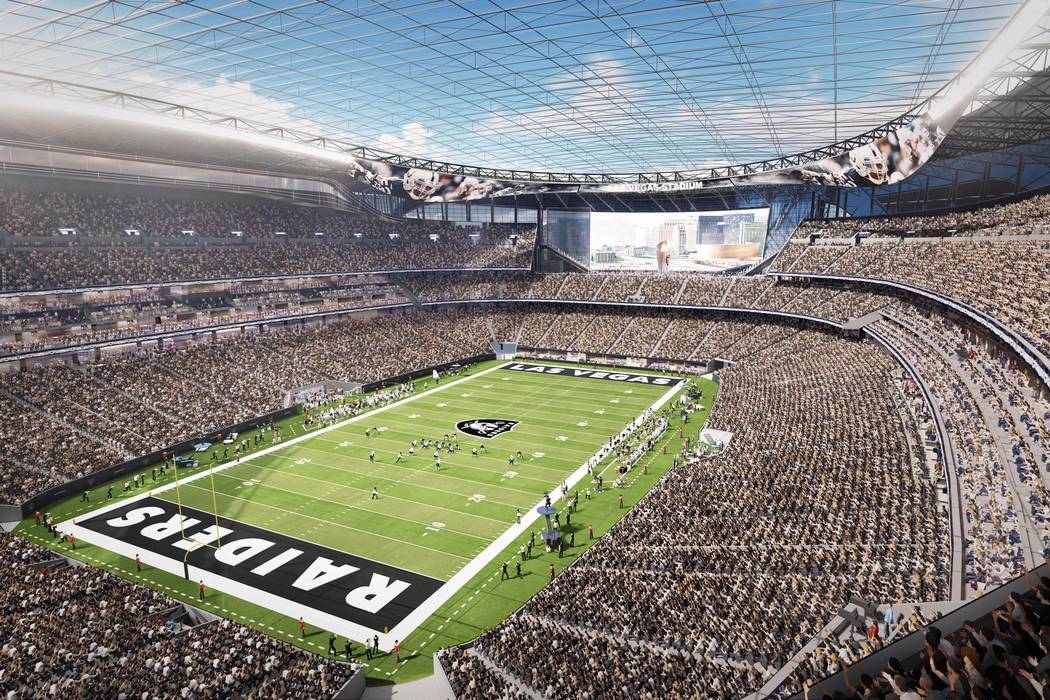 Personal seat licenses for premium club seating at the Raiders' Las Vegas stadium will cost fans between $20,000 and $75,000 apiece, documents obtained by the Review-Journal show.
In interviews late last month, team officials would not discuss PSL pricing or sales. A team representative confirmed the pricing Wednesday.
Personal seat licenses are agreements that enable fans to buy season tickets. Under the price list obtained by the Review-Journal, the Raiders would generate at least $160 million in revenue based on the estimated 8,000 club seats and "VVIP club seats" available.
The NFL's Raiders plan to move from Oakland to the Las Vegas stadium in 2020. PSL revenue is a key source of funding for the construction of the $1.8 billion stadium, which received $750 million in Clark County bonds backed by hotel room tax revenue.
On the price list, PSLs for VVIP club seats cost $75,000 each. The next level of club PSLs sell for $35,000 each, and the lowest-level PSLs cost $20,000 for each seat.
Buyers who first submitted $100 deposits for PSLs and season tickets more than a year ago recently began finalizing their purchases. They have the option of financing the cost of their PSLs and their season tickets over several years.
Examples provided by the Raiders' pricing calculator showed the total cost of PSLs and two season tickets for top-tier seats to be $33,927 a year when financed through 2024. The cost for two mid-level club seats is $19,132 a year, and two low-end club seats would cost $13,647 per year.
The mid-level and low-end club pricing is based on seat locations. Seats closer to midfield cost the most and seats closer to the end zones cost the least.
The Raiders will begin selling more seats in the stadium starting Tuesday, but prices haven't been released.
Recently opened NFL stadiums have had PSL and ticket pricing higher and lower than what the Raiders are charging in Las Vegas.
The Atlanta Journal Constitution reported a year ago that PSLs for Atlanta Falcons games would range from $500 to $45,000 per seat. Game tickets cost between $55 and $385 for Mercedes Benz Stadium, which opened in August.
The Minneapolis Star-Tribune reported in February 2014 that PSLs, known as "stadium-builder licenses" for U.S. Bank Stadium, cost between $500 and $9,500 per seat. Ticket prices ranged from $50 to $400 per game for season tickets. The Minnesota Vikings raised $100 million through the stadium-builder licenses, which went toward the stadium's $1 billion price tag. U.S. Bank Stadium opened in July 2016.
Atlanta and Minneapolis have covered stadiums. The Raiders are building a domed stadium in Las Vegas.
At the outdoor Levi's Stadium, home of the San Francisco 49ers, which opened in July 2014, stadium-builder licenses ranged from $2,000 to $80,000, and the average season ticket cost per game ranged from $85 to $375, according to the 49ers website.
The Raiders have not disclosed the average ticket prices per game.
Several fans have complained in telephone calls to the Review-Journal that the Raiders had scheduled them for meetings to finalize club-seat purchases only to cancel the meetings. A team representative said meetings were canceled because high demand resulted in seats selling out before the meetings occurred.
The team has said in public meetings that it reached out to existing Raiders season ticket holders in California before inviting interested Southern Nevadans to buy. The Raiders said about 73 percent of premium seats were sold to people with Nevada addresses.
The Raiders' Las Vegas stadium is under construction at Interstate 15 and Russell Road. For the 2018 season, the team will play at its existing venue, the Oakland-Alameda County Coliseum. It continues to negotiate where it will play in 2019 before moving to Las Vegas in 2020.
Contact Richard N. Velotta at rvelotta@reviewjournal.com or 702-477-3893. Follow @RickVelotta on Twitter.
An example of what Raiders tickets will cost
Under a pricing calculation shared with the Review-Journal by a fan who plans to buy two seats, the full PSL and ticket price calculation is explained:
— The buyer is planning to acquire club seats in the lowest price level. Under the agreement, 20 percent of the $40,000 PSL charge — in this case, $8,000 — is due at the signing of the agreement. Another 10 percent, or $4,000, is due in 2019.
— A 6 percent interest rate for financing begins to accrue on March 2, 2019, so payments from 2020 to 2024 are $6,647 each year.
— The season ticket prices are $7,000 and are due in 2020.
— That means the annual cost of the PSL installment plus the season ticket charge is $13,647 from the time of purchase through 2024.
Las Vegas Stadium News
Check out developments about the Las Vegas Stadium, which is under construction.
Related
Las Vegas Raiders stadium 15 percent done, ticket prices a mystery
Las Vegas Raiders stadium parking plan still being finalized