Las Vegas stadium project continues to be on schedule and budget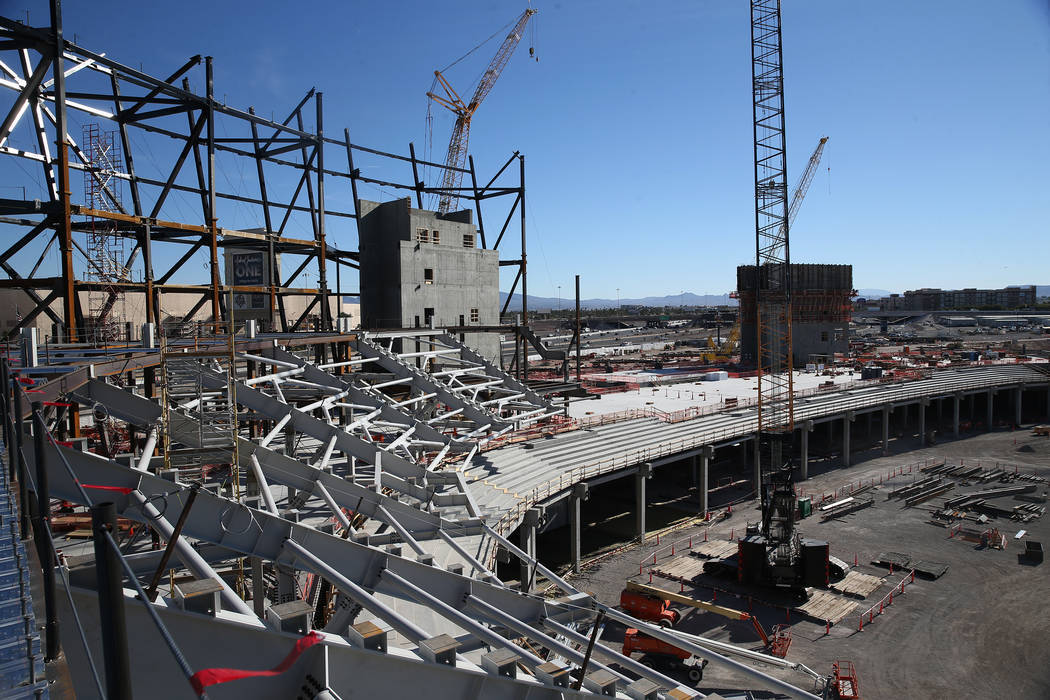 A year down. Twenty months left. On time. On budget. On track.
That's how the Raiders assessed progress on the $1.8 billion Las Vegas stadium project in a video presented to the Las Vegas Stadium Authority Wednesday.
Don Webb, the chief operating officer of StadCo, the Raiders' construction subsidiary, told board members that as of the end of September, $450 million — 27 percent of which was provided by public funding through room-tax revenue — has been spent on construction.
LIVECAM:
Monitor the progress of Las Vegas Stadium in this view looking south toward the construction site.
Hampered by laryngitis, Webb presented a video progress report and issued a written report stating that more than 75 percent of the $763 million in subcontracts awarded to date have gone to Nevada-based firms.
The approval of $750 million in public funding was partially based on providing jobs and contract work for local companies.
Gov.-elect Steve Sisolak, who made an appearance after the meeting had ended, said it's a great time to be a sports fan in Southern Nevada when people can see the progress of the stadium project.
"It seems more real when you see the steel coming out of the ground," Sisolak said. "We saw a lot of horizontal construction and underground stuff and the blowing up of the caliche, but now with the steel moving in and going vertical, it's just more exciting."
Earlier this week, Webb said about 900 construction workers routinely work on the stadium site every day with 100 administrators based at temporary offices in trailers just south of the site.
The authority board also received a report showing that room-tax revenue, while not as robust as in comparative months in 2017, was still tracking slightly ahead of expectations and well ahead of the amount needed to pay off bonds and interest charges.
For the first quarter of the 2018-19 fiscal year, room-tax revenue is down 6.4 percent to $11.6 million. But since Clark County began collecting an additional 0.88 percent for room tax in March 2017, revenue is up 0.6 percent from budgeted projections to $77.3 million.
Stadium Authority Chairman Steve Hill, who also is president and CEO of the Las Vegas Convention and Visitors Authority, said after Wednesday's meeting that financial experts will continue to monitor collections, but that he is not worried about the third-quarter swoon in revenue that affected most resort companies with a presence in Southern Nevada.
Analyst Jeremy Aguero, whose Applied Analysis firm serves as the authority staff, explained that convention and trade show rotations out of the market and one fewer weekend day in September 2018 compared to last year contributed to the dip in Las Vegas visitation and, as a result, the lower room-tax collection.
Sisolak also said he's not concerned about room-tax collections, noting that reserve funds are in place and that collections are cyclical and that revenue will pick up when more hotel rooms go on line in the next couple of years.
Independent monitors hired to oversee stadium progress concurred that expenditures and construction comply with submitted plans and budgets.
The authority postponed discussion Wednesday of safety and procedural plans for the two big stadium openings — the lanai doors on the northeast end of the building and the field tray for the grass stadium surface that would be rolled in and out of the stadium on the southwest end of the building.
The delay was requested by county safety inspectors who had a scheduling conflict and will be brought to the authority's January meeting.
The authority has yet to schedule dates for the board's six meetings in 2019.
Contact Richard N. Velotta at rvelotta@reviewjournal.com or 702-477-3893. Follow @RickVelotta on Twitter.
Related
Las Vegas Raiders stadium 30% complete a year after groundbreaking
Raiders Las Vegas stadium is on time and budget, officials say
Terms ending
The terms of three of the nine Las Vegas Stadium Authority voting members end in December, but at least two are seeking reappointment to new four-year terms.
The board on Wednesday approved the return of board member J. Tito Tiberti. Clark County commissioners have sought applications for the seat currently held by Ken Evans. On Wednesday, Evans, who chairs the Community Benefits Plan Oversight Committee, said he wants to return.
The third member with a term ending, MGM Resorts International executive Bill Hornbuckle, didn't attend Wednesday's meeting. The holder of that seat is recommended by the governor.
Gov.-elect Steve Sisolak said Wednesday he's just beginning forming a transition team and hasn't yet considered the position on the board.