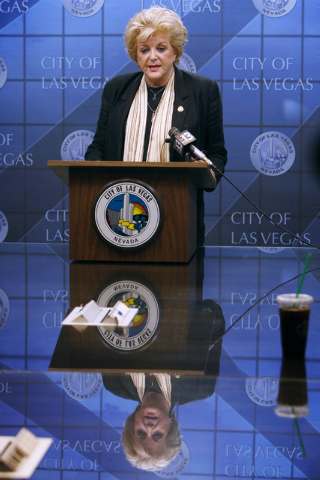 It's game over for big-league soccer in Las Vegas and for the controversial proposal for a subsidized soccer stadium in Symphony Park.
Major League Soccer Commissioner Don Garber told Las Vegas officials Thursday the city's bid for an MLS franchise in 2017 or 2018 was unsuccessful. Sacramento, Calif. and Minneapolis remain in the competition for the 24th MLS franchise.
"Given the timing of our expansion rollout and the uncertainty as to when we might be able to move forward in Las Vegas, we are no longer considering Las Vegas as an expansion market until after 2018," Garber wrote to Mayor Carolyn Goodman.
In an interview from New York, MLS President Mark Abbott said there was "no one factor" in dropping Las Vegas from consideration.
With that rejection, the proposed $200 million, 24,000-seat stadium for Symphony Park and the public subsidy that stirred political turmoil is dead — sort of.
A master development agreement up for a City Council vote on Wednesday stipulates that if Las Vegas isn't picked for an MLS team, either the city or the stadium developer can terminate the soccer stadium deal.
City Manager Betsy Fretwell said the agreement is clear that a soccer stadium "absolutely would not" go forward without an MLS "commitment" to the city.
None of that language would apply to a non-soccer or non-MLS stadium, City Attorney Brad Jerbic confirmed Thursday.
Goodman, who earlier this week said she couldn't rule out moving ahead with a publicly subsidized multi-use stadium even if voters reject subsidies for a soccer venue, plans to continue her crusade to bring professional sports to Las Vegas.
The mayor vowed she "wouldn't give up" on creating a venue for a major league franchise, perhaps even in Symphony Park and perhaps even with Baltimore-based Cordish Cos, the soccer stadium's oft-maligned developer.
"I would continue to support major league sports, in particular, soccer," Goodman said after announcing the MLS rebuff. "I will keep fighting, as long as I breathe.
"I haven't really spoken to (Cordish)," she continued. "I don't know what their appetite is."
Findlay Sports and Entertainment announced its intent to withdraw the company's bid for an MLS franchise just hours after Goodman's press conference, a move predicted by Councilman Bob Coffin before lunch Thursday.
Coffin was among the four council members who voted for the soccer stadium deal.
Councilman Stavros Anthony, who said he decided to run against Goodman because of the publicly-funded stadium issue, said he didn't think Las Vegas is an MLS market.
"It didn't surprise me," Anthony said of Garber's letter.
Anthony said he will run for mayor as long as Goodman talks about building sports venues with public dollars.
"I want to stop talking about taxpayer-funded stadiums," Anthony said. "I want to talk about other things that are important things in the city of Las Vegas."
Findlay Sports & Entertainment had partnered with Cordish on the effort to build the MLS stadium and to land the team, winning a hard-fought $56.5 million stadium subsidy from the City Council in December
But the 4-3 council approval caused political strife, as Councilman Bob Beers successfully sued his own city to get the stadium subsidy on the June city election ballot, allowing voters a chance to determine its fate.
Beers said the issue will still be on the ballot, and voters will be asked if they ever want to spend public dollars on a stadium in Symphony Park.
"The reason it's important to stay on the ballot is as long as we keep it reserved as a soccer stadium, we're paying substantial interest (on the development parcel)," Beers said, referring to infrastructure and cleanup obligations. "That's cash out of pocket, until we can get a new developer in there."
Justin Findlay, managing partner of Findlay Sports & Entertainment, was left disappointed Thursday.
"We worked hard on this," said Findlay, whose family owns car dealerships in Southern Nevada. "It didn't work out. We just didn't get it done. I don't know if it was one thing. I don't have any regrets."
The MLS decision also severs the city's relationship with Cordish, the development company hired during the administration of former mayor Oscar Goodman to recruit a major-league team to downtown.
"The exclusive negotiating agreement with the private partners will expire on Feb. 20," the city said in its announcement. "Now the city is able to consider other uses on Symphony Park."
Zed Smith, Cordish chief operating officer, said in a written statement that, "There is no question a stadium and MLS team in Symphony Park would have ignited new development, created thousands of jobs, and brought significant new revenues to local downtown businesses.
"Our partnership with Findlay Sports and Entertainment was committed to investing $450 million in downtown Las Vegas. Findlay Sports and Entertainment and the Findlay family should be commended for their tireless efforts in trying to improve their community which they love so much. Professional sports have a profound impact on cities beyond the economics; they give a city life and passion, and act as a catalyst for broader development."
Earlier in the day, Coffin had hinted that Las Vegas would not get an MLS team, and said Findlay-Cordish might even pull the plug on the deal.
"They're waiting for a response from the league (MLS)," Coffin said. "They've been beaten up pretty bad and they're not public people. They're not used to being criticized by everyone."
Contact Alan Snel at asnel@reviewjournal.com or 702-387-5273. Find him on Twitter: @BicycleManSnel. Contact James DeHaven at jdehaven@reviewjournal.com or 702-477-3839. Find him on Twitter: @JamesDeHaven.

An arena plan for Symphony Park
More coverage
Complete coverage of the various stadium and arena proposals.