Mayor Goodman backs long-shot with downtown stadium plan
September 6, 2016 - 3:50 pm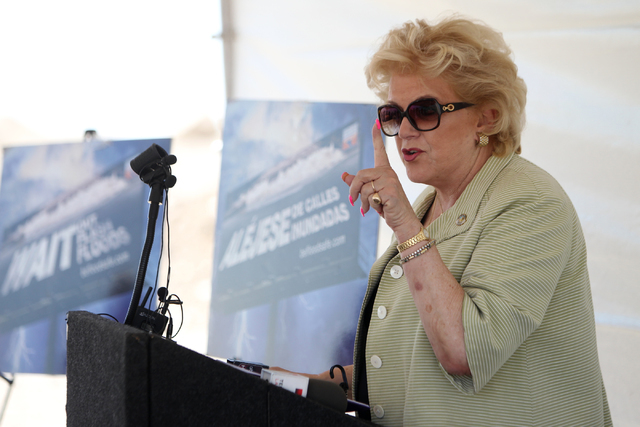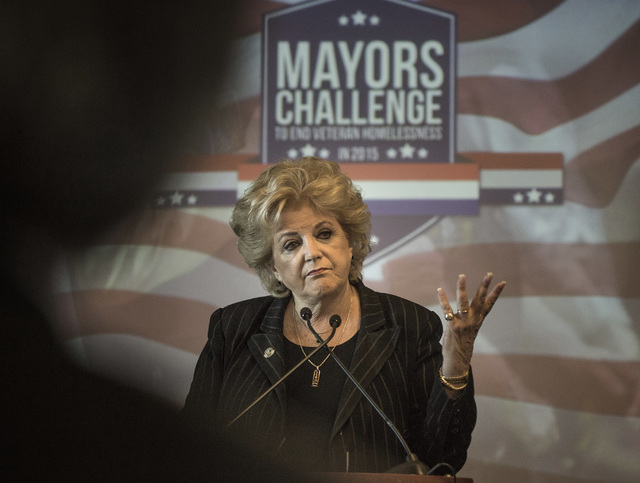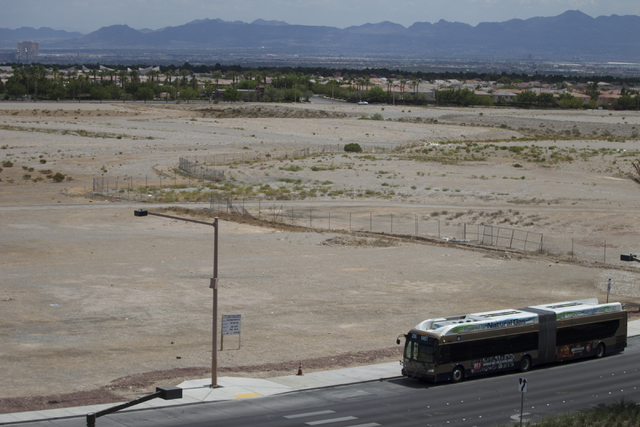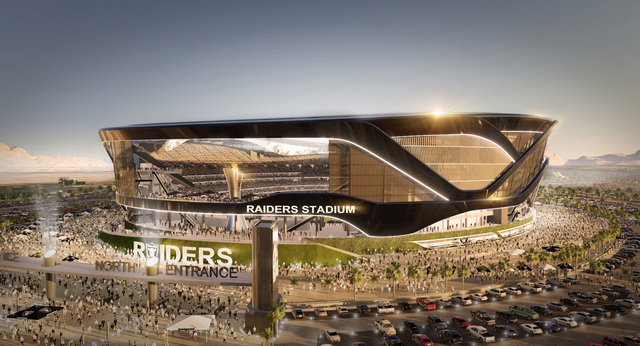 Las Vegas Mayor Carolyn Goodman knows a thing or two about long-shot bets, and on the issue of where to build a $1.9 billion domed football stadium in Southern Nevada, she's backing a big one.
Although the developers of a stadium proposal — the family of casino operator Sheldon Adelson, Majestic Realty and the Oakland Raiders — have narrowed a list of 11 proposed sites to two near the Strip, Goodman is still pitching the idea that downtown Las Vegas' Cashman Center is still the best place to build the 65,000-seat stadium.
The Southern Nevada Tourism Infrastructure Committee is getting closer to forwarding a recommendation to Gov. Brian Sandoval on tourism-enhancing projects and will take another step in that direction Thursday.
The meeting, at 1 p.m. at the Stan Fulton Building on the UNLV campus, is expected to delve into the details of financing a stadium that would be used by the Raiders if they receive permission from National Football League owners to move the franchise to Las Vegas from Oakland. The stadium also would be used by UNLV's football team and for special entertainment events too large to be housed in existing Southern Nevada arenas.
The development team has narrowed the list of prospective stadium sites to 62 acres between Russell Road and Hacienda Avenue, just west of Interstate 15, and on the land that houses the Bali Hai Golf Club, south of Russell Road and east of I-15.
But Goodman, who led the unsuccessful charge for a downtown soccer stadium to house a Major League Soccer franchise last year, is continuing to plug Cashman Center, which she says not only is the best location based on accessibility, but also would be less expensive to develop since there would be no land cost and parking already is accounted for.
"When the process began, we asked Craig Cavileer (of Majestic Realty) if we could make a formal presentation," Goodman said. "About two weeks ago, we made the presentation about the timing, access, infrastructure issues and cost associated with Cashman to representatives of the Raiders, Las Vegas Sands and Majestic.
"It was unbelievably well-received as to the advantages of Cashman being the final site."
THE DOWNTOWN ADVANTAGE
Goodman said she next made the presentation to the Downtown Business Alliance, a group of hotel and business executives downtown, before making a private one-on-one pitch to Gov. Brian Sandoval. The governor has said he wouldn't weigh in on the stadium debate until he receives the report from the committee. That's expected to happen by the end of the month.
What's so good about downtown? To Goodman, a member of the 11-member committee making the recommendation, choosing the site is "a no-brainer:"
— The site includes more than 50 acres with more than 23 more on adjacent land for stadium-related business. The acreage under city ownership would be contributed for stadium construction, saving millions of dollars.
— The site is close to four freeway interchanges on I-15 and U.S. Highway 95. By the time Project Neon, the massive redesign of the Spaghetti Bowl interchange, is completed, there will be seven. The multiple points of access would provide options for people attending events at the stadium.
— There's a 3-acre parking lot at Washington Avenue and Veterans Memorial Drive and another at the Sawyer Building that is unused Saturdays and Sundays. In addition, there are 25,000 garage parking spaces and 17,000 street parking spaces downtown.
— Accessing the Cashman site from downtown parking will get easier by the end of the year when the city begins operating a six-mile downtown circulator transportation system. A free trolley system will operate in a circular route on downtown streets with vehicles moving every 15 minutes.
— Transportation leaders already have begun planning a light-rail system operating between McCarran International Airport and downtown. One of the planned routes would run from the airport to downtown along Maryland Parkway — a route that runs past UNLV. Goodman said it would be an easy commute for students to get to a stadium at Cashman.
— Downtown has already gotten used to hosting large masses of people downtown. Later this month, the Life is Beautiful music and art festival that in previous years has brought thousands of people downtown will be staged. Downtown routinely gears for large crowds for the monthly First Friday celebrations.
CITIES REJUVENATED
Goodman said cities across the country have seen rejuvenation thanks to the arrival of professional sports stadiums. She noted that Baltimore, Detroit, Denver and San Diego have seen a renaissance in their downtown areas, thanks to the foresight of civic leaders that pressed for new homes for their professional sports teams.
To that end, Goodman is tapping Sandoval's record as a proponent of economic development and offering an alternative that could take root if compromises are necessary in the financing of a stadium package.
Still, Goodman knows the downtown plan is a long-shot.
"I asked Mr. Adelson two years ago when the city was looking at stadium development about whether he would consider something downtown and he said no then," she said.
There's no indication that he has changed his mind, although the development team said they appreciated the presentation.
"In life, it's all about timing," Goodman said. "For the Raiders to be in a position to consider Las Vegas, it's about timing. If we can't get the funding proposal resolved in 2016, it dies for at least another year.
"I'd hate to see that happen."
The Review-Journal is owned by the family of Las Vegas Sands Corp. Chairman and CEO Sheldon Adelson.
Contact Richard N. Velotta at rvelotta@reviewjournal.com or 702-477-3893. Find @RickVelotta on Twitter.
RELATED
Land for proposed stadium site in Las Vegas being sold by bank group
Adelson commits personal wealth to back stadium plan
Southwest Airlines opposes proposed stadium site near McCarran Airport
Final four stadium sites for Raiders up for debate