Nevada governor calls special session for Monday to consider Raiders stadium plan
October 5, 2016 - 4:07 pm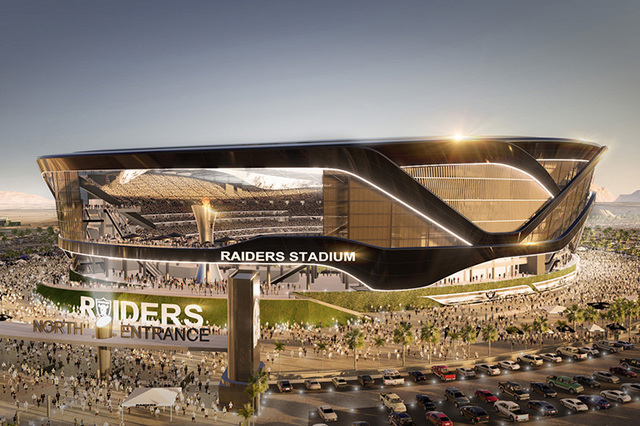 CARSON CITY — Gov. Brian Sandoval on Wednesday summoned Nevada lawmakers to Carson City early next week for a special legislative session to consider financing for a 65,000-seat football stadium and convention center expansion in Las Vegas.
The session won't include funding for education saving accounts because of time constraints, though the governor said he will make that a budget priority when the 2017 Legislature convenes in February. But Sandoval next week will call for a "minor adjustment" to the lodging tax to fund a "temporary" solution supporting public education through the next two-year budget cycle to cover potential shortfalls.
The much-anticipated special session will commence at 8 a.m. Monday. Sandoval will issue a formal proclamation Sunday, setting the official agenda of bills legislators will consider. Once he signs that document, legislators are banned from fundraising until two weeks after the session ends.
Topping the agenda will be a measure to raise Clark County room taxes to finance $750 million of a proposed $1.9 billion domed stadium in Las Vegas, the potential new home of the NFL's Oakland Raiders and UNLV football team. Included in that bill will be an additional room tax hike to help fund $1.4 billion to expand and improve the Las Vegas Convention Center.
A separate bill would authorize the Clark County Commission to raise the sales tax rate to pay for more police officers.
Sandoval last week left the door open to consider funding for education savings accounts, but took that off table Wednesday despite a push from some Republican lawmakers for a quick legislative "fix" during the special session. The Nevada Supreme Court ruled Sept. 29 that ESAs are constitutional but cannot be funded with money designated for public education. Justices blocked the program from taking effect, saying a separate funding source is necessary.
The law, passed by the Republican-controlled Legislature in 2015, sought to allow parents to set up accounts and claim state per-pupil funding to send their children to private school or pay for other alternative educational programs. The average annual amount per student is about $5,100. Roughly 8,000 applications have been received by the state treasurer's office.
"I recognize the magnitude of this sweeping policy measure and consider it a major component of the reform package ushered in during the last legislative session," Sandoval said.
He said while the program — viewed as the most all-encompassing school choice law in the nation — remains a top priority for his administration, "There is simply not enough time to add it to next week's special session with full confidence that a rushed outcome will pass constitutional muster."
Sandoval announced state Sen. Scott Hammond, the architect of the school choice law, will lead a working group "to produce a solution that will fix the problem and allow the thousands of waiting Nevada families to take control of their child's education as soon as possible."
Details of the governor's plan for an adjustment to the lodging tax to fund a short-term solution supporting education were not immediately provided. But the inclusion of a tax tweak for education could appease critics of the stadium proposal who are opposed to using taxpayer dollars to subsidize a project pushed by wealthy backers.
"Nevada is once again one of the fastest growing states in the nation and the demands of growth include more children in our schools and additional pressure on state services," Sandoval said in his statement.
The Southern Nevada Tourism Infrastructure Committee, formed by Sandoval last year, recommended the room tax increase in Clark County for the stadium and convention center. As part of the stadium deal, the family of Las Vegas Sands CEO Sheldon Adelson has pledged $650 million, while the Raiders would pay $500 million. A three-quarters vote by NFL team owners at their meeting in January would be required to approve the Raiders' move.
Sandoval is a strong supporter of the project, saying it will cement Las Vegas' standing as the "entertainment capital of the world" and provide a venue suitable to host large-scale events — an amenity Southern Nevada currently lacks.
"Now is the time to capitalize on the opportunity before us to invest in Nevada's most foundational industry, tourism, by providing for the infrastructure and public safety needs of the 21st century," he said.
The Review-Journal is owned by the family of Sheldon Adelson, chairman and CEO of Las Vegas Sands Corp.
Contact Sandra Chereb at schereb@reviewjournal.com or 775-461-3821. Follow @SandraChereb on Twitter.