No second chances at Las Vegas Raiders stadium, expert says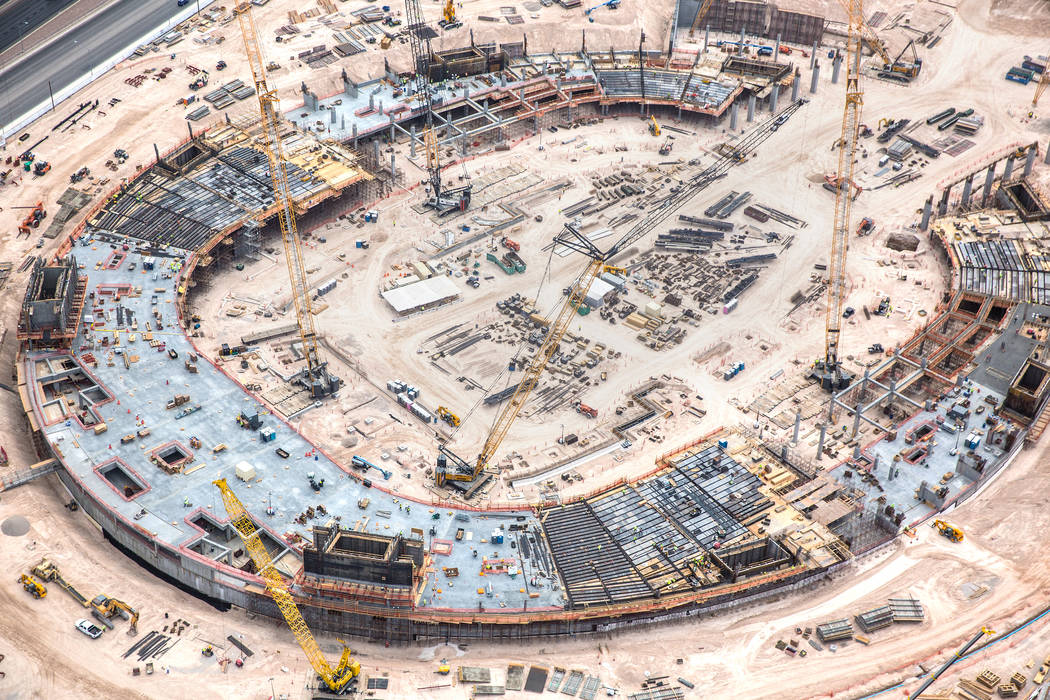 When the Las Vegas stadium becomes a venue for a major music concert, it better be a sellout show.
Otherwise, Las Vegas may not see another concert there for years, a committee making recommendations on prospective events at Southern Nevada venues was told Monday.
John Nelson, senior vice president of AEG Live, told the 19-member Southern Nevada Sport Events Committee that it's critical that a stadium concert show is marketed properly.
The 65,000-seat indoor football stadium being built by the Raiders for its 2020 move to Las Vegas needs dozens of other events to be financially viable. The committee, formed by Gov. Brian Sandoval, has been tasked with making recommendations to the governor and the Nevada Legislature on how to fill the stadium and other arena venues across Southern Nevada with concerts and sporting events.
On Monday, the committee heard from events promoters Live Nation Entertainment and AEG Live, as well as representatives of amateur sporting events that have scheduled tournaments and competitions in Las Vegas.
'Risk averse'
"We better get it right the first time we do it, that's for sure," Nelson told the committee. "Our (acts) are very risk averse, and they're very sensitive to how their brand looks, how their tickets sell particularly. They have to be sellout shows. If we do 35,000 people in the first stadium show, we're not going to see a stadium show for another three years or four."
Nelson and Kurt Melien, president of Live Nation Las Vegas, explained that the stadium will become an important West Coast tour stop for entertainers that can fill a venue that size. They said Las Vegas will join the ranks of San Francisco, Phoenix, San Diego and Los Angeles, where Los Angeles Stadium at Hollywood Park is set to open in 2020.
The committee has gathered information on promoting events over the last three meetings. When it gathers next in October, the committee will begin discussing recommendations it will make to the governor on how to coordinate special events, possibly with the formation of a sports commission.
When the stadium is completed, it will be turned over to the Las Vegas Stadium Authority but operated by a Raiders subsidiary. The Raiders would play their eight-game home season and provide the stadium to the UNLV football team to play at the cost of operation.
Youth sports
In addition to hearing from the two concert promoters, the committee received testimony from Hal Pastner of Bigfoot Sports, which coordinates amateur basketball tournaments in Las Vegas, and Guy Hobbs, representing the Nevada Youth Soccer Association.
Pastner said Las Vegas has become one of the world's best cities for basketball tournaments, with teams and players attending from New Zealand, Australia, South America, Africa and China last year.
"The youth basketball movement is exploding nationwide, and Las Vegas has become a major destination for summer basketball tournaments," Pastner said.
Thousands of hotel rooms are filled annually and car rentals have been sold out during big tournaments, Pastner said.
Committee members were told youth basketball players might not be the perfect target demographic for Las Vegas visitation, but their parents are.
$1,000 per child per year
Hobbs said the parents of the average youth soccer player's parent spends $1,000 a year per child on their activity and some of that is in out-of-town tournaments.
He said many of the hotel rooms are filled in outlying areas and not the Strip. While participants and their parents don't go to the Strip's fine dining establishments, they fill the chain restaurants near soccer venues.
Three major youth soccer tournaments are already are staged in Las Vegas — the Players Showcase (1,121 teams, 1,028 from out of state), the Mayor's Cup (1,085 teams, 788 out of state) and the Vegas Cup (780 teams, 655 out of state).
Some cities have spent millions in infrastructure to cater to youth sports events. Hobbs listed Orlando, Florida; Sioux Falls, South Dakota; Richmond, Virginia; and Westfield, Indiana; making efforts to attract that market.
Contact Richard N. Velotta at rvelotta@reviewjournal.com or 702-477-3893. Follow @RickVelotta on Twitter.
Nevada Youth Soccer tournaments by the numbers
3,867: Number of teams entered in major Las Vegas youth soccer tournaments.
2,742: Number of teams from out of market playing in those tournaments.
30+: Number of players, coaches and family members, per team.
116,010+: Number of total attendees.
82,260+: Number of out-of-state attendees.
218: Number of direct, indirect and induced jobs created by tournaments.
$9.1 million: Direct, indirect and induced income.
$32.7 million: Estimated economic impact.
$15.6 million: Estimated tax revenue generated.