Panel won't finalize Las Vegas stadium financing, but it could come close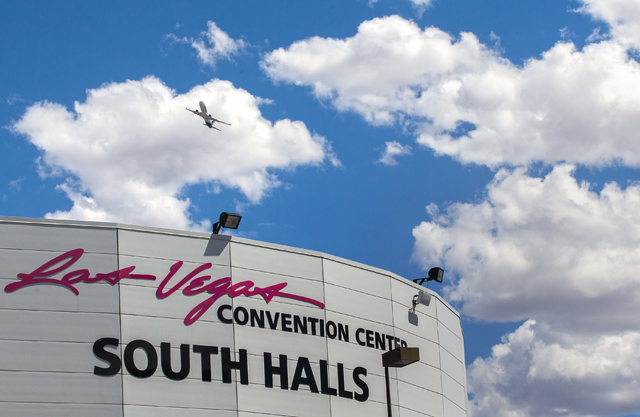 The state panel that's developing a financing plan for a domed stadium in Las Vegas won't finalize the proposal at its Thursday meeting, but it could come close.
The 11-member Southern Nevada Tourism Infrastructure Committee has until the end of next month to deliver nonbinding recommendations to Gov. Brian Sandoval on the stadium, a Las Vegas Convention Center expansion and other big projects intended to boost the region's visitor-driven economy.
Steve Hill, director of the Governor's Office of Economic Development and chairman of the infrastructure panel, said he hopes the committee can get through a checklist of stadium questions during Thursday's meeting at UNLV. Among them: the role of a stadium authority board in making development decisions and overseeing operations.
But final decisions and recommendations probably wouldn't be made until a July 11 meeting, Hill said Tuesday.
Casino operator Las Vegas Sands Corp. and Majestic Realty have proposed a $1.4 billion stadium, funded through a public-private partnership, to house UNLV football games, special events too large for existing arenas and the NFL's Oakland Raiders, if league owners approve the team's relocation to Southern Nevada.
The committee on Thursday also will reach some final conclusions on a $1.4 billion Las Vegas Convention Center expansion and renovation project and will consider recommending a state-funded fuel supply study for McCarran International Airport.
The committee's biggest recommendations would require legislative approval to become reality, either during a special session or the 2017 regular session.
Hill said this week's meeting would not extend into Friday if it can't finish business Thursday, an option he had asked committee members to hold open.
The committee has all but settled funding sources for stadium construction, Hill said: an increase in the hotel room tax and a special tax district that includes the stadium and a football practice facility that would be used by the Raiders.
Hill explained that the tax district, as envisioned by the committee, would redirect revenue from sales taxes on goods sold on stadium grounds; the live-entertainment tax on tickets for stadium events; and the modified business tax on the payrolls of those employed at the stadium, including professional football players. Hill said the primary reason for imposing a special tax district on the practice facility is to capture payroll tax revenue from the Raiders.
No businesses on the periphery of the stadium or practice facility would be affected, Hill said.
"It's more of an event-driven, not a geographically driven (tax) collection," he said.
Prior committee meetings have set public funding for construction at about $700 million, but Hill said the figure remains a point of contention and could be changed.
"The amount of the public bond funding is the marquee event," Hill said.
Other stadium-related topics to be discussed Thursday:
■ The role of the stadium authority board and how its members would be selected.
■ Whether the stadium authority would receive funding to pursue special events like the Super Bowl. Las Vegas Events ran into that issue when attempting to secure a long-term contract to host the National Finals Rodeo.
■ When public revenue streams would start flowing and when the Raiders' obligations to the project would be settled. The NFL requires 24 of 32 owners to approve a franchise move, and early indications are that vote wouldn't occur until early next year.
■ UNLV's role in the project and whether the school can contribute funding.
■ The stadium's location. Hill said site selection likely would be decided by the developer and the stadium authority board.
Currently, developers are eyeing 42 acres at Tropicana Avenue and Koval Lane, land owned by UNLV and just west of the campus. But that land is close to the northern end of two McCarran International Airport runways. Some officials have voiced concern about building a stadium so close to the airport. They fear the Federal Aviation Administration could order a cut in flight capacity. And they worry stadium traffic could hurt access to the airport.
Three other potential stadium sites have been discussed: the site of the former Riviera, currently owned by the Las Vegas Convention and Visitors Authority; Cashman Center in downtown Las Vegas, owned by the city of Las Vegas; and the festival grounds for Rock in Rio at Las Vegas Boulevard and Sahara Avenue, owned by MGM Resorts International.
Officials at City Hall, the Las Vegas Convention and Visitors Authority and MGM Resorts said there hadn't been any detailed discussions about those sites.
UNLV President Len Jessup, the vice chairman of the committee, says that if the stadium doesn't end up at Tropicana and Koval, the university will find other uses for the 42 acres and work with whatever site as a new home for UNLV football.
Hill said the committee has plenty of work to do, and that national media reports that a favorable recommendation for the stadium is a done deal are overstated. Hill said he is optimistic that issues will be resolved, but he isn't confident enough to predict an outcome.
In a matter related to stadium funding, the trustee of the Pennsylvania-based Roosevelt-Bentman Trust for American Voters sent an advisory opinion to Sandoval, Hill and committee members Las Vegas Mayor Carolyn Goodman and Clark County Commissioner Steve Sisolak on construction financing through long-term naming rights contracts.
Trustee Peter Wirs listed 22 NFL stadiums built over the past 50 years, their construction costs and the amounts of their naming-rights contracts. On average, naming rights are worth between $9 million and $25 million a year, he said, and the average ratio of naming rights to construction costs is 32.2 percent.
Houston's Reliant Stadium, home of the Houston Texans, built in 2002 for $352 million, has a 32-year naming rights contract worth $320 million, or 90.9 percent of the cost.
The Review-Journal is owned by the family of Las Vegas Sands Corp. Chairman and CEO Sheldon Adelson.
Contact Richard N. Velotta at rvelotta@reviewjournal.com or 702-477-3893. Find him on Twitter: @RickVelotta