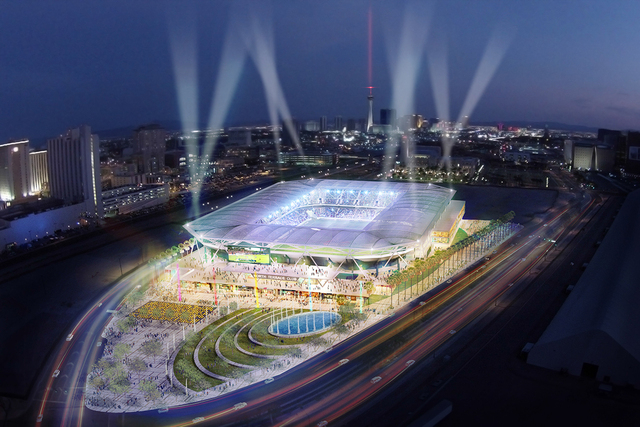 Rock Rocheleau stepped up to the mic at Las Vegas City Hall this week and posed a simple inquiry for Justin Findlay, the public face of a private developer team seeking an annual $3 million city subsidy for 30 years to help build a $200 million downtown soccer stadium.
With UNLV seeking a publicly funded campus stadium and Findlay chasing a subsidized downtown sports venue, Rocheleau asked the car dealership chain executive during a stadium information meeting: "Maybe the two of you can come together and build one stadium?"
It's an idea that constantly is conveyed to Findlay and UNLV acting President Don Snyder, who covets a proposed $523 million open-air campus stadium but won't seek public support for it until 2017.
In a region where a down-and-out economy is sputtering back to life and government needs are debated, public subsidy asks for stadium projects are a daunting political challenge.
"I would think if we have an unlimited amount of money we can do what we want, but we don't. Both projects are looking for money, so compromise should be in the air," said Rocheleau, a Las Vegas lawyer.
He is among more than just a few residents wondering why the University of Nevada, Las Vegas and the city of Las Vegas can't team up to build a common stadium that would house Rebels football games along with other events like international rugby matches and motorsports, while also playing host to possible Major League Soccer games.
SEPARATE PATHS
Unfortunately, the two stadium plans literally passed in the night this week, destined to go on separate paths.
On Thursday at 1 p.m., the UNLV 11-member stadium board adjourned and held its final meeting, poised to ship a 228-page report to the state Legislature to meet a Sept. 30 deadline. The report makes a case for a stadium that UNLV officials say is necessary to be built on campus or on a site very near to the campus.
The same day at 6 p.m., Las Vegas officials announced a revised funding deal between the city and its private stadium partners —the team of The Cordish Cos. and Findlay Sports &Entertainment for the $200 million stadium. Cordish/Findlay wants to build a soccer stadium on 61 acres in Symphony Park in hopes of luring an MLS expansion team by 2017. MLS, which has one expansion team slot left, plans to announce the city in December.
It's not as if Snyder and Findlay haven't talked about sharing a single stadium instead if trying to build two.
The reason that both insist on building new stadiums on their respective home turfs is Snyder said a campus stadium off Tropicana Avenue is necessary to bolster university life for students as part of UNLV's quest for Tier One status, while Findlay said Major League Soccer wants a downtown, soccer-first stadium for its new expansion teams.
Ironically, UNLV's early stadium reports included an MLS team as a potential tenant for its proposed campus stadium. That early study showed 17 MLS games, along with corresponding attendance and revenues.
Snyder would welcome an MLS team at a UNLV stadium site, while Findlay would be happy for a downtown stadium to host UNLV football.
Meanwhile, UNLV stadium board member Chris Giunchigliani, a Clark County commissioner, said Cordish/Findlay should explore using a rehabbed Sam Boyd Stadium, which is the current home of the UNLV football team seven miles away from the university campus.
"Why not look at community assets? We have facilities that could be augmented," Giunchigliani said.
REHABBING SAM BOYD?
Sam Boyd Stadium Executive Director Mike Newcomb said he would welcome a chance to fix up his stadium to host professional soccer.
But Findlay said for Las Vegas to have its best shot at landing a new MLS team, the host stadium would need to be in a downtown location — not a suburban residential site like at Sam Boyd or even five miles away at the UNLV campus.
Rocheleau said that compromise is needed to build one stadium instead of two. Otherwise, neither one might not be built if both UNLV and the city insist each wants its own stadium.
"The city as a whole will benefit from a downtown stadium. The compromise would be UNLV going to the downtown stadium," Rocheleau said. "It would help the community grow. We have to look at what's better for all of us."
For now, though, UNLV official will re-visit a campus stadium in 2017.
And Cordish/Findlay officials will be among those in a packed City Hall meeting room on Wednesday, when the the City Council votes on a nonbinding stadium deal.
Contact reporter Alan Snel at asnel@reviewjournal.com or 702-387-5273. Follow @BicycleManSnel on Twitter.