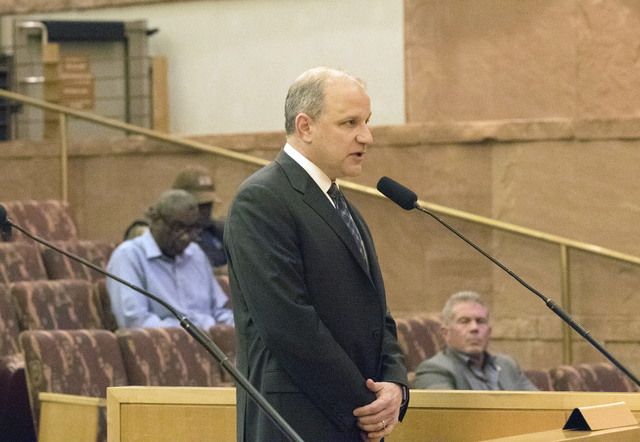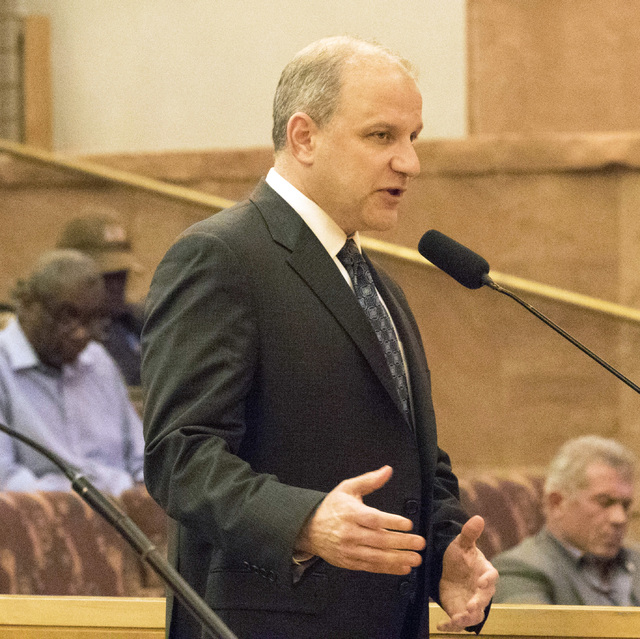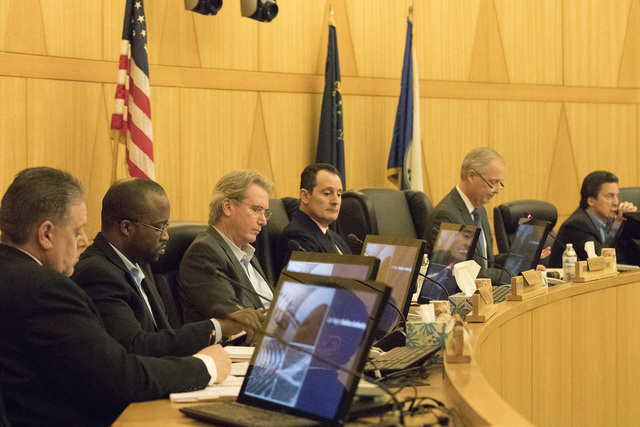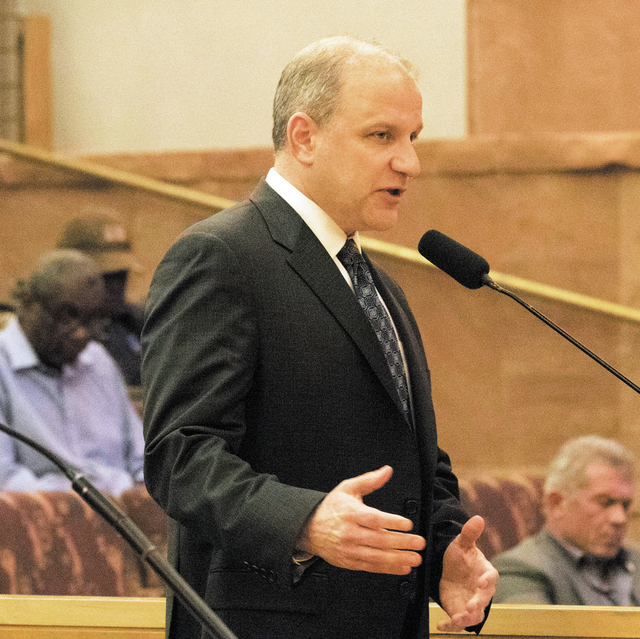 Oakland Raiders President Marc Badain apologized Thursday for the public uproar created by a draft lease that would have restricted UNLV's use of a proposed 65,000-seat domed stadium in Las Vegas.
"There won't be any issues between us and UNLV over field markings," Badain told the Las Vegas Stadium Authority board. "I'm sorry that got blown out of proportion."
The draft lease, submitted Jan. 26, required the Raiders' approval of the Rebels' football schedule and could have prevented UNLV from having its own home field markings. "Under no circumstances shall field markings for the [Raiders'] games be diminished or compromised in any way by the presence of collegiate football games of any kind. … The team shall have no obligation to compromise its field markings or field conditions for collegiate games at any time," the lease said.
UNLV President Len Jessup attended Thursday's stadium authority meeting with Badain and said he's not concerned about the language in the draft lease.
"I think Marc Badain was very sincere in his comments, and I've been talking with him over the last couple of weeks, so I know there's a good continued spirit of cooperation between the Raiders' organization and UNLV and the folks on the Stadium Authority board. So I've got no concerns about how this is going to work out in terms of our use of the stadium," Jessup said.
STILL COMMITTED TO MOVING
Badain assured the authority board that his team is still committed to moving to Las Vegas despite the withdrawal from the $1.9 billion project of one of its primary financial backers, the family of Las Vegas Sands Corp. Chairman and CEO Sheldon Adelson.
Badain told the board the Raiders have been in contact with several prospective investors, but he didn't name them in his six-minute presentation.
"A process like this has stops and starts, but you should know that the organization remains fully committed to this project," Badain told the board. "(Raiders owner) Mark Davis made a commitment to Gov. (Brian) Sandoval and we intend to see that through. We are not deterred, and financing will not be an issue."
Adelson said the family withdrew from the project because they were "not only excluded from the proposed [lease] agreement; we weren't even aware of its existence."
Following the meeting, Authority Board Chairman Steve Hill said he is confident the Raiders will find an investor or a group of investors to fill the $650 million gap left when the Adelsons withdrew from the project Jan. 30.
"We've heard from a broad variety of people, but it's the Raiders' job, it is not our job to develop the private component of the financing," Hill said. "I know they're working on it and I appreciate them providing the update. It's great to hear that he (Badain) is confident that financing will be available, but we're not a part of those negotiations."
Hill said he personally has heard from about 10 entities — some more qualified than others — to help finance the stadium. He did not name anyone specifically, but said they included "banks, wealthy individuals and others" that he encouraged to contact the Raiders directly.
The Raiders have committed $500 million toward construction of the stadium. The balance of the project would be funded by $750 million in bonds repaid by Clark County hotel room tax revenue.
UPDATE FOR OWNERS PLANNED
Hill said he, Applied Analysis principal Jeremy Aguero, the Raiders and the stadium authority's recently appointed legal counsel would work on the proposed stadium lease so the Raiders can give NFL owners an update three weeks before their scheduled March meeting in Phoenix, where a vote on the team's relocation could occur.
The details of that lease agreement are expected to be presented at the next stadium authority board meeting, scheduled for March 9.
"I've been in lots of negotiations and everybody on our board has been in lots of negotiations, and you never really know what the first draft of an agreement is going to look like," Hill said of the initial response to the proposed lease agreement, which also called for the Raiders to pay $1 per year in rent. "If you're committed to getting a deal done, you make sure that you don't get offended, that things don't bother you.
"Whatever the starting point is, that's what the starting point is. We are going to make sure that by the time we get to the finish line, it's right and that it's good for Nevadans," he said.
Badain also told the board he attended Wednesday's international soccer match between Mexico and Iceland to see how officials at Sam Boyd Stadium handled a large crowd.
PLANNING ON SUPER BOWL
Sam Boyd Stadium could host preseason Raiders games or become a temporary home for the team in 2018 and 2019 if the Raiders' move is approved and the team isn't received well by the Bay Area during the 2017 season. The new Las Vegas stadium wouldn't be complete before the 2020 NFL season.
Badain also said he fielded dozens of inquiries from people attending last Sunday's Super Bowl game in Houston.
"To a person, all they wanted to talk about was bringing the Super Bowl to Las Vegas," Badain said. "Team owners, team executives, media executives, sponsors, all the people that bring their largest clients for a massive spectacle where they're throwing parties and entertaining all over the city. They kept saying, 'We can't wait to bring the Super Bowl to Las Vegas. We can't wait to bring all this to Las Vegas.'"
Badain, Hill and Jessup also credited Adelson for starting the effort to bring the NFL to the city.
"We might not be here today had they not been pushing on the project throughout the process," Jessup said.
The Review-Journal is owned by the family of Las Vegas Sands Corp. Chairman and CEO Sheldon Adelson.
Contact Richard N. Velotta at rvelotta@reviewjournal.com or 702-477-3893. Follow @RickVelotta on Twitter.
RELATED
Bill seeks to tax bonds used to finance sports stadiums
Las Vegas Stadium Authority should beware potential Raiders escape clause, expert says
10 key questions about proposed Raiders stadium in Las Vegas