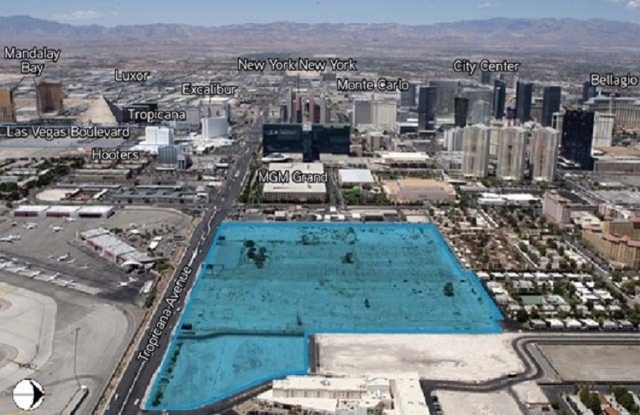 On a recent weekday, it was a quiet late morning at Einsteins Bros Bagels on Tropicana Avenue across from McCarran International Airport.
But next door to Einsteins and the McCarran Village shopping center is a vacant 42-acre site that could one day host to a University of Nevada, Las Vegas football stadium near the Koval Lane corner across from the MGM Grand parking garage.
And the retailers at McCarran Village would welcome the stadium — and the site's proposed commercial development such as restaurants, which they believe would generate more foot and vehicular traffic for the shopping center that sits between the airport exit on Tropicana Avenue and the Strip.
"It would bring more business all day long," said Breina Colbert, a 2013 UNLV graduate who is the manager at the Einsteins bagel shop, one of 16 Einsteins stores in Las Vegas.
The district manager for the Subway submarine sandwich shop in the McCarran Village shopping center agreed a stadium next door would be great for business.
"More foot traffic is always good," said Subway district manager Derek Bushberger, who is also a UNLV graduate. "It would bring people to the area. I'm all for it."
UNLV wants to buy the 42 acres for $50 million by Dec. 18. The Board of Regents would have to approve UNLV borrowing money for the university to close on the land purchase.
A stadium committee controlled by gaming industry representatives last year recommended a $523 million, 45,000-seat open-air stadium with a shade system for UNLV. But last week, event promoters suggested before a different tourism infrastructure board that a covered stadium with seating for 55,000-60,000 is the way to go.
The McCarran Village stores supported the stadium even with UNLV's planning consultants suggesting 100,000 square feet to 120,000 square feet of restaurants and retail stores on the proposed stadium site. Consultant SmithGroupJJR recommended:
— Four to five quick-service restaurants of 2,500-3,000 square feet each. Possible brands could be Blaze Pizza or Pita Pit.
— Four to five sit-down restaurants of 6,000-8,000 square feet each. Possible brands include Buffalo Wild Wings.
— A UNLV themed restaurant/bar of 6,000-8,000 square feet.
— Entertainment building of 30,000 square feet for a brand such as Dave & Buster's.
— Ancillary retail of 10,000-12,000 square feet.
Even with the commercial development on the proposed stadium site, Regent James Dean Leavitt, who is a big stadium advocate, said the neighboring shopping center would benefit from a stadium next door.
"It would bring tremendous foot traffic," Leavitt said.
Commercial real estate agents also thought the market could absorb the new development at the stadium site.
"It probably can," said George Okinaka, senior associate at Voit Real Estate Services. "It's a question of how much square footage they will be allotting to it. The market is getting better. It'll be interesting to see what type of price points the lease rate would be."
He noted it's common in other major cities for restaurants and bars to adjoin sports facilities such as the proposed UNLV stadium.
Matt Bear, vice president of CBRE, said he is bullish on commercial development on the proposed UNLV stadium site. Bear, who focuses on retail on gaming-related properties, said he likes this stadium site more than the previous stadium site on the other side of the campus that had to be axed because it interfered with flight paths from nearby McCarran.
"It's not really about the game, but it's about the immersive experience," said Bear, a 1994 UNLV graduate said.
"The more opportunities that we can give (visitors) to come to this market the better we'll be. … I like the plan and the location," Bear said. "Would it be better if it had a Strip address? It's close enough to the Strip to create a compelling experience."
Contact reporter Alan Snel at asnel@reviewjournal.com. Find him on Twitter: @BicycleManSnel–