Roberson urges linking stadium plan to Las Vegas Convention Center upgrade
August 19, 2016 - 8:39 pm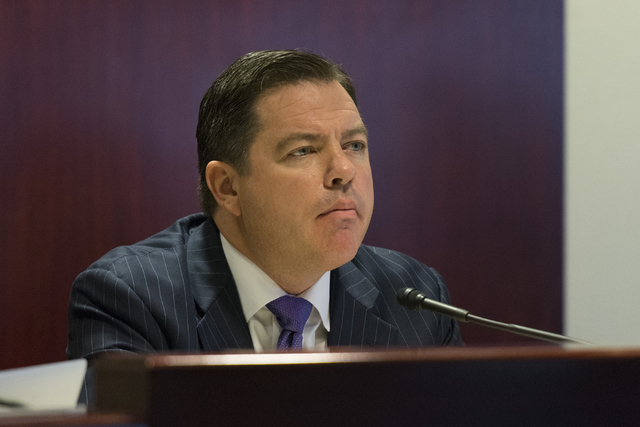 State Senate Majority Leader Michael Roberson said Friday that funding proposals for a Las Vegas Convention Center expansion and a 65,000-seat domed stadium might have to be linked to win the approval of the Nevada Legislature.
In an email, Roberson said he doesn't think there are enough affirmative votes in the Legislature to pass a tax increase critical to financing a $1.4 billion expansion of the Las Vegas Convention Center.
"The political reality is there won't be the required two-thirds vote in each chamber of the Legislature for the Las Vegas Convention Center expansion alone," Roberson said in response to an inquiry about the financing of the projects.
"The LVCVA made an unsuccessful run at that last legislative session. It gained no traction. However, if you tie funding for an NFL stadium with funding for the convention expansion, not necessarily in the same bill, there is a much greater likelihood of success at the Legislature."
Las Vegas Sands Corp., Majestic Realty and the Oakland Raiders are partnering to develop the stadium, a public-private effort with a price between $1.7 billion and $2.1 billion. The development partners are asking for $750 million in public funding through an increase in room tax rates. A room tax increase also would fund the convention center upgrades.
The Raiders have said they would seek NFL approval to relocate to Las Vegas if a stadium financing plan is approved. Developers envision the stadium housing University of Nevada, Las Vegas football games and special events too large to stage in existing Southern Nevada arenas.
Sam Boyd Stadium, the valley's biggest existing stadium, is far from the Strip in eastern Las Vegas, is more than 40 years old and typically seats fewer than 40,000 people.
The Southern Nevada Tourism Infrastructure Committee, which is charged with making recommendations to Gov. Brian Sandoval and the Legislature by the end of September on projects that would improve the city's tourism economy, already has unanimously recommended a financing package for the convention center expansion. The committee has recommended adding 0.5 percentage points to the room taxation rate, which ranges from 10 percent to 12 percent, depending on location.
Sandoval, through a spokeswoman, said he wants to see the committee's recommendation before making any decisions on either project and whether to call a special session of the Legislature.
"Unless the Legislature has two-thirds (majority) to call itself into special session, it is entirely within the discretion of the governor to determine the timeline and subjects for a special session," spokeswoman Mari St. Martin said in an email. "The governor will not make those determinations until he receives the Southern Nevada Tourism Infrastructure Committee's recommendations."
Roberson's remarks came after MGM Resorts International Chairman and CEO Jim Murren this week reiterated remarks he made in January about convention center and stadium needs.
"To me, the priorities are obvious," Murren said after the stadium plan was first unveiled. "It's to expand and improve the convention center. And if we can find a fiscally responsible way to fund a stadium, MGM will be at the table as we always are, put money into it, support it, and I don't give a hoot if it competes against us.
"If it's good for Las Vegas we're all for it," he said, "but it won't be done to the detriment of the convention center. We would not be for that. Without that convention center improvement, we can forget about Las Vegas growth. Let's go to the must-haves before we go to the nice-to-haves, and if we can do both, I'm all for it."
Las Vegas Sands Chairman and CEO Sheldon Adelson has maintained that a stadium should be a top priority for Southern Nevada's tourism economy.
The Review-Journal is owned by the family of Las Vegas Sands Corp. Chairman and CEO Sheldon Adelson.
Contact Richard N. Velotta at rvelotta@reviewjournal.com or 702-477-3893. Find him on Twitter: @RickVelotta