Sisolak: Raiders appear committed to Russell Road site for new stadium
Updated March 28, 2017 - 7:08 pm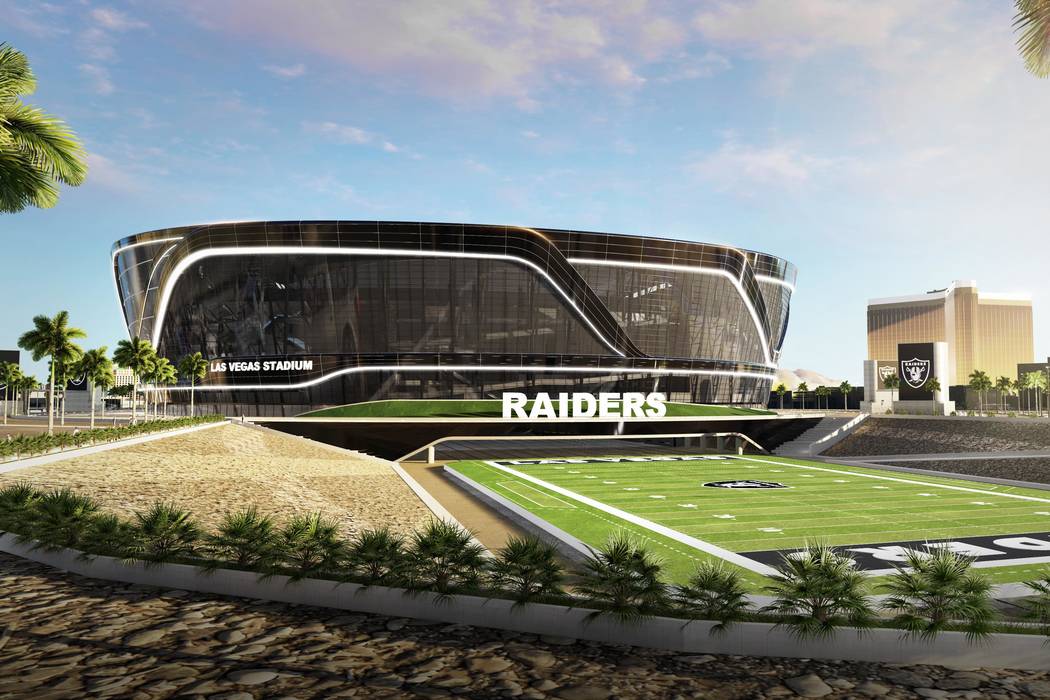 Clark County Commission Chairman Steve Sisolak said Tuesday that the Oakland Raiders' "premier site" to build a new NFL stadium remains a 63-acre property at Russell Road and Dean Martin Drive, just west of Interstate 15 and Mandalay Bay.
Sisolak said he had shared his own concerns about the site due to problems that might be created with additional game day traffic. But after speaking with Raiders owner Mark Davis and team president Marc Badain on Tuesday, Sisolak believes the team is committed to doing what's necessary to make the location work.
"They understand my concerns and that they have to work to alleviate those concerns," he said. "They still have to do their traffic and pedestrian and drainage studies. That may change their minds, but they've got to take it step by step."
But Las Vegas Mayor Carolyn Goodman continues to contend Cashman Center, within the city limits, is a "no-brainer" for the stadium.
"I'm not going to denigrate any other choice of site, but that district, that area, is in the heart of the city where all the people that live and work and generate the great hospitality we put forth," Goodman said. "How fabulous to have the opportunity for development in that area."
Goodman touted Cashman's existing infrastructure, parking in the area and accessibility. With nearby Interstate 15 and U.S. 95, the site has seven access points that will continue to be improved as the Nevada Department of Transportation's Project Neon progresses.
A planned light rail line along Maryland Parkway could ferry passengers from McCarran International Airport, past UNLV, to the eastern side of the Cashman site, Goodman said.
The Las Vegas Convention and Visitors Authority approved a revised transfer agreement earlier this month, which will turn the Cashman site over to the city June 1, earlier than anticipated.
Goodman questioned how other stadium-related infrastructure needs that are off the actual stadium property will be funded if the project lands at Russell Road or another site. Goodman said those funds shouldn't be pulled from future NDOT projects that "have all been in line to be funded."
"Now you're not talking about the tourist tax," Goodman said. "You're talking about money that's not there."
A series of upgrades near the Russell Road site was listed in a transportation report released in October recommending that NDOT build at least $899 million in freeway projects that were previously planned to handle heavy traffic headed in and out of the stadium.
Environmental studies are underway for a $150 million reconfiguration of the Tropicana Avenue interchange at Interstate 15, along with a separate project that calls for construction of direct-access ramps that would connect a new carpool lane on I-15 to exits at Harmon and Hacienda avenues, according to NDOT Director Rudy Malfabon.
Malfabon previously said that some freeway projects planned for Clark County might be delayed in order to accelerate the proposed improvements surrounding the proposed stadium sites.
NDOT officials have also said the county's fuel revenue indexing money might be paired with state highway funds to pay for the projects. Earlier this month, several members of the Regional Transportation Commission of Southern Nevada's board of directors said the Raiders should help pay for those transportation projects around the stadium.
Review-Journal staff writer Art Marroquin contributed to this story. Contact Michael Scott Davidson at sdavidson@reviewjournal.com or 702-477-3861. Follow @davidsonlvrj on Twitter. Contact Jamie Munks at jmunks@reviewjournal.com or 702-383-0354. Follow @JamieMunksRJ on Twitter.
RELATED
Oakland Raiders get NFL's approval to move to Las Vegas
With new stadium, Las Vegas will enter race for major events
Raiders explored Henderson, North Las Vegas sites
The NFL officially approved the Raiders relocation to Las Vegas on Monday. So where will they be headquartered and train?
Clark County Commission Chairman Steve Sisolak said Tuesday he couldn't provide many details at this time.
"They're exploring a couple locations, but they haven't got any land locked yet," he said.
But Henderson Mayor Andy Hafen said Tuesday that a representative of the Raiders reached out to the city late last year.
"I haven't talked with them directly, but I do know that our city manger's office had been in contact with someone," Hafen said. "We're offering to help them in any way we can. If we can have anything to do with the Raiders coming, we'd like to do that."
Henderson city manager Robert Murnane added that someone contacted them in November/December looking for parcels in West Henderson by the airport.
"They never followed-up with us about it," he said.
Raiders representatives also met with city officials last month in North Las Vegas about the possibility of building some facilities, city spokeswoman Delen Goldberg said.
The nature of the facilities wasn't specified, and Goldberg said that potential sites were not discussed. No futures meetings with the team are currently planned, Goldberg said.
Sandy Lopez and Art Marroquin/Review-Journal