Snyder's audible: Deal with UNLV stadium in 2017
August 28, 2014 - 5:02 pm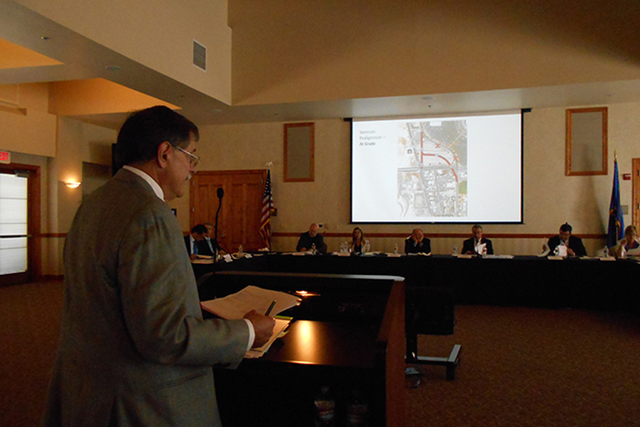 UNLV acting president Don Snyder called an audible Thursday, delaying the proposed $523 million campus stadium project by two years.
Snyder's move came at a University of Nevada, Las Vegas Stadium Board meeting called to finalize a proposal to send to the Legislature for consideration early next year. Instead, the project will go to state lawmakers in 2017.
He said the university is now working on too many issues, such as creating a medical school, to ask state support for the proposed stadium.
"All these things take time and energy," Snyder said. "The medical school is the top priority. You don't have to be a rocket scientist to also know there are other demands in the community like schools and police officers … It's more important to do this right than to do it fast."
Snyder's fellow stadium board members agreed.
"I don't want to burden the Legislature with a request they would deny," said Kirk Hendrick, one of the panel's 11 members and an executive at Ultimate Fighting Championship.
"The university has a lot of competing needs," added board member Sean McBurney, a Caesars Entertainment executive. "This is a way to prioritize those needs."
Bill Boldt, UNLV vice president for university advancement, said the change will give him time to dig up more private financial support.
"It takes a long time to build relationships with donors," Boldt said.
Snyder said the Board of Regents' recent approval of $26.7 million to kick-start the school of medicine makes it the university's top priority. He noted the university is also building a new $57 million hotel college.
But he insisted the open-air, 45,000-seat stadium is needed, feasible and a good business strategy for the university. So, the 11-member stadium board reviewed proposed stadium resolutions that would eventually pave the way for a campus venue. The resolution language will be finalized on Sept. 11.
To pay for the stadium, a public-private partnership would be created to raise money from sources such as:
— The stadium's net operating income.
— A special sales tax district that would be financed by a countywide sales tax or a Strip corridor sales tax.
— Contractually obligated income such as naming rights.
— Donations.
The proposed shaded football stadium cost include $342 million for hard construction costs, $80.9 million for soft costs such as design and architectural services, and $100 million for site and infrastructure.
It would cost another $50 million to prepare the open-air stadium for a future dome addition.
Board member James Dean Leavitt, a Board of Regents member, supported a domed stadium and argued it was worth the investment because it would generate more revenue and events than an open-air stadium. A domed stadium, if built from the start, would cost $832.6 million.
Leavitt pleaded again for the domed facility.
"If this is just a football stadium, I won't support it," he said.
While the board will likely endorse the $523 million open-air stadium, Snyder said the delay keeps open the door for design tweaks down the road.
"I don't think anything is set in stone for '17," Snyder said.
The stadium would be proposed for a campus site next to the Thomas &Mack Center or a 42-acre off-campus site at Tropicana Avenue and Koval Lane, adjacent to the campus. The stadium board would need legislative approval to build off-campus.
Paying for the new stadium is a major challenge. The board's consultant, CSL of Plano, Texas, said increasing Las Vegas' existing 8.1 percent sales tax rate by 0.104 percentage points would generate $33.9 million in tax revenue annually, based on 2013 taxable sales.
The venue would host UNLV football games and 11 non-UNLV football events: four rugby events, three motorsports events, the Las Vegas Bowl, and international soccer match, concert and neutral site college football game.
Most of those events are currently held at Sam Boyd Stadium, which is about seven miles from campus.
The stadium board, made up of Regents members, local casino-hotel industry representatives, and public officials, is required under state law to submit the stadium report to the state Legislature by Sept. 30. With the two-year delay, the stadium board will continue to meet on a need basis after it submits the stadium report.
Contact reporter Alan Snel at asnel@reviewjournal.com or 702-387-5273. Follow @BicycleManSnel on Twitter.