Southwest Airlines opposes proposed stadium site near McCarran Airport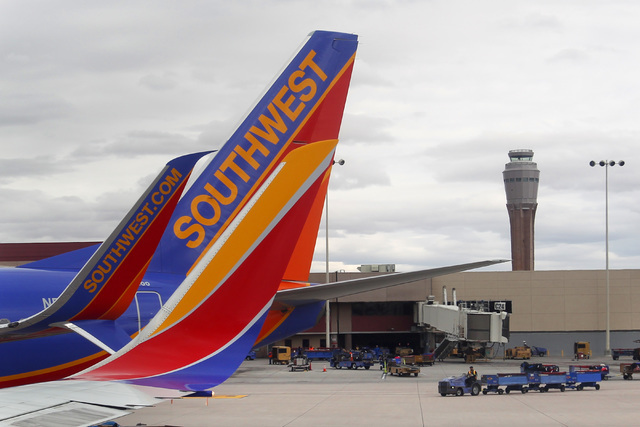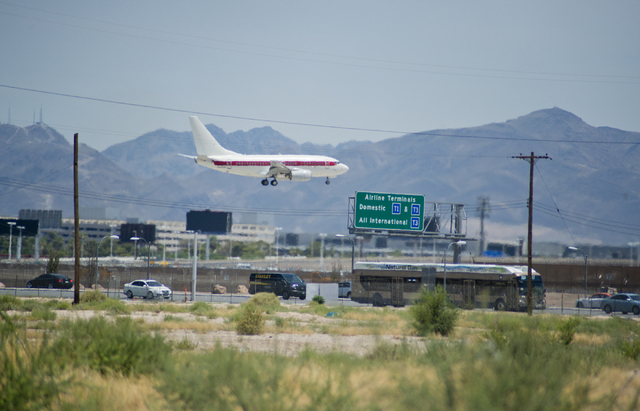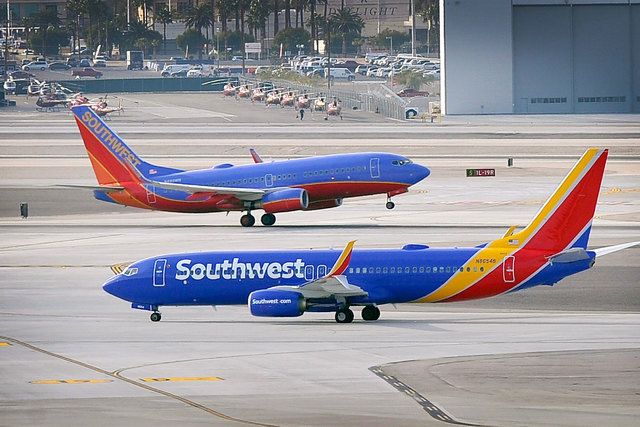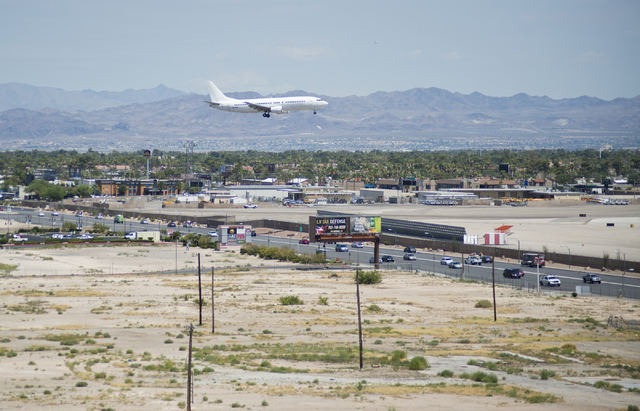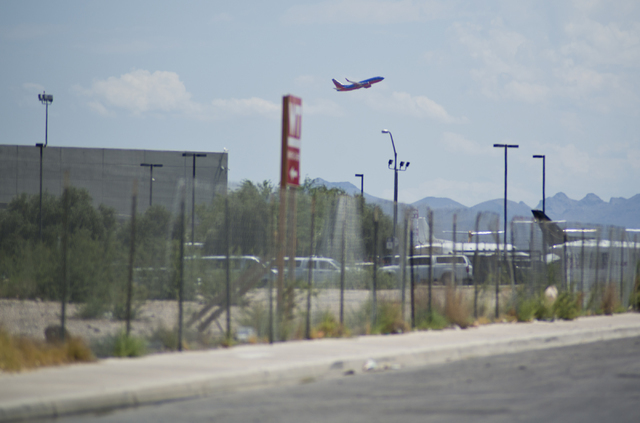 Southwest Airlines opposes building a domed football stadium on a 42-acre site at Tropicana Avenue and Koval Lane, all but ending debate about whether to build the $1.45 billion structure at that location.
With that site, known as Trop 42, off the table, an 11-member committee studying how to finance the project is expected to reconsider a site just northwest of the Thomas & Mack Center that was under consideration when UNLV was looking at stadium options in 2012.
Steve Hill, chairman of the Southern Nevada Tourism Infrastructure Committee, said Friday he hasn't ruled out the Trop 42 site from consideration. But he said that a letter from Southwest to Clark County Commission Chairman Steve Sisolak verified what many on his committee had already suspected — that a stadium on that site could impact operations at McCarran International Airport.
"It's not my decision, but at this point, I would say it's highly unlikely that the Tropicana site would work," Hill said in a telephone interview.
Hill said he expects the committee to take up reconsideration of a site identified in a UNLV campus master plan update in 2012.
Majestic Realty, one of the development partners in the current bid to build a stadium, in 2013 proposed a smaller stadium plan, known as UNLV Now. Initially proposed as a partnership between the university and the hospitality industry, the $800 million UNLV Now effort included a 60,000-seat stadium adjacent to the Thomas & Mack Center as well as a retail village and low-rise student housing adjacent to the stadium.
The UNLV Now proposal never won approval from the Nevada Legislature.
Sisolak said the June 29 letter from Southwest, McCarran's busiest commercial carrier, was "very pointed and pretty strong" about its opposition to the Trop 42 site. Sisolak sits on the 11-member committee, which must provide recommendations to Gov. Brian Sandoval by the end of this month about the 65,000-seat stadium and its financing.
"They didn't equivocate on their position," Sisolak said of the Southwest letter. "From our viewpoint, the airport is a primary concern and we need to do everything we can to protect its capacity."
The Federal Aviation Administration has been contacted about the potential consequences of locating a stadium just east of the MGM Grand parking garage and less than a half-mile from the ends of two north-south runways at McCarran.
Consultants who have examined the site and are familiar with FAA specifications say the agency would not move to block construction of the stadium, but would require additional spacing of flights. That would reduce the number of planes that could take off and land.
The east-west runways are McCarran's busiest because of usual wind patterns, but when bad weather hits east or west of the city or the wind shifts, the north-south runways are used more often.
McCarran officials earlier this year warned that airport capacity could be reduced if the Trop 42 site was selected.
The Southwest letter, signed by Bob Montgomery, the airline's vice president of airport affairs, and Capt. Craig Drew, senior vice president of air operations, voiced concerns about distractions to pilots that could occur at a stadium as well as traffic that would be generated near the airport during events.
"Landing and take-off are the most critical stages of flight and the industry is dedicated to removing conflicts, not creating them," the letter said. "Safety concerns stem from the activities that come with fan expectations of a modern sports arena, including video boards and signage, light displays, fireworks, helicopters and drones."
In an interview Friday, Montgomery said he writes letters on development issues to government entities every couple of years when there are proposals that could impact airports at cities Southwest serves.
Montgomery said it's common for the aviation industry to weigh in on new development.
"We have pilot representatives in cities around the country who stay involved on projects in the early planning stages," he said. "We've been participating and actively evaluating this site (Trop 42) and it seems to have gotten to a critical stage in development that we felt it was important to have our voice heard."
While Southwest's letter noted how much economic impact Southwest supplies ($30 billion a year flying 12 million passengers to and from McCarran) and how many Southern Nevadans it employs (3,250), Montgomery said the Dallas-based airline isn't trying to strongarm the committee.
"We're not in a position to be punishing anybody," Montgomery said. "We just know events would occur at key arrival and departure periods for us and it would simply mean there could be fewer flights and less capacity by the FAA."
Gerry Bomotti, UNLV's senior vice president for finance and business, said the university is still hopeful that the stadium could be located at Trop 42 and that some of the issues Southwest cited could be mitigated.
Bomotti said the university has been working with the FAA, Southwest and airport officials for six years since discussions first began on developing a stadium close to the campus. UNLV currently plays its games at Sam Boyd Stadium in the southeast valley.
"We've always thought the (Trop 42) site would be feasible, but we understand that things change and we've learned from our contacts at the airlines and the airport that there are heightened concerns about stadiums built near airports," Bomotti said.
He cited the recent construction of Levi's Stadium in Santa Clara, California, which is about a mile and a half from Norman Mineta San Jose International Airport. Pilots expressed concerns about stadium lights, pyrotechnics and laser lights at the stadium and how they could affect airport operations.
"The university has never wanted to negatively impact the airport and we understand their issues," Bomotti said. "But I think their concerns are more for an open-air stadium. I don't think there would be the same concerns for a domed stadium."
Airport officials said they'd have the same concerns whether the stadium is domed or open-air.
Bomotti said he is hopeful that a complete analysis of the proposal would keep Trop 42 in the running and he said a consultant's analysis on the Trop site is about 80 percent complete.
UNLV President Len Jessup, who is vice chair of the committee, has said on numerous occasions that if the stadium isn't placed on the Trop 42 site, the university would find another use for it.
Bomotti said there is "a long list of things we could do with that site." He said the site could be used for the university's fledgling medical school or that other facilities could be relocated to better use space on the main campus.
The stadium project is proposed as a public-private partnership, with private funding provided by casino operator Las Vegas Sands Corp., Majestic and the NFL's Oakland Raiders. The Raiders have promised to pursue relocation to Las Vegas if the Nevada Legislature approves public funding — most likely hotel room tax revenues — to help fund the stadium's construction.
A representative of Sands reiterated Friday that the development partners have no preference about where the stadium would be built.
In addition to the revisited UNLV Now site, other locations under consideration for the stadium include the site of the recently imploded Riviera hotel; MGM Resorts International's Rock in Rio grounds at Sahara Avenue and Las Vegas Boulevard; and Cashman Center downtown.
Hill said he hopes the developers and the Raiders could work toward narrowing potential locations so that the committee could develop a better estimate of the full cost of the stadium.
The current $1.45 billion estimate does not include the cost of land or any allowance for infrastructure improvements necessary in the immediate vicinity of the stadium. If the stadium is not built on UNLV-owned land, the cost estimate could rise significantly.
"For the July 11 meeting, we asked them to get site-specific so that we can get a solid price on project," Hill said.
The Review-Journal is owned by the family of Sands chairman and CEO Sheldon Adelson.
Contact Richard N. Velotta at rvelotta@reviewjournal.com or 702-477-3893. Find him on Twitter: @RickVelotta
Southwest Letter Regarding Stadium Site Near McCarran by Las Vegas Review-Journal
RELATED
More news on the proposed domed stadium