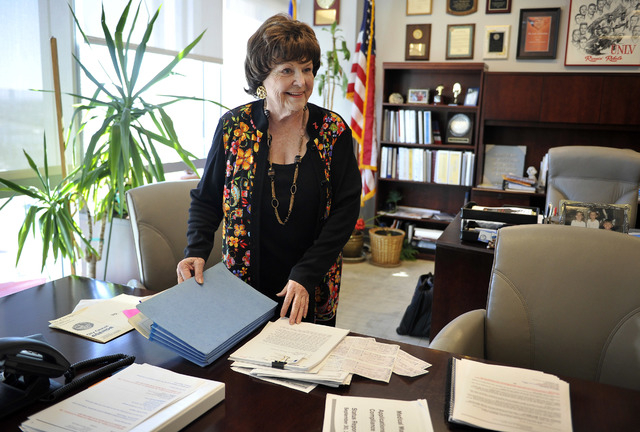 The phone calls began ringing at 7 a.m. at the Tarkanian house.
No, not for Jerry.
They were for Las Vegas Councilwoman Lois Tarkanian, the former basketball coach's wife of 59 years who, with her swing vote today, will decide whether the city moves ahead with a public subsidy deal for professional soccer stadium project in Symphony Park in downtown.
With the City Council split 3-3, and Tarkanian's tally still up in the air, stadium subsidy supporters and opponents spent Tuesday calling and emailing her in hopes of winning her vote. City Hall was even receiving autodial calls from stadium deal supporters.
"I'm leaning towards the no," Tarkanian said late Tuesday afternoon, with stadium studies and phone messages piled on her City Hall seventh-floor office table. "A stadium would be great for the city, but I think it's a little too early. Either way, I will have a lot of people hating me tomorrow."
The truth is it's hard to hate Tarkanian, regardless of her vote. The former longtime educator and School Board member with the friendly demeanor planned to spend Tuesday night reading a long report on the public's feedback on the stadium deal and even meet with more people, such as a union representative at a local Starbucks.
Her last day before today's big vote was packed with not only stadium debate but also talking with a radio station about dealing with rental properties where rowdy behavior is bothering neighbors and hearing a briefing on local marijuana issues. In between all this public policy stuff was a visit to the doctor's office to check on her foot, which needed recent surgery.
'A HARD DECISION'
Here is what's at stake for the council member and her six fellow council members: The city has cut a proposed deal with the private developer team of The Cordish Cos. and Findlay Sports & Entertainment on a $200 million soccer stadium for Symphony Park. Cordish/Findlay is asking the city for $3 million a year for 30 years as part of a public subsidy package. The $90 million over 30 years would come from hotel room tax revenues used for city parks.
If Tarkanian votes no on the nonbinding stadium deal, Cordish's five-year exclusive negotiating agreement with the city is over. A yes vote pushes the funding proposal to December for a final vote.
Cordish/Findlay said they need a subsidized stadium to score a Major League Soccer expansion team. MLS, which is expanding to 24 teams, has a lone team slot left, and Las Vegas is competing against front-runner cities Sacramento, Calif., and Minneapolis.
On one hand, Tarkanian said she can't justify spending $3 million in public dollars from money earmarked for parks projects, especially when her parks in Ward 1 need so much improvements.
"I'm not for using $3 million for the stadium instead of parks," Tarkanian said. "You make decisions with your heart and your head, and my head is telling me it's not the right time."
But on the other hand, Tarkanian asks what is so bad about extending the negotiating process another two months to see whether Cordish/Findlay can find a new partner or a source of money to cover the $3 million annually over 30 years — or $90 million — the city is being asked to contribute to build the 24,000-seat soccer stadium.
"I'm not against taking the time. Maybe someone can step in and be a contributor? Maybe they might change. This is a hard decision," Tarkanian said.
OPPOSITION DUG IN
Her six colleagues on the council have made up their minds.
Mayor Carolyn Goodman is the stadium's chief cheerleader, followed by Councilmen Ricki Barlow and Steve Ross.
Opponents are council members Bob Beers, who expresses his displeasure for the stadium subsidy on his blog; Stavros Anthony, who has opposed public dollars for a stadium or arena from the get-go; and Bob Coffin, who argues his ward needs parks improvements more than a downtown soccer stadium.
To sway Tarkanian in their favor, just about everyone has made a play for the 80-year-old council member.
They range from Justin Findlay, the public face of the development team who shook Tarkanian's hand after Thursday's sixth and final city stadium meeting in each of the six wards, to one guy who emailed her the same message 17 times Monday.
Tarkanian's office is drawing more than 50 to 60 phone calls a day, including an MLS official on Tuesday who told the council member that "Las Vegas would be an exciting market."
Cordish/Findlay has told the city that it needs the city's public subsidy because the profit margins are too thin. Under the proposed deal, Cordish/Findlay would receive all the stadium revenues.
For several weeks, Tarkanian has said she would vote no unless Cordish/Findlay drops its request for public money.
"But what's the sense of delaying if nobody is bending?" she said.
Contact reporter Alan Snel at 702-387-5273 or asnel@reviewjournal.com. Follow @BicycleManSnel on Twitter.