UNLV officials to present options on buying stadium land
September 7, 2015 - 3:13 pm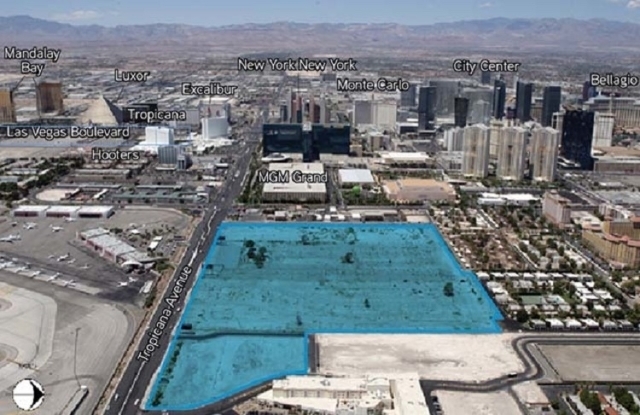 UNLV's next step for a new stadium is Thursday when university officials will brief a Nevada Board of Regents committee on various financial options to buy 42 acres at Tropicana Avenue and Koval Lane for $50 million.
"We are certainly assuming, if the Board of Regents approves this project to move forward, we would need to use long-term debt financing to pay for it," Gerry Bomotti, UNLV senior vice president for finance and business, said of the land acquisition. "Finding feasible options for financing the purchase is always the most challenging issue."
UNLV hopes to buy the property on Dec. 18, blend the land into its master plan and then work on transportation and connectivity issues to link the site to the campus. UNLV is also playing a big role in a new tourism infrastructure committee created by Gov. Brian Sandoval that is looking at how to connect stadiums, arenas, convention centers, venues, airports and transportation hubs in the Las Vegas and Southern Nevada region. Its next meeting is Sept. 24.
Meanwhile, UNLV would need the Board of Regents to approve the stadium land deal at the board's December board meeting for the campus stadium proposal to move forward.
"Nothing can or will move forward unless they approve an update to our our campus masterplan to incorporate this 42 acres and they approve some financing structure that allows us to purchase it," Bomotti said. "Everything is on track to have a final and complete package for the Board (of Regents) at the December meeting."
The university wants to acquire the land even if a new stadium is never built because it needs space for other programs, too. Last year, an 11-member stadium panel made up of Regents members, Strip casino-hotel representatives and local officials recommended a 45,000-seat, shaded stadium project of $523 million. UNLV has not begun lobbying for the $523 million yet, saying the new medical school is the top priority.
Regent James Dean Leavitt, who also was a member of the stadium board, supports UNLV buying the land and wants the Strip's biggest property owners such as MGM Resorts International, Caesars Entertainment Corp., Las Vegas Sands Corp. and Wynn Resorts Ltd. to help pay for the stadium.
"That land is a once-in-a-lifetime opportunity," Leavitt said. "If this is seen as a Strip resource, then the Strip should pay for the overwhelming majority of it if it's a neutral events center. If it can benefit all of Southern Nevada; it should not be affiliated with any one casino operator."
A campus stadium would be necessary if UNLV wants to join the Big 12 or Pac-12 conferences in the future.
"We are proud members of the Mountain West (Conference) and that is where our focus is. With that said, who knows what the landscape of college athletics will look like in the next few years," said Tina Kunzer-Murphy, UNLV athletic director.
To help buy the land, UNLV can also upgrade two billboards on the 42 acres to digital to generate revenue and also make money from commercial development on the site along Tropicana Avenue, Bomotti said.
UNLV uses Sam Boyd Stadium for its home football games. The stadium spent $1.2 million to widen Sam Boyd's field and install new turf so that the venue meets rugby and soccer standards.
"When we have rugby out there in the past, we have had to bring in natural turf over the artificial turf field, at some significant expenses. We will be recovering some funding from rugby on an annual basis towards this $1.2 million cost, and $130,000 is in the contract for next year," Bomotti said. "They hope to recover $400,000-$500,000 in total from rugby over the next few years."
Contact reporter Alan Snel at asnel@reviewjournal.com. Find him on Twitter: @BicycleManSnel
Early rendering of UNLV stadium
More coverage
Complete coverage of the various stadium and arena proposals.