Wide gap remains on financing, return options for proposed Raiders stadium
September 14, 2016 - 9:12 pm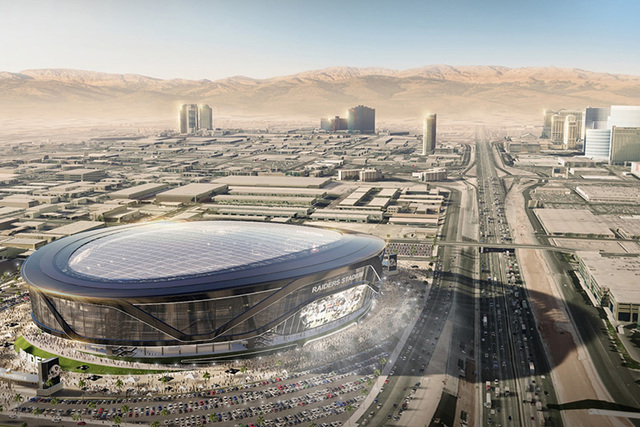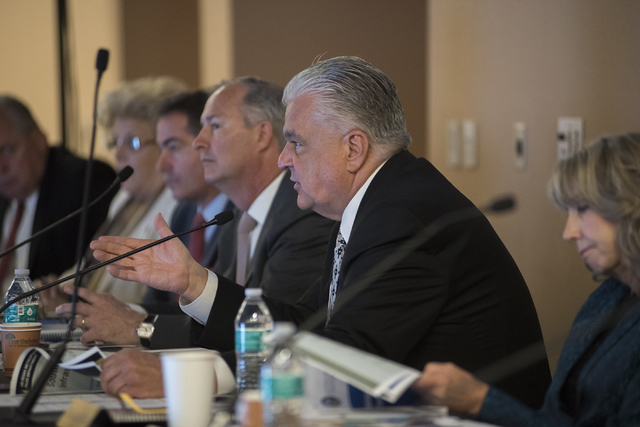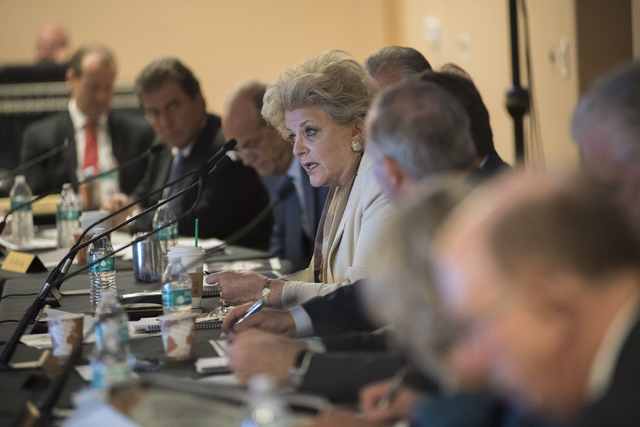 Two financing options are on the table Thursday to determine the fate of a $1.9 billion domed football stadium.
A contentious point between the stadium's developers and the Southern Nevada Tourism Infrastructure Committee has been a call to allocate $750 million in Clark County hotel room taxes to pay for the venue.
The family of Las Vegas Sands Corp. Chairman Sheldon Adelson, Majestic Realty and the NFL's Oakland Raiders haven't wavered from that figure and last week rejected a provision that would cap the public investment at 39 percent of the total stadium cost.
One of the financing options before the committee includes that 39 percent cap and would set the developers' "preferred return" at 10 percent on up to $650 million.
That option also calls for a 50-50 split of the cash flow after the 10 percent return between the developers and a capital improvement fund for the stadium project. It would not allow operating shortfalls or overruns in construction costs to be added to the preferred return calculation.
The second option under consideration Thursday requires a total $750 million public investment, eliminates the 39 percent public contribution cap and states that all stadium profits would go to the developers during the lifetime of the lease.
Developers last week pushed back against a suggestion from committee members that the public should receive some return on investment if the stadium is a financial success.
The committee on Thursday is expected to recommend one of two leading sites under consideration: a 62-acre area northwest of Russell Road and Interstate 15 and the 140-acre Bali Hai Golf Club, between I-15 and Las Vegas Boulevard, just south of Russell.
"We're very clear about $750 million with no strings attached," said Andy Abboud, vice president of government relations and community development for Las Vegas Sands, which is representing Adelson in the stadium negotiations.
"We're having a lot of ongoing discussions with everyone involved," Abboud said. "We are hopeful for a good outcome."
Steve Hill, chairman of the Southern Nevada Tourism Infrastructure Committee, was not available for comment on Wednesday.
Clark County Commission Chairman Steve Sisolak, one of the committee members, thinks there should be a combination of both options, along with some specifics on how to pay for related infrastructure costs.
Sisolak said he thinks the developers should cover the cost to build new roads, freeway overpasses and other infrastructure improvements for both of the resort corridor sites.
Earlier this week, the Nevada Department of Transportation's board of directors ordered a study to determine traffic congestion and the cost of road improvements for the 65,000-seat domed football stadium. The report could be completed within two weeks, NDOT officials said.
Sisolak predicted a long meeting Thursday. He said he hopes the panel can get through its agenda because time is running out for the state Legislature, the Raiders and the NFL to move forward with a stadium plan.
"Hopefully people will be reasonable," Sisolak said. "No one will get everything they want, but hopefully everyone can get something they can live with."
The Review-Journal is owned by the family of Las Vegas Sands Corp. Chairman and CEO Sheldon Adelson.
Contact Art Marroquin at amarroquin@reviewjournal.com or 702-383-0336. Follow @AMarroquin_LV on Twitter. Contact Jamie Munks at jmunks@reviewjournal.com or 702-383-0354. Follow @JamieMunksRJ on Twitter.
RELATED
Southwest critical of Bali Hai site for proposed stadium
Gov. Sandoval calls for clarity on proposed stadium's road infrastructure costs
Las Vegas stadium proposal will face its biggest hurdle in Nevada Legislature
Panel studying Las Vegas stadium plan edges closer to recommendation
Adelson commits personal wealth to back stadium plan