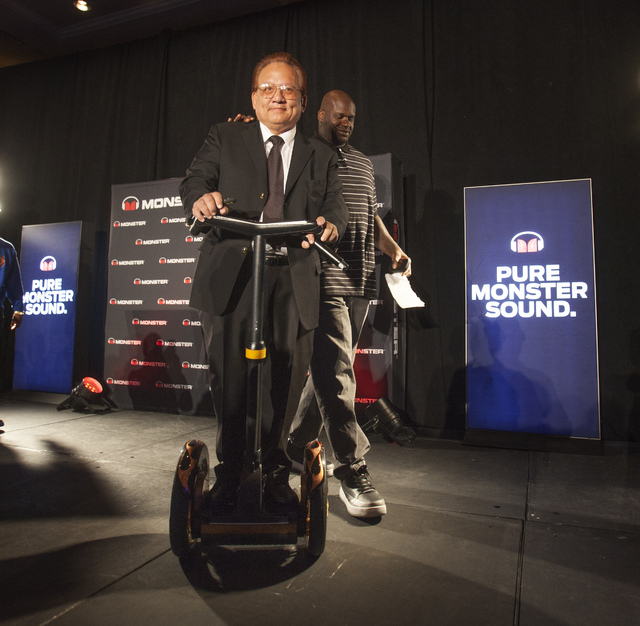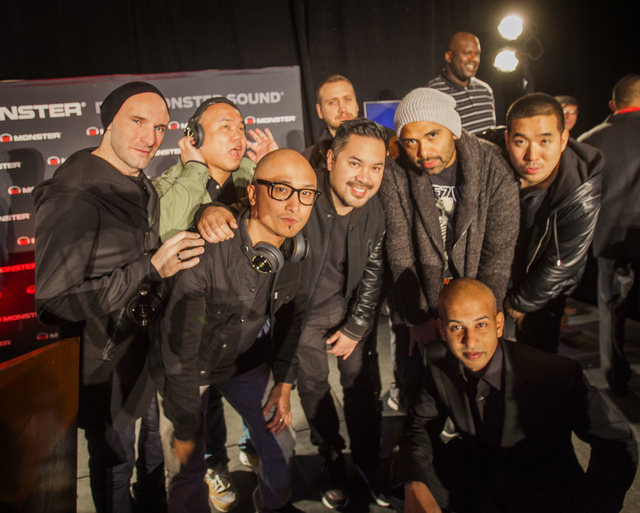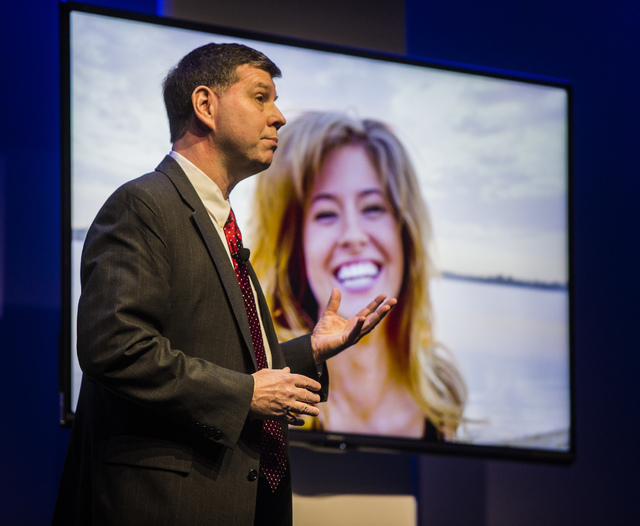 An upset Michael Bay, Shaq kissing a tech legend and eco-friendly race cars. It's just another press day at the International CES.
For the 2014 installment, journalists from around the globe gathered inside the convention center at Mandalay Bay to hear the latest from major technology companies, including Monster and Samsung. The event kicks off the annual CES trade show in Las Vegas, which will attract more than 150,000 people this week.
At Samsung's news conference, the electronics giant showed off a slew of innovations, but movie director-producer Michael Bay stole the show. He was there to tout Samsung's new Ultra HD TV, but his lines weren't flowing properly from the teleprompter.
Apparently, improv isn't Bay's thing.
When Samsung executive Joe Stinziano tried to get him back on track with some leading questions, Bay stormed off the stage.
At headphone maker Monster's news conference, the stars were decidedly happier. Shaquille O'Neal kissed company founder Noel Lee on his head Monday morning, and Nick Cannon couldn't say enough about Lee, whom he called a "mad scientist."
Among a handful of partnerships Lee announced was one with Las Vegas-based UFC. The mixed martial arts company will help promote Monster's new headphone, the Octagon. Lee also is working with S.K.A.M. Artist DJs to promote new DJ headphones.
"DJs are the new rock stars. Kids don't want guitars anymore. They want DJ equipment," said Cannon, who showed up to lend support for his business partner.
Seven Las Vegas-based S.K.A.M. Artist DJs also were there to lend support, including OB One, Chris Garcia and S.K.A.M founder Sujit. As part of its partnership with Cannon, Monster is producing a DJ-centric television show for kids and teens that will feature some of the S.K.A.M. DJs. They will help connect kids with the tools they need to become professional DJs. Lee also is the subject of a reality show that is filming.
Monster also announced its partnership with World Poker Tour. The headphone brand will get exposure at poker events, TV viewers will see branded Monster segments, and many players will wear the headphones.
During its news conference, Samsung paraded out its highest executives, including BK Yoon, president and CEO.
"During the past 10 years, consumers have embraced new technologies like never before," Yoon said.
Yoon noted that he believes connectivity, worldwide urbanization, aging populations and increasing weather events will change the world, making the home the most important place. As such, homes of the future will have to protect, be flexible and be responsive, he said.
Enter in the Samsung Smart Home: Imagine taking a call from your refrigerator without picking up your smartphone. Smart Home is Samsung's new service that allows consumers to manage device control, home view and smart customer service.
"It's really our first step into the home of the future," said Tim Baxter, president of Samsung Electronics America.
Samsung also showed off its Galaxy Note Pro, which has a 12-inch display and a multiwindow feature that allows you to see four windows at once. The company also touted its new NX30 camera and two new 16-50mm lenses, but the curved Ultra HD TVs were the highlight.
Samsung launched its first UHD TVs last year. By 2017, the company is estimating demand will reach 20 million sets. Before the Bay meltdown, Samsung showed off its 105-inch curved-screen UHD TVs.
"This is the world's largest curved UHD TV," said Stinziano, who is executive vice president of Samsung Electronics America.
The curve adds a cinematic panoramic effect.
Samsung also showed its bendable TV, a flat-panel Ultra HD that has a button you press that transforms it into a curved UHD TV.
"It's all about giving customers control of their viewing experience," Stinziano said.
At the end of the day, Formula E demonstrated its fully electric race car, the Spark-Renault SRT_01E Formula E car, which can go from zero to 60 in three seconds. It was designed and built by Spark Racing Technologies, with help from Dallara, Williams, McLaren, Renault and Michelin.
Formula E is a new FIA championship series featuring Formula cars powered exclusively by electric energy. The series is slated to start in September.
Contact reporter Laura Carroll at lcarroll@reviewjournal.com or 702-380-4588. Follow @lscvegas on Twitter.