Stars of 'Breaking Away' reunite at Interbike in Las Vegas
September 18, 2015 - 5:43 pm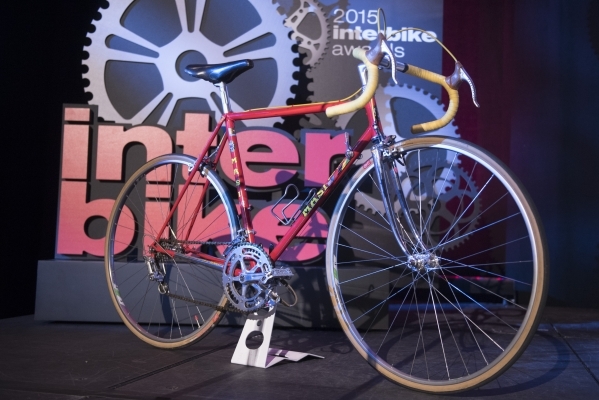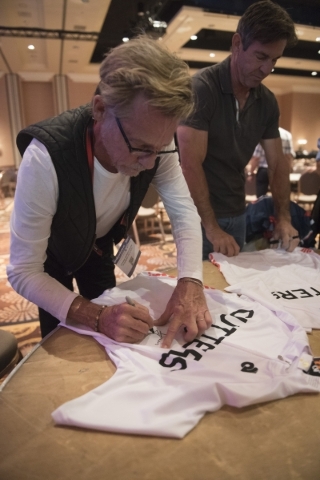 The bicycle industry has suffered bad luck when it comes to pop culture icons. Consider former bicycle race superstar Lance Armstrong, who drove bicycle sales thanks to his Tour de France wins before admitting to cheating with illegal drugs and leaving the public eye in disgrace.
But one piece of bicycle pop culture endures and it played out in Las Vegas this week to the delight of 700 bike industry leaders who gathered for an awards dinner at the Interbike international bicycle trade show at the Mandalay Bay Convention Center on the Strip.
Three actors from the 1979 award-winning, coming-of-age bicycle movie, "Breaking Away," staged a reunion at Interbike and the film's 36-year-old clever lines were heard being uttered throughout the convention center ballroom.
Several people in the bicycle industry — like colorful Mountain Bike Hall-of-Famer and magazine editor Zap Espinosa — stepped on stage at the Thursday night awards dinner and explained "Breaking Away" inspired his love for bicycling while motivating him to work in the industry.
Robin Bylenga, who owns Pedal Chic bike store in Greenville, S.C., which won the award for best women's/female friendly shop, recalled growing up in Lubbock, Texas, and growing to love bicycling after watching "Breaking Away."
"We want to transform women by bike. It's my life. It's my joy," Bylenga told the crowd. "We believe in changing lives by bike."
After accepting the award, Bylenga stepped off stage and hugged actor Dennis Christopher, who was only 23 in 1979 when he played Breaking Away's lead role as bicycle-loving Dave Stoller.
In the movie, Christopher's character and his three fellow recent high school graduate pals in Bloomington, Ind., mix it up with the college kids at Indiana University as the foursome struggled making the transition from high school life to real life.
Meanwhile, Dave Stoller imagined himself as an Italian bike racer and fell in love with a sorority gal at Indiana University while clashing with his dad, who owned a used car business in Bloomington and couldn't understand why his son wanted to be an Italian bike racer.
At Interbike, Christopher was joined by fellow actors Dennis Quaid, who loves bicycling in real life and played Mike in "Breaking Away," and Jackie Earle Haley, who played Moocher — a pint-sized, long-haired character in the movie who saw himself as a body builder and married his girlfriend in the movie.
Missing from the Las Vegas reunion was actor Daniel Stern, who made his acting debut in "Breaking Away" playing the lanky and goofy Cyril. The posse called themselves the "Cutters" after the limestone cutters in the nearby quarries, and ended up winning the Little 500 bicycle race at Indiana University as the sole "townie" bike team.
On Thursday night, award presenters such as Mountain Bike Hall-of-Famer Juli Furtado paid homage to "Breaking Away" while on stage, which touched Christopher, sitting in the front-center table.
"It meant the world to me (that they mentioned Breaking Away). Every stranger I encounter offers good will because of a job I did more than 30 years ago," Christopher said. "That movie inspired people to change their lives."
— — —
Three hours earlier before the dinner, Christopher and Haley shared a warm hug when they saw each other. Moments later, Quaid joined Christopher and Haley.
Quaid, Christopher, Haley and Stern rarely reunite, though the four Cutters were pictured on the magazine cover of Entertainment Weekly three years ago. The four posed at the Encino Velodrome in California for the photo.
This week's gathering in Las Vegas was brokered by Santa Monica bike shop owner Jay Wolff, who is friends of both Quaid and Interbike Vice President Pat Hus. Hus talked to Wolff about the "Breaking Away" reunion, and Wolff reached out to Quaid, who is a customer at the bike store.
Quaid then contacted his three ex-Cutters pals and three of the four met up at the bike show.
"Breaking Away" writer Steve Tesich won an Academy Award for best original screenplay, while it won a Golden Globe for best motion picture. Tesich knitted together funny and subtle lines in a screenplay that still impresses Christopher, Quaid and Haley. Tesich died in 1996 at age 53.
Christopher explained why the movie has so many fans in the bicycle industry after 36 years.
"It seems like a simple movie, but there were a lot of complex issues of the heart. There was a class struggle. There was a mother and father (Dave's parents) rekindling sex at an older age," Christopher said. "There were so many subplots to the movie."
Christopher finished his interview with the Las Vegas Review-Journal and saw Haley for the first time in a long time. They looked at each other, with Christopher telling Haley, "Every time I see you, you look taller."
That prompted Haley to tell Christopher, "Every time I see you, you look shorter."
The two burst out in laughter.
— — —
In "Breaking Away," Christopher is seen riding his bicycle with no hands and even drafting behind an 18-wheel truck during a training ride outside Bloomington.
That's remarkable because Christopher said he was not a bicyclist at the time. For the movie, he was tutored on the fine points of bike racing by a bike race coach.
"It's scary to ride behind a … truck. Not being a cyclist, it was scary as hell," Christopher said. "I thought my hair was going to go on fire."
Quaid and Haley currently ride bicycles.
"It makes me feel 12 years old again," Quaid said. "It was about freedom."
Haley, who rides a cruiser, said, "It was a mode of transportation."
While the U.S. bicycle industry typically generates about $6 billion in sales a year through all channels, the number of retail bike shops across the country has dropped from more than 6,250 in 2001 to less than 3,800 in 2015. Perhaps Christopher can become an ambassador for the industry to drum up sales and use "Breaking Away" to spread the word.
"I have a halo over my head because of this beautiful movie," Christopher said.
Contact reporter Alan Snel at asnel@reviewjournal.com. Find him on Twitter: @BicycleManSnel