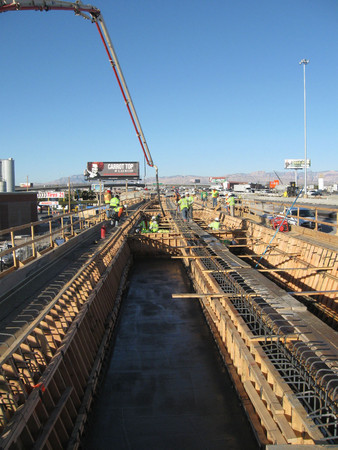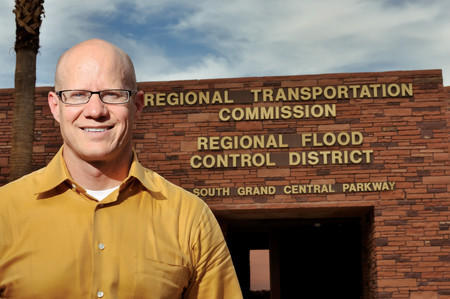 Gridlock traffic can be a jaw-grinding, blood-boiling experience. Yet, despite a load of road construction projects under way to help ease traffic woes, commute times are set to worsen in the Las Vegas Valley. The biennial Nevada Legislature adjourned this year without addressing a looming $7 billion state transportation funding shortfall over the next decade. This has resulted in slashed highway construction spending amid record growth.
Lawmakers last addressed road funding in 1991, when a gasoline tax increase was approved but never enacted. From 1990 to 2005, vehicle miles traveled in Nevada increased 120 percent from 10 billion to 22 billion, marking the nation's fastest growth, reports The Road Information Program (TRIP), a Washington, D.C.-based nonprofit advocacy group, which rates 44 percent of the state's urban interstates and highways as "congested."
"You have all the elements of a perfect storm," said John Madole, spokesman for the Nevada Highway Users Coalition, a pro-transportation lobbying group. "We don't have enough revenue to pay for the roads we need."
Legislators were reluctant to increase gasoline and diesel taxes amid a budget shortfall and a gubernatorial pledge to not raise taxes and veto any efforts to do so. Transportation officials had recommended adjusting the vehicle registration depreciation schedule to redirect money for highways; that would have generated about $47 million per year. Instead, lawmakers used the idea to fill the state's general fund.
"We have dug ourselves a huge hole; the transportation fund is empty," said state Sen. Mike Schneider, a Democrat representing Clark County District 11, who is chairman of the Energy, Transportation and Infrastructure Committee, during the most recent Legislative session.
The Nevada Department of Transportation expects a $100 million reduction in its 2010-11 capital improvement program from $350 million to $300 million. Pavement maintenance now only receives 43 percent of the recommended $300 million funding level — a disparity that could lead to future trouble.
"Maintenance ends up being a potentially huge thing for road owners," said Corey Newcome, division manager for Las Vegas Paving Corp., one of the area's largest road builders. "If you don't do needed maintenance, you risk having roads fail totally. Instead of a less expensive repair, you face having to do a complete reconstruction, which can be very costly."
It can be four times more costly to repave roads than it would be to repair them, TRIP reports. Rough roads accelerate vehicle depreciation, reduce fuel efficiency, and damage tires and suspensions, adding up to $746 annually in extra vehicle operating costs, reports the American Association of State Highway and Transportation Officials, a Washington, D.C.-based nonprofit group representing highway and transportation departments in 50 states.
Diminished sales and gasoline tax receipts — two key funding sources for underwriting road projects — aren't likely to help things anytime soon. Nevada's state transportation department is saddled with $100 million in annual payments for a prior $1 billion highway construction bond program launched by former Gov. Kenny Guinn's administration.
"We decreased our capital improvement program, delaying or canceling those projects, and cut down greatly on consultant design work," NDOT Director Susan Martinovich said. "Our next three years are very, very lean. There isn't much state money, and we will have to use all of that for matching federal dollars."
The state Energy, Transportation and Infrastructure Committee had recommended that an eight-person advisory group be formed to study and recommend long-term transportation funding solutions for the 2011 Legislature. Gov. Jim Gibbons, however, vetoed its formation. He had also previously rejected recommendations made by a Blue Ribbon Task Force appointed by his predecessor, Guinn, that called for indexing the gasoline tax to reflect the rate of inflation and exploring public-private partnerships, toll roads, and higher motor vehicle registration and driver's license fees. Since last increased, TRIP reports, the buying power of Nevada's 17.65 cents-per-gallon motor fuel tax dedicated to state highway repairs has decreased by 43 percent.
"We have had to tell our member entities that we need to stop going forward with any new roadway projects," said Jacob Snow, general manager of the Regional Transportation Commission of Southern Nevada, which disburses transportation money for state and local municipalities. "We are going to be hard-pressed to finish the projects that we have now. There just aren't the resources to do what we did in the past. Essentially, we're no longer in the roadway funding business. We don't even have the money to design projects."
Halting roadway design and construction could bring catastrophic consequences. Vehicle travel in Nevada increased by a rate nine times greater than new highway lane capacity was added from 1990 to 2005, TRIP reports. And the state is expected to see a 125 percent increase in statewide vehicle travel by 2030.
"We are going to have to be very conservative," Snow said, noting that the commission's overall revenue is down 11 percent overall since last year.
He is bracing for another negative forecast in 2010.
"That has a lot of repercussions for the economy," Snow said. "It's not good for anyone."
Gridlock costs the average driver 36 hours a year in delays, resulting in $87.2 billion in total wasted fuel and productivity, reports the Texas Transportation Institute, a College Station, Texas-based academic research group. There are also construction-related job losses to consider.
"Road construction creates a tremendous amount of job opportunities because it requires a lot of manpower. It can't be automated," said Guy Wells, president of Wells Cargo Construction, a Las Vegas-based road builder, who also serves as chairman of the Nevada State Contractors Board. "We have become spoiled because our roads are in excellent shape. But if you don't constantly maintain them, then by the time they deteriorate, it's too late."
One funding possibility entails charging drivers for vehicle miles traveled. It relies on a transponder system that works with refueling stations to measure driver activity. It would replace the flagging gasoline tax, which has proved increasingly insufficient with the rising popularity of hybrid-powered cars. A test pilot program for this idea in Oregon has reportedly proved successful.
"The gas tax has been antiquated for a number of years," Newcome said. "(Transportation officials) have their work cut out for them."
NDOT pursued toll roads and private-public partnerships as potential funding alternatives during the most recent legislative session, but both proposals were rejected. Nevertheless, the agency's chief remains bullish on the future.
"I'm going to be optimistic," Martinovich said. "There is a great push to increase the federal reauthorization, and we will be participating in that process. It still comes down to having projects ready to go. I don't want this state to miss out on any federal funding available."
Contact reporter Tony Illia at tonyillia@aol.com or 702-303-5699