State treasurer: Nevada needs to raise investment capital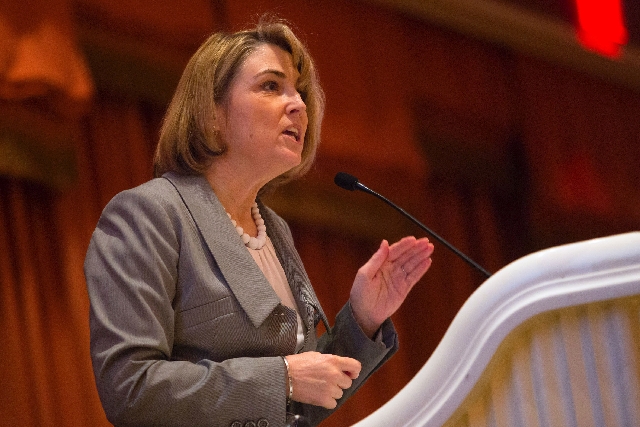 Venture capital spending in Nevada last year totaled $7.09 million on four deals, according to data compiled by the National Venture Capital Association.
For comparison, in California 1,521 deals were funded last year, with venture capitalists investing $14.03 billion.
The contrasting figures support State Treasurer Kate Marshall's argument that Nevada needs to increase investment capital significantly to create a supportive environment for startups or companies looking to invest in the Silver State. That investment, she said, brings with it jobs and economic development.
"We've done 24 economic studies … and they all say the same thing, you need to have investment capital to grow business in Nevada," Marshall told some 200 venture capitalists and business owners Thursday at the Silver State Investment Forum at Wynn Las Vegas.
Marshall said having investment capital available to assist companies is crucial to keeping businesses here.
To assist those businesses, Nevada created the Silver State Opportunities Fund to invest state funds in private companies. The investment program was created by Senate Bill 75 and approved by the 2011 Legislature.
The fund, which is managed by private equity fund-to-fund manager firm Hamilton Lane, has $50 million to invest from the state's Permanent School Fund.
Marshall said the fund will invest in businesses here or those willing to move to Nevada, while the earnings go to K-12 education. She said it's about creating capital without raising taxes or cutting services.
It's also about finding the right investment.
"I'm agnostic when it comes to industry," Marshall said. "If you follow the financials, that will lead to success."
Silver State Opportunities Fund's first deal was a $2 million investment in Miller Heiman Inc., a global sales performance company that has been based in Reno for 30 years. For the investment in Miller Heiman, Hamilton Lane partnered with Providence Equity Partners.
"They are located here and want to expand here, so the investment made sense," Marshall said. "We are focused on return on investments … with the ancillary benefits being jobs and economic development."
David Helgerson, managing director of Hamilton Lane, noted Nevada is an "undercapitalized region," needing to cultivate local businesses and economic resources.
Based near Philadelphia, Hamilton Lane manages similar in-state private equity programs in Idaho, New York, Florida and California.
The firm established a Las Vegas office last year to oversee investment opportunities.
"This is a returned focus fund," said Miguel Luina, vice president of Hamilton Lane's investment team in Las Vegas. "The industries (gaming and mining) that helped bring Nevada to where it is today are not necessarily the ones to take it into the future."
Those industries include health care, energy, and technology, he said.
Luina said there is $15 million to $25 million in the fund that could be invested in two or five "fund investments," while $25 million to $35 million could be dedicated to five or 12 "co-investments."
According to Hamilton Lane, the Silver State Opportunities Fund looks for "diversified" investments, but will not include real estate in its portfolio.
Luina said the fund had an "attractive pipeline" of opportunities, but had yet to decide on its next investment. He said Hamilton Lane was open to including "another limited partner," but we are focused now on investing $50 million and driving returns.
"It's been very encouraging," he said. "We've had over a dozen fund managers looking to invest with us."
Contact reporter Chris Sieroty at csieroty@reviewjournal.
com or 702-477-3893. Follow @sierotyfeatures on Twitter.