September 30, 2007 - 9:00 pm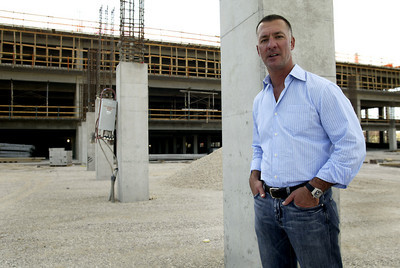 Frank Fertitta III runs his hand along the blueprints for the $675 million Aliante Station, describing what is planned for the concrete and steel frame taking shape on the 40-acre site in North Las Vegas.
"Here will be a Grand Cafe, then Mexican, Italian, steak, a buffet, an oyster bar," he said. "Then the food court to go with the theaters."
Aliante Station is as ambitious a project as Station Casinos has ever built, the 45-year-old chairman and chief executive officer of the company said.
"Phase one of this property is a massive building," Fertitta said. "It is Red Rock with fewer hotel rooms. That is the magnitude of the facility," he said, comparing the new project to the $925 million Red Rock Resort that opened in 2006.
Aliante Station will open with a 202-room hotel tower, a 16-screen, all-digital theater operated by Regal Entertainment Group with an Imax screen, six restaurants seating a total of 1,400 patrons, a 700- to 800-seat entertainment theater, an ultralounge and 14,000 square feet of meeting space.
Fertitta, Chief Development Officer Scott Nielson and Aliante Station General Manager Joe Hasson discussed progress of the project in a large construction trailer.
Aliante Station is the fifth property built by Station Casinos since Fertitta took over operations of the company from his father and company founder, Frank Fertitta Jr., in 1992.
The company now owns and operates 16 properties, many gathered through acquisitions, around Clark County, mostly under Station and Fiesta brands.
Aliante Station is an equal joint-venture partnership between Station Casinos and the Greenspun Corp., the partnership that built Green Valley Ranch.
Fertitta said Aliante Station, on the northeast corner of the Las Vegas Beltway and Aliante Parkway, will be a high-end locals property similar to Green Valley Ranch Resort and Red Rock Resort.
"In terms of the entertainment destination, it's the same scale, scope and quality," he said.
One of the amenities that excites Fertitta is the 700- to 800-seat entertainment venue, a new product for the company. It is being designed by Montreal-based Sceno-Plus, which has designed theaters for Cirque du Soleil, Wynn Las Vegas, Bellagio and Treasure Island.
"One of our focuses here is to offer some good quality entertainment that changes on a regular basis," Fertitta said. "So people don't have to drive to the Strip or the center of town to go out for a night of fun."
While nearby development is scarce near Aliante Station, there will be more people living in a one- and five-mile radius than when Green Valley Ranch opened, according to company statistics.
"That makes us very bullish," Fertitta said. "If you look at the projected rooftop growth out here, by 2015 it just gets better and better and better.
Data gathered by Applied Analysis show that 14,288 people will live within a one mile of Aliante Station when it opens in December 2008, compared with 13,388 that lived the same distance from Green Valley Ranch in 2001. An estimated 222,696 will be within a five-mile radius at opening, compared with 196,800 for Green Valley Ranch.
Fertitta said Aliante Station will benefit from being the first gaming property in the new Aliante subdivision in North Las Vegas when hiring begins in the spring. Station plans to hire 1,700 employees for the property.
And Fertitta shrugs off concerns that Stations might be entering the market too big, too early, saying the company does extensive research before starting a project.
He also has faith in the techniques the company has developed since building Palace Station in 1984.
"When we were under construction on Sunset (Station) in 1996-97, there were investors looking at that saying, 'This is like missionary work.'" Fertitta said. "Have you guys lost your mind?"
Nielson said no matter whether the company is on time or not, it is important to master plan projects for the future. Fertitta added that, as with Green Valley Ranch and Red Rock Resort, Aliante Station's design calls for future phases with the "ability and the flexibility to change as the market place changes."
One challenge for Station will be trying to market a new vision for North Las Vegas. For decades the city has battled an image problem of being the industrial, lower-income cousin to Las Vegas and Henderson.
"I do think this will be an anchor investment for this area that will redefine and reshape where the future is going to go out here," Fertitta said.
Aliante Station, the largest financial investment in the city by a gaming company to date, will be the third hotel-casino to be built in the city along with Texas Station and the Cannery.
Fertitta said he is not concerned about building a new casino during a mortgage crunch, having seen the financial fortunes of locals shift in his 15 years at the helm.
"It ebbs and flows," said Fertitta, who was named a company director in 1986. "There is no question that it's not helpful. But we've always had a very long-term perspective in terms of how we view the business. We're as bullish as we've ever been on the future of Las Vegas."
He compares the current retraction to when Internet stocks fell or the reaction to the terrorist attacks of Sept. 11, 2001. Station Casinos, like other operators in Clark County, faced a downturn after those events.
But Fertitta said the market always bounces back.
"I think it is just another one of those short-term things," Fertitta said. "I don't know if it takes 12 months or 18 months, but I think it works its way out and we're back on to the growth profile."
Fertitta said the $26.8 billion in Strip construction projects will create jobs that will help the local economy bounce back.
"There is no city like Las Vegas with this type of investment," Fertitta said. "It's a short-term blip, but if you're a long-term investor it makes a lot of sense.
"You don't build a business quarter-to-quarter. It's over decades," he said.
ALIANTE STATION AT A GLANCE
Projected opening: December 2008.
Location: North Las Vegas on the Las Vegas Beltway and Aliante Parkway.
Proximity to other casinos: Six miles northeast of Santa Fe Station; seven miles north of the Cannery; eight miles north of Texas Station; 20 miles to Strip.
General manager: Joe Hasson named August 2006. Joined company as general manager of Green Valley Ranch Resorts in 2003 after 22 years with Harrah's Entertainment.
Employees needed: Some 1,700, nearly 60 percent estimated to be new hires to the company.